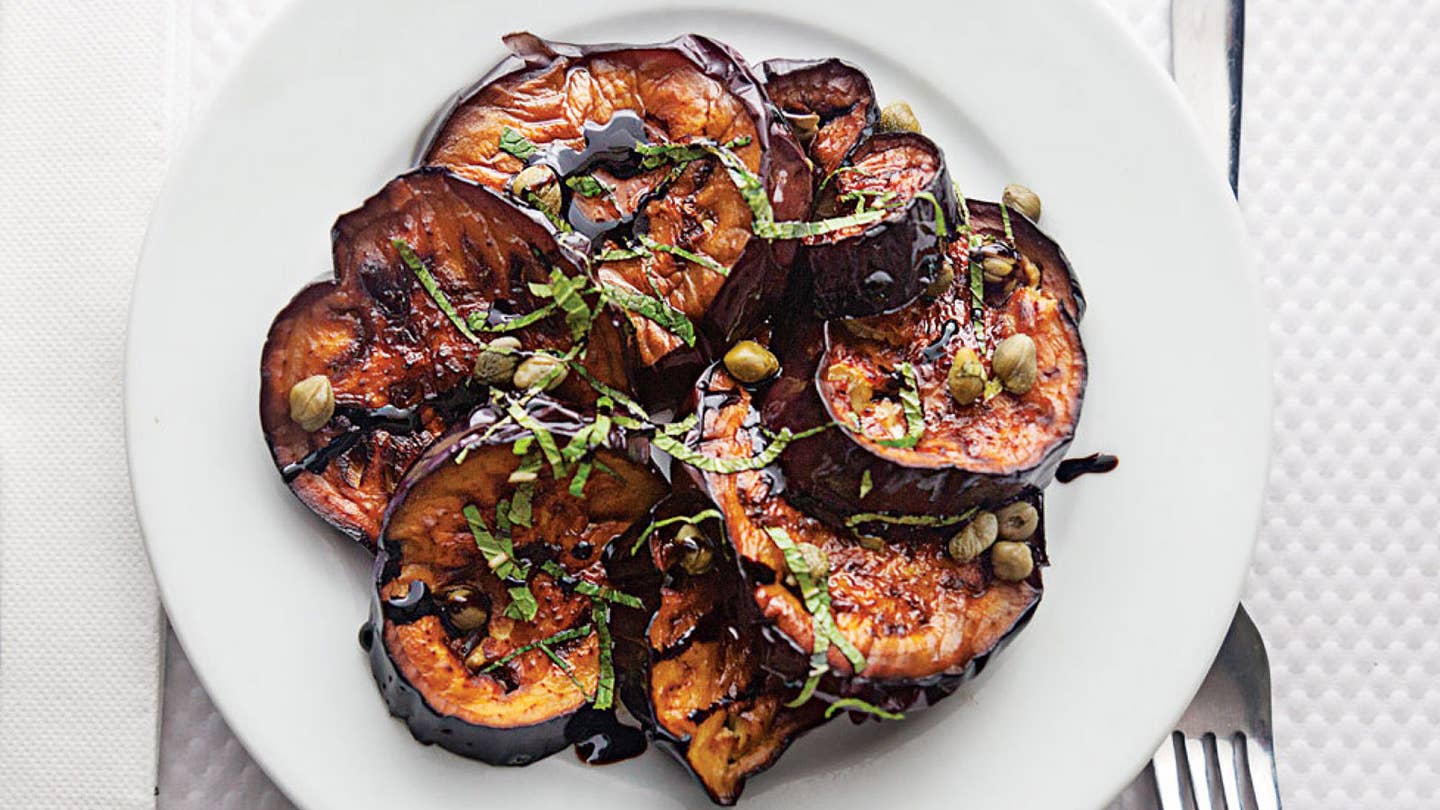 Culture
The Real Rules of Balsamic
Italy's Massimo Bottura sets the record straight on cooking with Modena's amazing vinegar
Much of that fame comes from his at-times controversial efforts to modernize a cuisine that's resisted modernization. Rooted in the traditions of his hometown of Modena, in Emilia Romagna, Bottura teases and tweaks traditional recipes, creating whimsical dishes with names like "Oops, I dropped the lemon tart," or a five-layered casserole riffing on pasta e fagioli soup. "People look at my restaurant and think we're screwing with tradition, which isn't true," says Bottura. "We just look at the past in a critical, rather than nostalgic way. The past is a reference point."
But Bottura doesn't mess with everything. In fact, there's one tradition of Bottura's hometown that's so good, so comprehensively delicious, Bottura's fine leaving it exactly where it is: Modena's hometown hero, Aceto Balsamico Tradizionale, or balsamic vinegar.
To make it, workers crush local grapes for wine, then age the elixir for at least 12 years and often decades longer, in progressively smaller wooden barrels as the vinegar concentrates into a heady syrup. The resulting vinegar—thick, ink-black, a balance of sweet and acidic—is a treasured commodity. Bottura actually bought a vinegar company in 1995, and after almost 20 years of aging, one of his batches won a gold medal from the official consortium of Balsamic Vinegar. Clearly, he knows a thing or two about vinegar. But how does this famously inventive chef, one who creates dishes inspired by paintings and songs, relate to a product which has already undergone decades of transformation? We sat down with Bottura and got his opinion of what makes a great vinegar, and how it challenges him as a chef.
How do you use balsamic?
In the restaurant, sometimes we'll just present diners with a spoon of that incredible, really old vinegar, just as an experience. Middle-aged balsamic is great on salads and for making sauces. And 20-year-old is great on berries. It's a bit like Parmigiano Reggiano. When you eat it, you know it's Parmigiano. But you can also ask yourself how old it is, where it comes from, what it goes best with.
You've served a dish that's just various textures, temperatures, and ages of Parmigiano. Would you ever do the same with balsamic?
I'd have to say no. Vinegar is different. It's a condiment. It's like the guy on a soccer team who scores the goal. It gives a final twist to your plate.
What do people get wrong about balsamic?
When you start talking about balsamic vinegar, the first question is always, "How old is it?" But the question really should be, "How good is it?" What kind of acidity, what must, what kind of barrel? There's so much more, and balsamic vinegar has many different points of view.
Are Americans too impatient to wait that long?
Yes, but don't think it's just Americans. In general, people don't get it. When I tell people I live in the land of slow food and fast cars, "slow food" is waiting 25 years before tasting a balsamic vinegar. It's about a very long and deep tradition. It's not about creating some new vinegar.
Does balsamic always get better with age?
Not necessarily. We have one that's extremely old, but it's not expressing itself well. The best one we have right now is 40 years old, but the one older than that isn't as good. And to correct that vinegar is going to take six or seven years, adjusting the acidity, the light, the wood. It's not about how old it is, it's about how good it is. Taste it and judge.
Do you think it only works in Italian cuisine?
Absolutely not. When you have a product that it completely out of this world, it can go with everything. For example, when Sean Brock came to cook at Osteria Francescana, he was cooking Southern food. But when he tasted the balsamic we had, he was absolutely blown away and started using it in his barbecue.
For you, is there a difference between being a vinegar maker and a chef?
They're both artisans. We, as chefs, have to create good food. Just like a Ferrari artisan has to build beautiful, fast cars, we have to create good food. And a vinegar-maker is the same—he has to make good vinegar.
Since balsamic is acidic, it doesn't go with everything. Bottura advises against pairing it with prosciutto or mozzarella. "Prosciutto goes well with sweet things like figs or melon, and mozzarella with tomatoes, olive oil, and on its own. Hold back on the balsamic." Parmigiano Reggiano, though? Fair game to up the umami factor.
Peaches, strawberries, and cherries
Raw vegetables: bitter greens, carrots, celery, radishes, and fennel
Grilled asparagus or boiled green beans
White veggies like potatoes and cauliflower
Pork of all kinds (try pancetta-wrapped pork filet with a drizzle of balsamic)
Vanilla ice cream, of course!