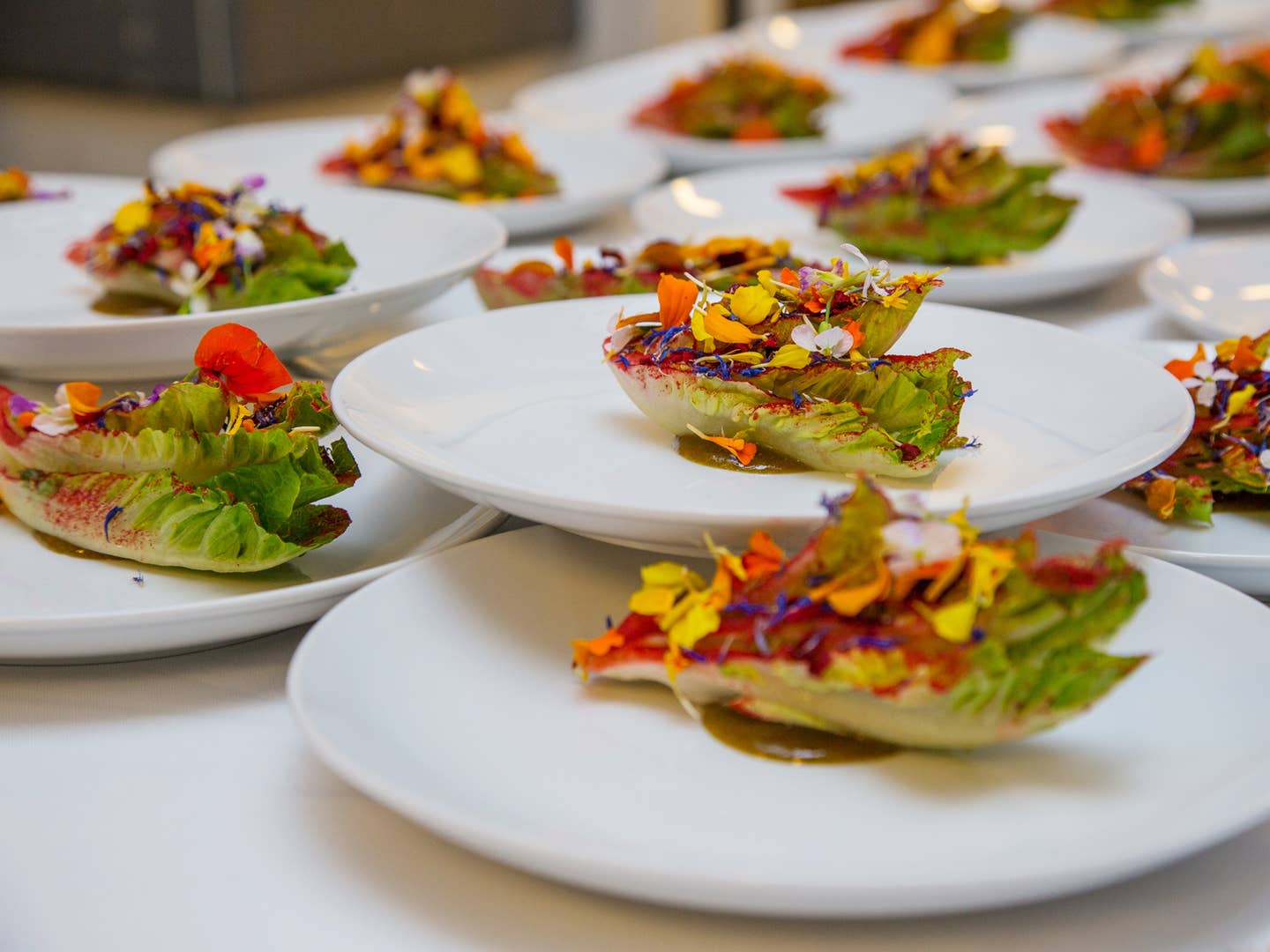 Culture
Massimo Bottura's Edible Art, Served Amidst Million Dollar Paintings
An evening at Sotheby's with Italy's best chef
Massimo Bottura stood on the tenth floor of Sotheby's auction house on the far east side of Manhattan this past Sunday inspecting a canvas slashed by the Italian artist Lucio Fontana.
"It's exactly like when you taste parmiagiana risotto," said Bottura, gesturing at the slits. "One simple gesture will tell you everything."
Bottura pointed out that up until a few years ago, the painting, a bright red rectangle with 24 vertical slices, would have been available for a fraction of the price. Then, people started to notice.
"One person out of a million will say, well, this is an amazing thing, the rice, the parmigiana, the tastes done perfectly. The rest of the people will just eat it."
Bottura runs the three Michelin-starred restaurant Osteria Francescana in Modena and is perhaps the most inventive chef working in Italy today. His wildly imaginative re-workings of beloved Italian dishes—with names like "Tortellini walking on broth" and "Chicken, chicken, chicken, where are you?"—have charmed and scandalized a nation devoted to tradition, particularly when it comes to nonna's kitchen.
The chef's avant garde leanings and own contemporary art collection, on proud display at the restaurant, make him the perfect art crowd's chef. His wife, Lara Gilmore, studied art as an undergraduate and, he says, taught him most everything he knows about collecting. Last year, Sotheby's invited him to cook a series of dinners in their London galleries, which sold out almost immediately. This year, the auction house asked him to conceive a dinner that would kick off the big auction and delight a crowd of well-heeled collectors and food- and art-world enthusiasts.
One young Sotheby's staffer to another, a bit before cocktail hour: "Um, can you just pinch that top part up so we can move the whole thing into the corner?" With that the two began dismantling a spindly Alexander Calder ("Gysophilia on Black Skirt," starting price $3.5 million). To make room for the hundred-person seated dinner, the Calder traveled past an untitled Cy Twombly en route to a corner spot near an Andy Warhol Mao.
In the back kitchen, a makeshift space with four induction burners, a long line of pots filled with vibrant greens (chlorophyll), reds (balsamic vinegar) and yellows (white potato puree) stood at the ready for the main meat course.
"The side dishes are transformed into edible colors," the chef explained. "It's about compressing into edible bites your passion, you see? It's the same as a solo from Charlie Parker, a cut by Fontana."
It surprised neither Bottura's wife, who arrived wearing a teal to-the-ground gown with lace-up sneakers below, nor Lisa Dennison, Sotheby's Chairman of North and South America, that Bottura is a Fontana fan.
"Fontana was about breaking tradition, puncturing, making a radical gesture," said Dennison. "It's precisely what Massimo does with his food." Sotheby's routinely throws pre-auction dinners, but this pairing, she said, was particularly apt.
Guests started to trickle in for cocktails around 7 p.m.—one woman to her husband: "Honey, I want that Longo for the living room"—and Bottura, clad in a chef's coat, jeans, and black New Balances, stood at the ready by an enormous wheel of 30-month aged Parmesan, which he dispensed amply. The diminutive Jane Kramer, the New Yorker staffer who penned a profile of the chef in 2013 and now crashes at Bottura's house when she comes to Italy, gave him a hug, her wine glass sloshing a little on his shirt as he rocked her enthusiastically back and forth. Bosco Sodi, a contemporary artist based in Brooklyn whom Bottura had visited that morning, stood in line to give him a hearty back slap. And in nearby room, Cindy Sherman, wearing a pink skirt suit and six-inch platform gold sneakers, could be seen inspecting two Cindy Shermans from three decades prior as Billie Holiday sang on the sound system.
After a brief introductory speech, Bottura headed back to the kitchen to direct a hundred "Autumn In New York"s out the pass. Tiny, melon-balled pieces of vegetables mixed with bits of foie gras and sour cherry gelatin had been placed inside an apple-shaped mold, a riot of color, over which a "broth of autumn"—chestnuts, truffles, earthy flavors—would be poured, tableside.
"Do I eat it with a spoon?" one balding man asked a fellow diner as the first course was set down. No one knew.
"A cook is not an artist, but an artisan," Bottura said, before wildly shaving white truffles over cacio e pepe risotto for course number two. The vision of his cooks working behind him, assembly-line style, brought to mind the team production involved in carrying out a Sol Lewitt installation. "A cook has to cook good food. An artist? He is free to do whatever he wants."
Next was a dish called "Crunchy Part of the Lasagne," equal parts science and art. "It's an emotional course," the chef explained, "all about the joy of a child who steals the crunchy corners of his grandmother's lasagna." To make the crunchy tri-colored pasta shard that rises up from a bed of chopped meat ragù and foamed béchamel, Bottura cooks pasta al dente in three ways—with herbs, with tomato, and with cheese—then submits it to an elaborate process of dehydrating, pulverizing, rolling, dehydrating again, and then, finally, frying and burning the thing. How long did it take for him to come up with the technique?
"Five minutes," the chef said, without missing a beat. And then, after a pause: "No. No. Fifty years. You can't do that if you don't have life experience." When it arrived at the table, Ruth Reichl giggled, snapped a few shots on her iPhone, took a bite, then giggled again.
The highlight of the evening arrived before the sweet Caesar salad served on a dollop of chamomile syrup and covered in a pile of flowers, and before the deconstructed lemon tart called "Oops! I dropped the lemon tart", born of an accident in the kitchen. In the mistake, Bottura saw beauty. Bottura and his team set up tables outside the kitchen, each covered in tablecloth, and started plating his "Beautiful psychedelic spin-painted veal, not flame grilled," a dish that's neither flame grilled nor made with veal (it's made with beef marinated in milk, as you would veal) but inspired by Damien Hirst's iconic spin paintings. Out came the pots of edible colors, out came the spoons, and then Bottura started violently flicking each plate, huge swaths of potato puree spattering the plate, the table cloth, the wall behind. A crowd of guests gathered. Daniel Boulud, who would as soon spatter puree on the walls of his eponymous restaurant as serve a diner a Big Mac, peered over some heads, grinning, then crowed: "I love him, I just love him!"
One collector said, to no one in particular, "He's an artist! And the food ain't bad either, eh?" Another: "It's an edible Pollack."
On the other side of the puree spattered wall hung Pollack's Number 17 (opening estimate: $20 million). The plates went out to the guests, but before Bottura could head back inside to focus on his desserts, David Goodman, Sotheby's Digital and Marketing Chief, put a hand on the chef's shoulder and steered him towards the spattered table-clothed prep table, which had been shoved out of the way, flush to a wall.
"I think it's the best canvas in the world," he said, gazing at the thing, spatters of red, green, yellow, burgundy swiped this way and that, a dribble here, a dollop there.
At his request, Bottura signed the cloth, swooping M and looping B, in permanent marker. A moment later, as everyone was happily eating in the gallery, the chef said in hushed, almost disbelieving tones, "They told me they might frame that cloth and hang it somewhere. But that is cool, no?"