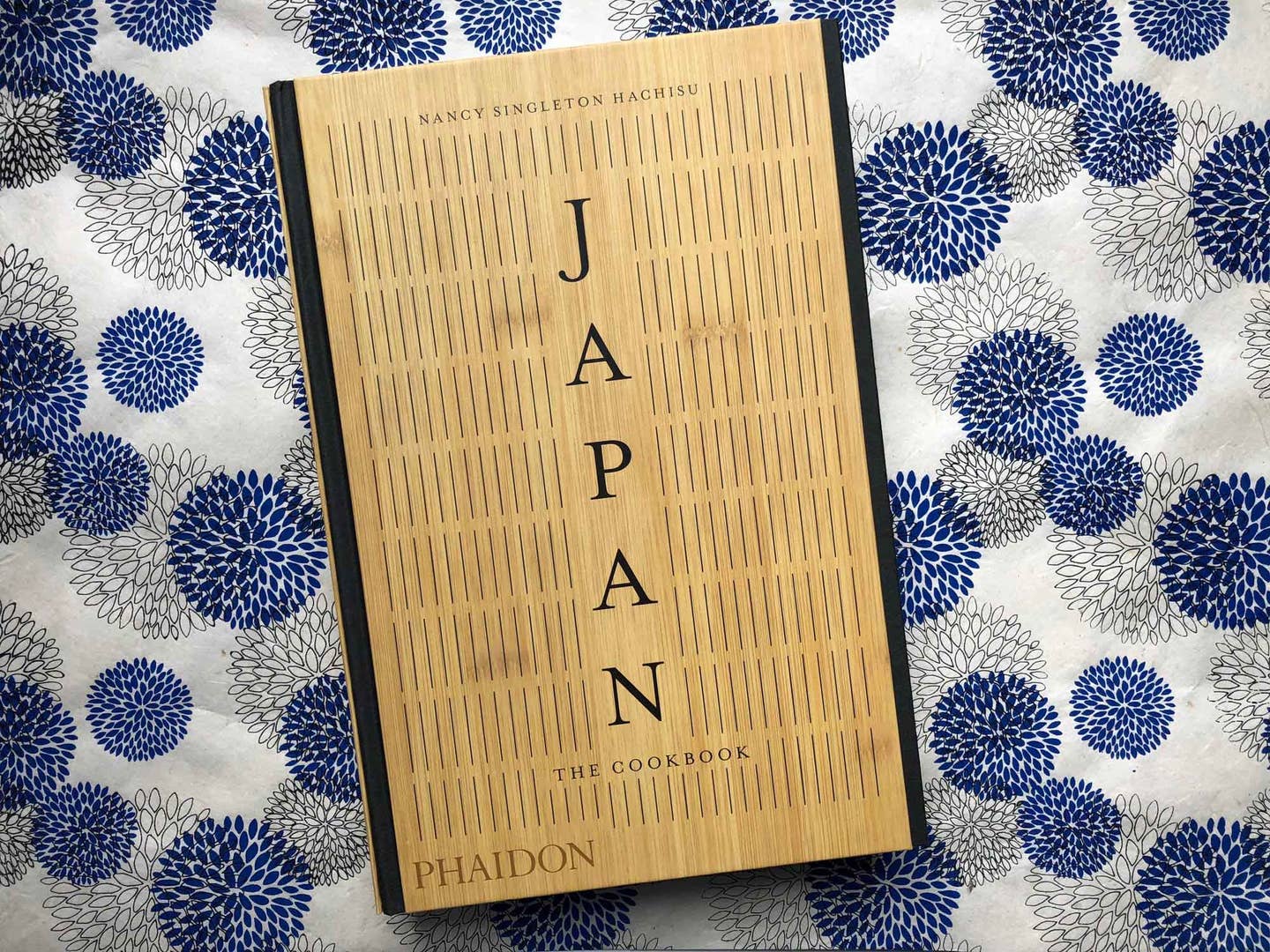 Culture
Join Us in Cooking Our Way Through Our May Cookbook Club Pick, Japan
This month, we're exploring recipes and techniques from Nancy Singleton Hachisu's brand-new culinary tour of Japan
I often hear people talk about "dreaming" of the food they want eat or prepare. It takes over their thoughts during the day as a form of escape from real world troubles, and it even invades their psyche at night. Food we dream about holds our emotions tightly; once we make them, a lot is at stake.
While reading "Japan: The Cookbook," (Phaidon) the new tome written by Nancy Singleton Hachisu, I found myself similarly dreaming of the ethereal tastes described within. I have never been to Japan and have only the neophyte knowledge of Japanese cuisine as presented to me via restaurants in New York City and through Japanese food teachers like Nancy. Japanese food always seemed to me to have a delicateness and refinement that I could never attempt to reproduce myself. With so much at stake, I've previously left it to the craftsmen and women who've dedicated years of their life to perfecting it.
I first met Nancy in 2013 at a dinner she was hosting at Bar Tartine in San Francisco. Her previous book "Preserving the Japanese Way" had just been published, and so the chefs at Bar Tartine had prepared a menu of dishes from her book. Each dish was an exercise in restraint; small dishes of fermented vegetables and fish served barely warm or at room temperature and dressed very lightly in a heavenly, satisfying broth. I chatted with Nancy after the dinner, and she was every bit as kind and hospitable as the food prepared that night.
We've been in touch ever since, and I always turn to her books for help when it comes to preparing any Japanese food. As a project nerd, I took especially well to her recipe for homemade umeboshi—green (or unripe) sour plums that are salted and left to sit in their own brine for several weeks before drying out. I first made them so I could recreate an umeboshi-infused kumquat ade I had drunk in Central Taipei years ago, but once I had a bucketful, I began experimenting with their unique flavor not just in Japanese dishes, but in everything I cooked. I sprinkled it over steamed asparagus, mashed it into a sauce with a little miso that I brushed over crisped chicken thighs, and perhaps my favorite preparation, simply stirred some into a pot of hot cooked rice. Those little plums were the gateway to my still insanely small understanding of what Japanese food is, but I couldn't have asked for a better teacher to get me started than Nancy. Her clear, precise instructions, which thankfully leave much room for improvisation, match the essence of what makes Japanese food and customs so alluring. She writes in such a way that intimidating techniques or unfamiliar flavors seem at once approachable and attainable.
I'm thrilled Nancy asked me to take over this month's installment of the Saveur Cookbook Club. I had already planned to make most of the dishes in the book, so to chronicle it this way is all the more satisfying. As Nancy states in the introduction to the book, "Japan" is not meant to be the last word on Japanese food or an encyclopedia of the country's cuisine; no single book could ever do that. Similarly, and especially as a white American man who's never been to Japan, I make no such claims to judging the recipes in "Japan" with any cultural or factual certainty. I'm here to judge the recipes in this book on taste and, perhaps, how well they live up to my dreams. Nancy imbues ease and delight into the recipes in "Japan," a greatest hits list of the best dishes you could find in Japan if, like a green pheasant flying over the country, you plucked bits of food here and there to sate you along your way. After reading "Japan," you're meant to not be an expert, but an enthralled, more educated tourist.
Above all, I look forward to scratching the surface of Japanese cuisine with you, learning new techniques, new tastes, and new stories to further nudge the door open to the world of Japan's foodways. With any luck, not only will we eat the same dishes, but we'll also share the same dreams for Japanese cuisine, once ephemeral and now grounded in our real-life tastes.