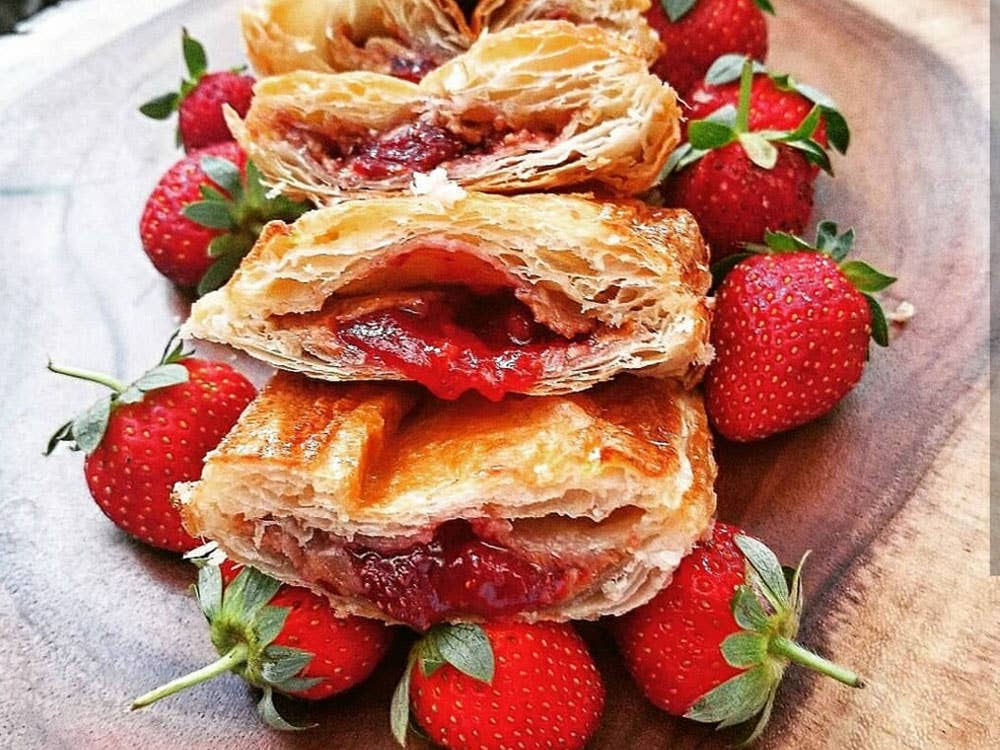 Culture
The Chef Behind Some of Miami's Best Pastelitos
Pastelito Papi's Giovanni Fesser is putting a nontraditional spin on the beloved Cuban pastries
Beaches and balmy weather aside, there's nothing more synonymous with Miami than a Cuban pastelito. Spanish for "little pastry," the pastelito is a flaky, turnover-like treat that can be sweet—typically filled with coconut, or guava and cream cheese, and shaped into squares or triangles—or savory, stuffed with seasoned beef, chicken, or ham and formed into circles. In the Magic City, you'll find them in many bakeries as well as ventanitas, walk-up windows attached to Cuban restaurants that act as pedestrian-style drive-throughs.
The origins of the pastelito are hazy. Some claim its creator was a Lebanese immigrant trying to duplicate the baklava, while others credit the Viennese for bringing it to Cuba or have theorized that it was invented by slaves working in Spanish and Cuban sugar mills. Pastelitos first arrived in Miami with the influx of Cubans after the rise of the Castro regime, quickly becoming a fixture in the city's culinary landscape. Today the treats are everywhere, including the Miami International Airport, where they serve as a welcome to the city.
Up until now, you'd be hard-pressed to find one pastelito spot deemed "the best." Some have been in the limelight more than others, like the Little Havana landmark Café Versailles, which has become a requisite stop for visiting politicians and presidents. But most are neighborhood businesses that turn out comfort food (and a dose of nostalgia) conveniently packaged in a handheld pastry. Recently, one baker has started shaking things up and turning heads.
Giovanni Fesser was raised in a pastelito-eating family: His grandfather Henry (a Havana native) would walk to the local bakery to procure them on the regular. "He did that every other day until I was old enough to explore the neighborhood riding my bike. Then, all our friends used to go to the bakery and get pastelitos."
Fesser, now 38 and the sous chef at the popular Coconut Grove restaurant Ariete, recalls growing tired of the limited variety. "It got to the point where we go bored of those flavors and wondered why they didn't make different ones."
On a sleepless night watching reruns of Diners, Drive-Ins, and Dives, inspiration struck. The idea of creating pastelitos with inventive fillings sent him on a nightlong quest researching as many existing variations as he could find online. He found only two bakeries tinkering with the traditional fillings, one by adding Nutella, the other, mango. When he ventured out to try them and others, he was unimpressed by the quality of ingredients: "I could tell right off the bat they don't make their fillings." Sensing an opportunity, Fesser approached his boss, Ariete's chef-owner Michael Beltran, with the idea of making pastelitos and received an immediate thumbs-up.
The first pastelito Fesser made was the frita pastelito, a play on the frita, or Cuban burger, that teamed seasoned beef with chorizo and a generous heap of shoestring potatoes. Next came the peanut butter and jelly, and eventually spicy chicken and blue cheese, oxtail stew or rabo encendido, and lechon—the citrus-mojo marinated pork dish central to Cuban festivities. His apple pie pastelito receives a drizzle of cream cheese and condensed milk glaze and a sprinkling of graham cracker crumbs. "I wanted the pastelitos to be Cuban first then American—the best of both worlds."
Fesser, who named his resulting business Pastelito Papi, is gaining a cult following in the area for his creativity as well as his from-scratch ethos. The filling for his traditional guava pastelito, for example, is sourced from a local exotic fruit company called PG Tropicals and is noticeably fresher, more floral-tasting, and less gummy in consistency than the canned guava paste many bakeries use. "Others add cornstarch to thicken [the fruit preserves], which is why they get away with charging $1 for a pastelito," says Fesser, who makes his guava pastries square to incorporate even more filling. "[Ours] is the real deal." He also relies on nearby Knaus Berry Farm for strawberries and even used a friend's massive haul of ripe backyard mangoes last year. This year he plans to expand Pastelito Papi's offerings to papaya, guanabana (soursop), and mamey, a tropical fruit native to Cuba.
Of course, using local produce and choice ingredients means a higher price. Pastelito Papi's pastries average between $3 to $4 each. The restaurant's recent three-year anniversary party sold Cuban sandwich pastelitos (baked pork, ham, house-made pickles, and mustard) at $5 a pop. All 150 quickly sold out.
Pastelito Papi, which has grown through word of mouth and social media, has received praise from the likes of Thomas Keller, and Fesser has even turned down places wanting to carry his pastries, including heavyweights like Nordstrom, due to his small-batch operation. Despite all the attention, Fesser remains laser-focused: he still works full time at Ariete and comes in on his days off or stays after his shift to work on pastelito orders, selling about 300 a week.
He is also busy collaborating with other food purveyors on items like a reuben sandwich pastelito using Babe Froman's Montreal pastrami. He has set the laudable goal of tapping into as many countries as he can for filling inspiration.
"I think that's a great way to connect with Miami since we're so many mixed cultures down here. Pastelitos don't have to just be Cuban, you know? We can put every country inside of them."