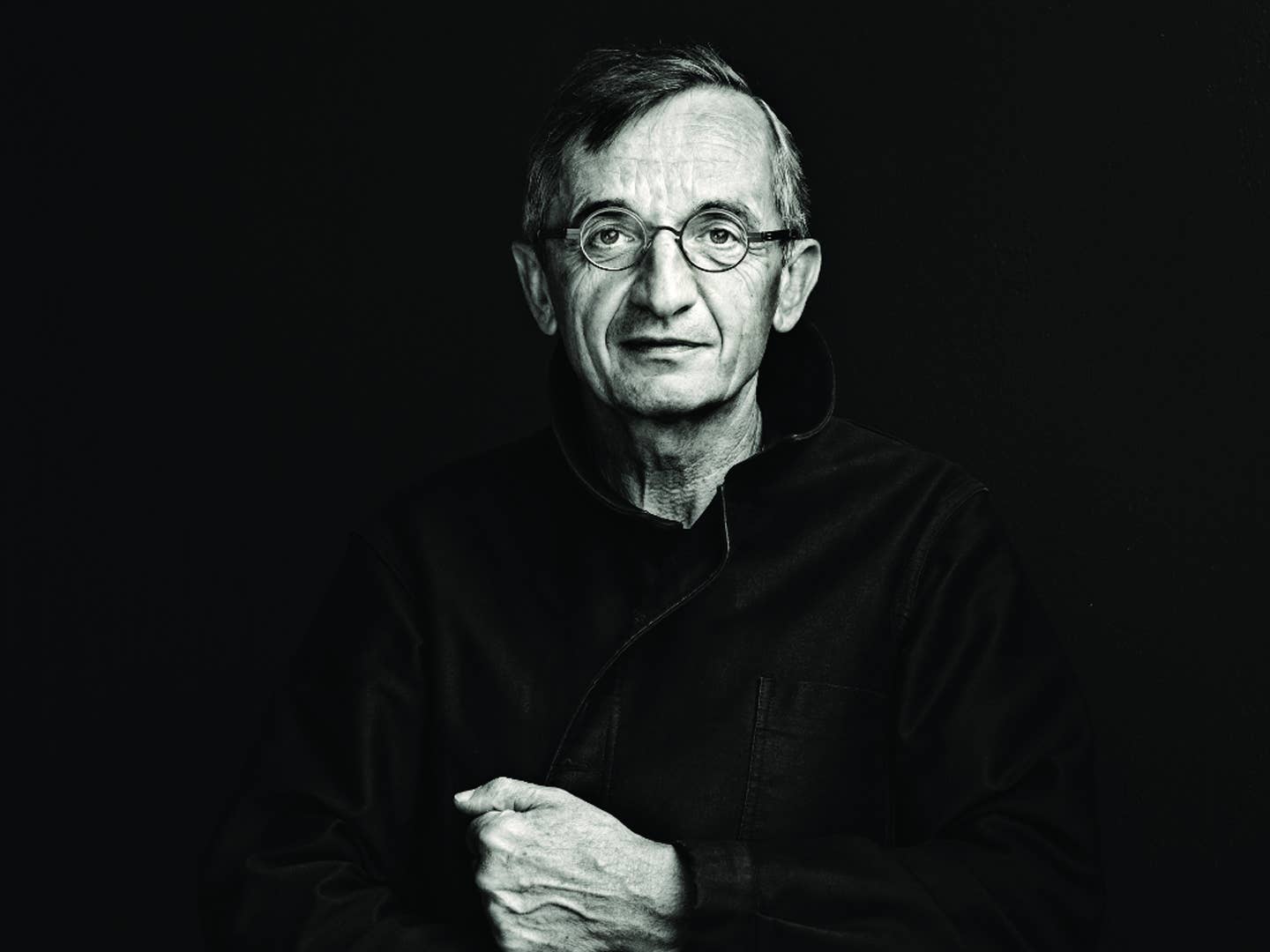 Culture
Michel Bras, the Food Revolutionary
In the remote, green pastureland of the Aubrac, Michel Bras has been quietly making revolutionary food, inspiring three generations of chefs around the globe
I've heard that you should never meet your hero. I met mine, and I want to amend the rule: You should absolutely meet your hero, if you have the chance. Just don't offer to make him breakfast.
I have idolized Michel Bras for the better part of two decades. He is one of the most influential, forward-thinking chefs on earth, and from his restaurant overlooking Laguiole he changed the way all of us think about and present our ingredients. I'm fairly sure he didn't set out to do this. He was just minding his own business on the top of a mountain—focusing on his land, and his food, like a culinary monk. He obsessed over and mastered vegetables, and then, drawing inspiration from his surroundings, he plated them in shockingly beautiful ways. His plates are abstract paintings: colorful dots and smears and dramatic lines of sauce; herbs deliberately scattered to look not-so-deliberately scattered.
You've seen plates like this, because chefs all over the world have copied them, myself included. Look around, and you'll see Bras' influence everywhere. He was a locavore before any of us knew the word, and he was foraging before that was cool. He made beautiful cookbooks before any of us fussed over food photography. He studied his ingredients and treated them in ways people could never have imagined: shrimp dredged in powdered orange peel; monkfish cooked in jet-black, black-olive-infused olive oil. The food, like the man himself, is intense. And if there's any remaining doubt about his influence, I should add that Bras also invented the molten chocolate cake. I wonder if he knows that there's one on the menu at Chili's.
But anyway, back to the breakfast situation: Michel Bras came to New York in 2009 as part of a big event thrown by the French culinary group Le Fooding, and I had the good fortune of hosting him at my restaurant, wd~50. My team and I were excited and terrified and completely overprepared. We bought five new mandolins, predicting that Bras would want to make his famous, dramatic gargouillou, an ever-changing dish involving upwards of 60 vegetables. We consulted with our go-to farmers about what we could source for the consummate forager. We were ready for everything—except for the fact that the exacting, focused, world-renowned chef would not actually need much extra help.
Our mandolins were Japanese; he wanted French. Our farmers were great; he wanted to shop the Union Square Greenmarket himself. And my breakfast offer, to make him a big American diner-style plate of scrambled eggs and bacon and English muffins, was, in retrospect, not the best idea. He wanted to start his day like a proper Frenchman—with a baguette and jam. And I joined him.
Wylie Dufresne is a James Beard Award-winning chef living in New York City. Le Suquet at Maison Bras, run by Bras and his son, is open April through November.