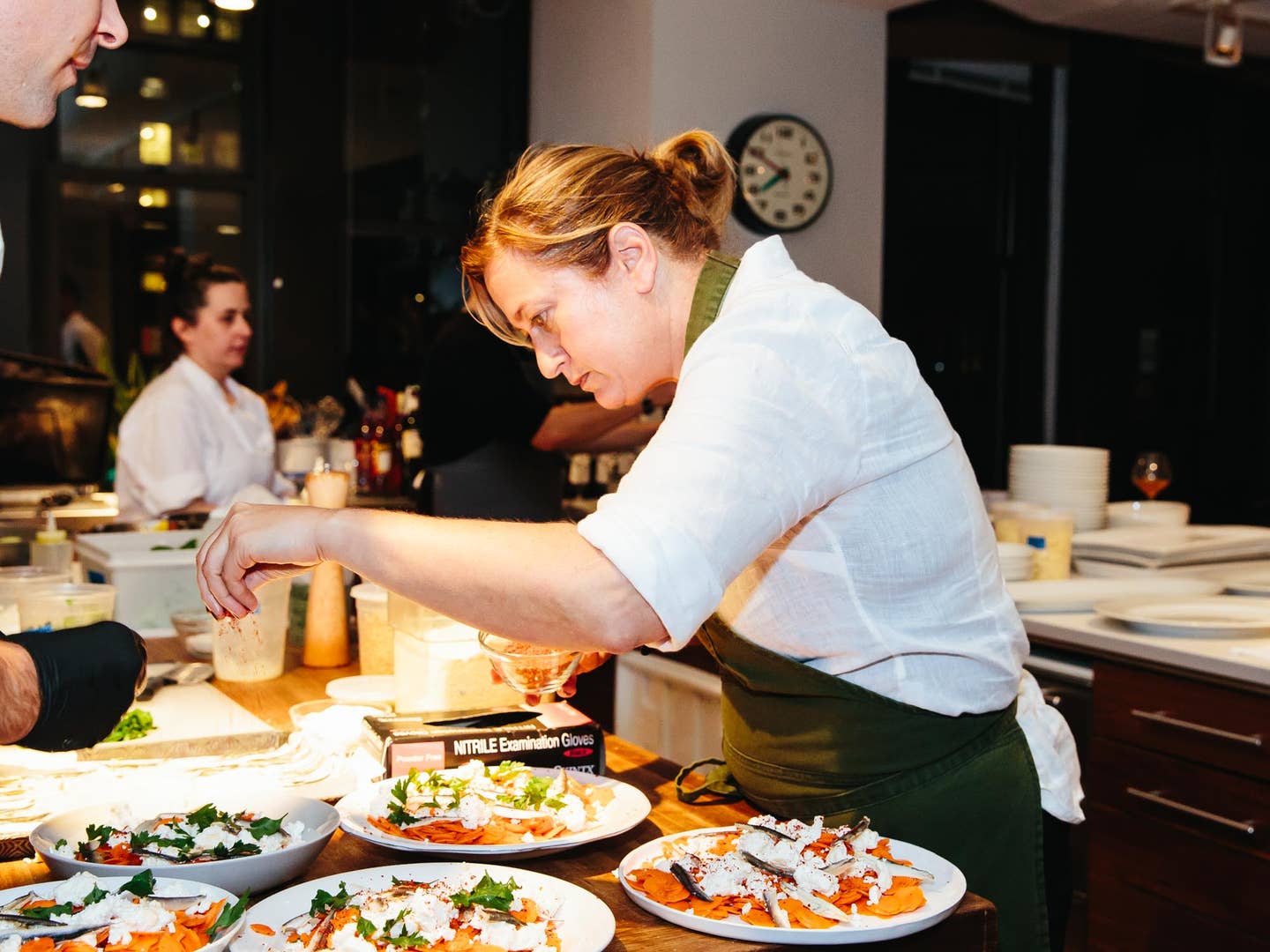 Culture
We're Obsessed With Missy Robbins' Polenta Fried Chicken
At our #saveursupper, the Lilia chef filled our plates with tasty dishes like ricotta gnocchi and avocado with bottarga
Missy Robbins has a lot of stories to tell. Thankfully, when she's not sitting across from you, regaling you with the accounts of her pasta-making training in Italy, her new book, Breakfast, Lunch, Dinner...Life is there to keep the craving satisfied. On Tuesday, Missy and her team from Lilia visited the SAVEUR Test Kitchen to celebrate and prepare a meal culled from its pages, a unique story behind each dish.
The evening opened up with anchovies—heaps of them, piled atop soft bread smeared with butter and a spoonful of salsa verde. Salty, herbaceous, and rich, we couldn't get enough of them, particularly when washed down with Negronis and Aperol Spritzes from Campari. Accompanying the anchovies were deviled egg toasts—Missy's playful re-imagination of deviled eggs, just without the boiled egg white that only serves as a vessel for garlicky, yolky goodness. And in this case, a generous sprinkling of shaved bottarga.
A vegetable medley made up the first course: shaved carrots topped with shimmering white anchovies and crumbled feta; roasted fennel with balsamic and Parmigiano; and the visually striking grilled avocados, smothered in pistachios and ribbons of bottarga. A lighter salad of green apples and little gem lettuces was also present, though not without a healthy smattering of Gruyère.
By the time the pasta course rolled around, the kitchen crew were dutifully manning their stations. Tender, fresh ricotta gnocchi went into heavily salted boiling water, but just for a few moments. One was pulled out, the texture gently tested with a forefinger, before the batch was strained out and passed down the line to be tossed in a pan of Missy's softly simmering 30-garlic-clove tomato sauce, which was tasted every few moments to ensure that the flavor was just right.
Next followed the main course, fried chicken brined in a salty green tea and enveloped in a polenta batter. A deep fry in chicken fat and a dusting of fennel pollen and chile flakes transformed it even further. Missy recounted the story of this dish, which came from sitting on the couch and watching Sean Brock make fried chicken on TV. The craving needed to be met, and so Missy's own version was formed.
And just when everyone thought they were losing steam, a simple vanilla ice cream affogato topped off the meal, swapping out the espresso for a buzz-worthy homemade cold brew concentrate that kept everyone swapping stories throughout the night—another one for the books.