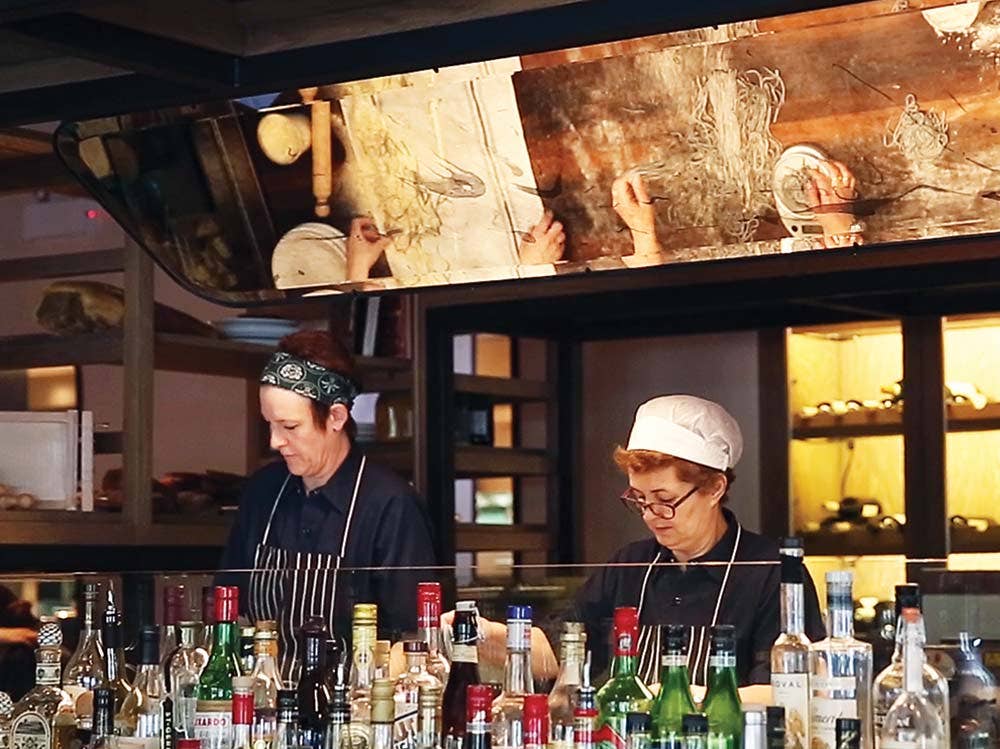 Travel
This Chicago Restaurant Turns Pasta Into Performance Art
At Monteverde, the disembodied hands of Besa Xhemo and Maria Perez shape hundreds of agnolotti for all to see
The 16 bar seats at the Chicago restaurant Monteverde offer a view of one of the slower-paced shows in town, even by avant-garde standards: The two female leads perform on a raised stage in silence, heads down, with faces that betray no emotion. The action is all in their hands. You sit, you watch, you don't applaud, you may even stay for all six hours.
Chicago holds its theater culture in high regard, and at Monteverde, from James Beard Award winner Sarah Grueneberg, the dinner and a show is a show that's your dinner. Its pasta makers are showcased on a tabletop stage made from Boos Block walnut. Overhead, a 10-foot-long mirror is carefully tilted where the TVs would be in a sports bar. It provides a view of the flour-dusted surface, where pale yellow balls sit, and two sets of hands pinch, crimp, knead, and roll out pastas with balletic precision.
Five nights a week, those four hands belong to Besa Xhemo and Maria Perez. Xhemo comes from Bologna; Perez from Mexico City. Both immigrated to America, they said, to provide better lives for their children. Communication sometimes gets tricky—Xhemo speaks mostly Italian, Perez mostly Spanish, chef Grueneberg mostly En­glish. So they've concocted a hybrid language with much gesticulating and the occasional assist from Google Translate.
The pair takes their place at the pasta stage hours before the first customer arrives. They lay out the eggs, flour, and assorted implements that will produce the 60 pounds of pasta the restaurant needs each dinner service. Both were initially skeptical about being displayed so openly, as if they were exhibits at a zoo, but they realized it beat plying in the back kitchen facing a wall. Plus, they say, the more benevolent guests will sometimes send them a glass of wine.
This pasta-making exhibition is entertaining in the way of passing scenery on long train rides. It's a rather understated performance, where the most exhilarating moment is when a sheet of dough gets shredded into spaghetti on a chitarra. But there's something genuinely affecting when you watch them fill and crimp tor­telli to order, and moments later, those warm spinach-and-Parmigiano-Reggiano-filled pockets appear before you, still bearing their fingerprints.