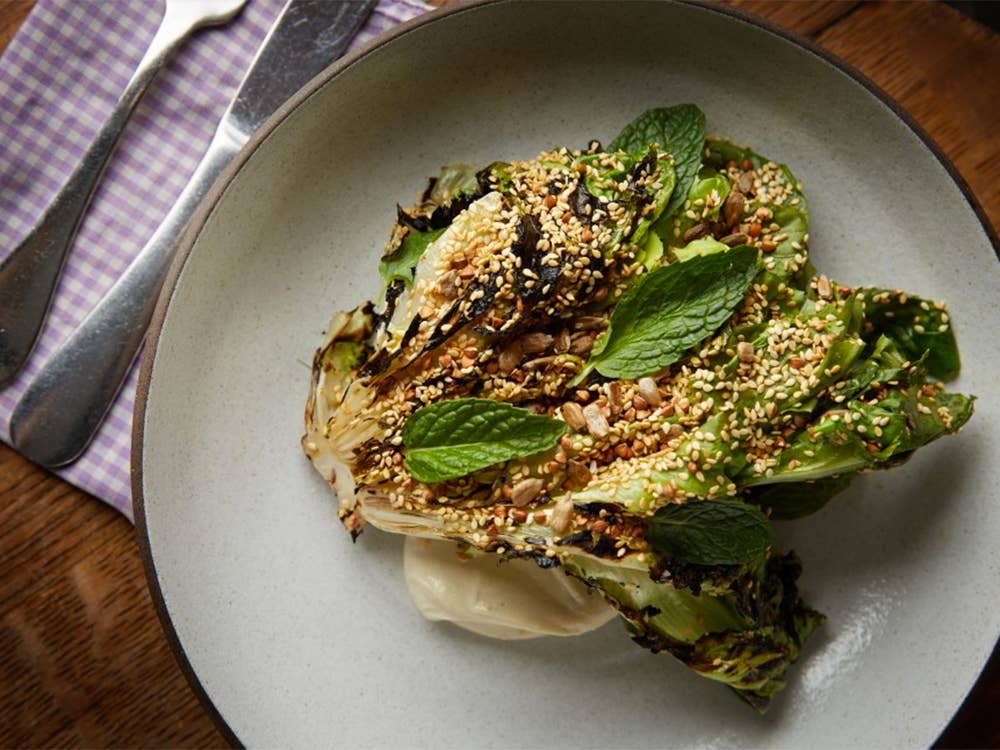 Culture
A Brooklyn Restaurateur is Showing What Going Green in a Restaurant Really Looks Like
Naama Tamir, the owner of Lighthouse, is building a new model for sustainability beyond buzzwords and high prices
Naama Tamir runs a restaurant that arguably makes some of New York's best tahini-dressed grilled vegetables, "big salads" that are actually big, and sourdough bread, but if you ask her what she spends the majority of her time thinking about it, it's trash. As in garbage.
As the owner of Lighthouse, a vegetable-forward, smart-but-unpretentious restaurant in the part of Williamsburg, Brooklyn that Google Maps describes as "out of the way," Tamir cares a lot about food, like where her sugar snap peas are from, how dry-aging affects the flavor of beef for a burger, or the secret ingredient in Lighthouse chef Joey Scalabrino's salad dressing that makes it taste so damn good (it's nutritional yeast). She cares about nourishing her regulars and the newcomers they bring—but beyond that, she also cares about how her business can benefit both the economy and environment.
"We have to stop thinking about waste as waste, and start thinking about it as material that has another whole life ahead of it," she says. To make something biodegradable, if you ask Tamir, is "amazing." So she's talking to the restaurants around her every single day about composting and recycling, telling them how simple it is to do so; she's buying meat and produce from around 30 local breeders and farmers; she's sneaking into parties where she can talk to New York City mayor Bill de Blasio about constructing machine condensers for compostables and localizing waste disposal to offset Williamsburg's pollution. And she's doing it all without any support from press or PR.
Born just south of Tel Aviv, Israel, in the small town of Rehovot, Tamir first came to America on her "post-army trip" at 20 years old after completing Conscription, a mandatory service for all Israeli citizens. With the support of her family, she decided to settle in New York City, where she enrolled at Hunter College to study philosophy and psychology; she had loose plans to stay in academia, but at the same time, she didn't want for that to be her job. Feeling a little lost, she called up her best friend: her brother.
Not even a year after moving to the States, a slightly-homesick Tamir had convinced her brother Asaf to visit; he was interested in acting at the time, and Tamir had made the case for The City That Never Sleeps. Just a few weeks after his flight over, it was clear that he wasn't leaving, so in 2009, they decided they'd open a restaurant together, where they'd do something different than everyone else.
"We felt like we had something to say in food," Tamir says. "I remember specific meals [in New York] where we would go out together and we'd feel hungover from food. The food almost poisoned you on a small level." Having grown up in a country where there were five salads for every meat dish and processed food was sparse, Tamir and her brother didn't understand America's convoluted relationship with food. So with Lighthouse, she wanted to make a restaurant where food was about more than taste or filling you up. As a restaurateur, you can stuff people full of food, but two hours after they eat, do they feel sick and overstuffed? That's not what Tamir was after.
From the wooden tables to the 'nduja-stuffed morels to the floor tiles, everything at Lighthouse feels good for you and good for the world—because it is. You sit on benches at tables under hanging light fixtures, all of which her father came over from Israel to build. You slurp down oysters whose shells she gives to The Billion Oyster Project, an ecosystem restoration and education project that is working toward resupplying the New York City Harbor with oysters and involving school aged children to teach them about the importance of clean water and biodiversity. You'll likely be a little drunk off a bottle of wine (with a cork that will be retrieved and recycled by the Cork Collective group), so you be wiping mignonette from the corners of your mouth with one of 2,000 napkins that Tamir's mother hand-sewed.
And though you'll almost definitely finish every chewy corner of sourdough and schmear of smoked labneh with peas that lands on your table, in the event that you don't, she sorts all the food scraps and give them to the non-profit Sure We Can, the city's only licensed, homeless-friendly center that gives collectors a safe place to sort and redeem the value of their retrieved cans and bottles, who will compost it all.
For every trendy café that throws around vacuous claims about locality and their farm-to-table whatever, Tamir is actually practicing sustainability, but not throwing it in your face. She talks to the cafe and restaurant owners around her every single day about her initiatives, telling them how easy to get involved, and if you come into her restaurant and ask her about the oysters, she'll tell you about the Project. She isn't out to reprimand anyone; she just wants to inform.
"I get that this is my 'crazy,'" she says. "But once enough people are talking about localization and 'green,' being cool, and someone's pushing for it, you're there."
And when you leave the restaurant, you feel like a good person—so good that the next day, you won't mind the slight headache you have from maybe staying for one too many glasses of wine, having been too at ease in a slightly out-of-the-way restaurant that felt like home.