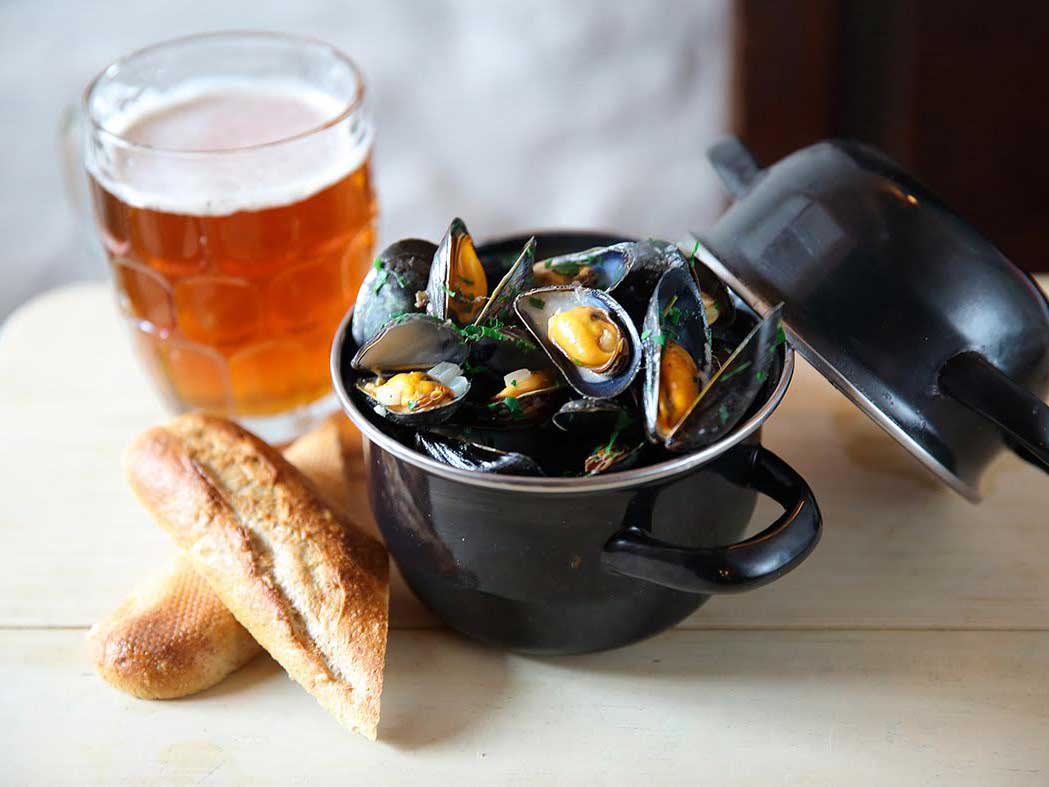 Travel
Small Towns, Great Seafood: Where to Feast on Mussels Along England's Norfolk Coast
In the stillness of winter, cold-water mussels take over menus along the north coast, making February and March the perfect time for a quiet retreat
Under the low-slung winter light that embraces England in January, I pick my way through a pot of local mussels at The White Horse Inn. This time of year, the best meals along England's Norfolk coast are strictly mussel-bed-to-table. And as I look out through the restaurant's cathedral-like glass conservatory, just yards away I spot the beds where my own meal fattened on a feast of rich North Sea nutrients for the last 18 to 24 months.
Norfolk has long been a summer retreat famous for sailing on the "broads" and beaches that wrap halfway around the county. But in the stillness of winter, cold-water mussels take over menus along the north coast, making February and March the perfect time for a quiet retreat. Many restaurants close in January while decorators smarten up the dining rooms, and chefs return from their post-Christmas sabbatical simmering with new ideas even as they carry on the traditions that have drawn visitors out of London to taste what's cooking out on the edge of England.
"We try to keep it simple," Fran Hartshorne, The White Horse head chef, tells me in typical English understatement as I'm halfway through her mussels with a particularly Anglo flare: a little celery, a little English thyme, a splash of white wine, and lashings of rich English double cream (that's 48% butterfat to American heavy cream's 36%).
On Monday nights, I discover the particularly English passion for the spice of cuisines from warmer climes. Mussels are robed in almond milk, raisins, and ras al hanout or turn Thai with chiles, ginger, and lemongrass. Then there's "The Local": the north coast's session pale ale, Brancaster Best, swimming with a triumvirate of Norfolk bacon, Dapple cheese, and Colman's (native to Norfolk) mustard.
But it all starts in those beds just at the bottom of the restaurant's garden. "We're slaves to the tide," jokes Ben Southerland, the fifth-generation mussel farmer in a family business that stretches back a good century. He and his father Cyril still keep those beds alive with mussels like no others.
Until the 1990's, most of these mussels left the county and headed off to industrial cities like Nottingham or Leicester. "They were a working man's pleasure," says Southerland, and as the day ended, factory workers grabbed bags from market stalls to take home for dinner. But then, chefs along the Norfolk coast became interested in making the most of what they could get locally. And word spread that this quiet English county had some amazing food on the menu.
These bed-grown Norfolk mussels are distinct from industrially produced rope-grown mussels that spend their life constantly suspended deep in the water column. Because they live most of their lives right where the land meets the sea, Norfolk mussels drink up high tide and dry out in low. They adapt to the ebb and flow and have a hearty character that gives them a slightly longer shelf life once harvested.
Then when it's time for harvesting, "it's all done in the same way it was in my great grandfather's time," says Southerland. While rope-grown mussels are mechanically harvested, and while national dealers trade in tonne-size bags, "we are handpicking more or less every mussel," and grading each by hand to ensure "only the best go to the customer."
Southerland also supplies an old school friend, Eric Snaith, chef-owner at Titchwell Manor. Snaith plays with the classic British dish, beef and oysters, dressing a slow braised beef shin with "that salty taste of the sea" mussels offer. And in one-bite canapes, mussels come out of their shell, get a splash of hot and sour dashi, and are served on spoons for a single bite.
Farther west along the coast, at Michelin-starred The Neptune, chef-owner Kevin Mangeolles confesses that when it comes to mussels, "I never really liked eating with my hands, so I thought I'd refine it a bit." He whisks seaweed butter into mussel broth and serves the meaty bivalve as a garnish for sea bass alongside potato gnocchi.
It's hard to beat a winter's afternoon tucked up in front of the fire with a massive pot of mussels and something choice from the cellar of The Hoste. (The small is big and the large is incredible.) It's the definition of snug at this sixteenth century "hostelry"—a good old-fashioned word that delivers food, drink, and a place for weary travellers to rest.
As the winter winds come in off the North Sea, these restaurants make me feel a little like a medieval pilgrim. They offer rooms as well as the local speciality done perfectly. (At the Deepdale Cafe, a kind of casual roadside place where you can get the mussel lunch deal along with sausage rolls, jacket potatoes, and tea and cake, you can stay over with friends in the hostel or book the heated shepherd's hut.) The tide rolls out, you rock up to a casserole of steaming mussels fresh out of their bed, and then roll off to your own.
Where to Get Your Mussel Fix
Titchwell Manor
Titchwell Manor, Titchwell, Near Brancaster, Norfolk PE31 8BB
+44 (0) 1485 210221
The Neptune
85 Old Hunstanton Road, Old Hunstanton, Norfolk, PE36 6HZ
+44 (0) 1485 532122
The Hoste
The Green, Burnham Market King's Lynn, Norfolk PE31 8HD
+44 (0) 1328 738777
Deepdale Cafe
Dalegate Market, Main Road, Burnham Deepdale PE31 8FB
+44 (0) 1485 210200