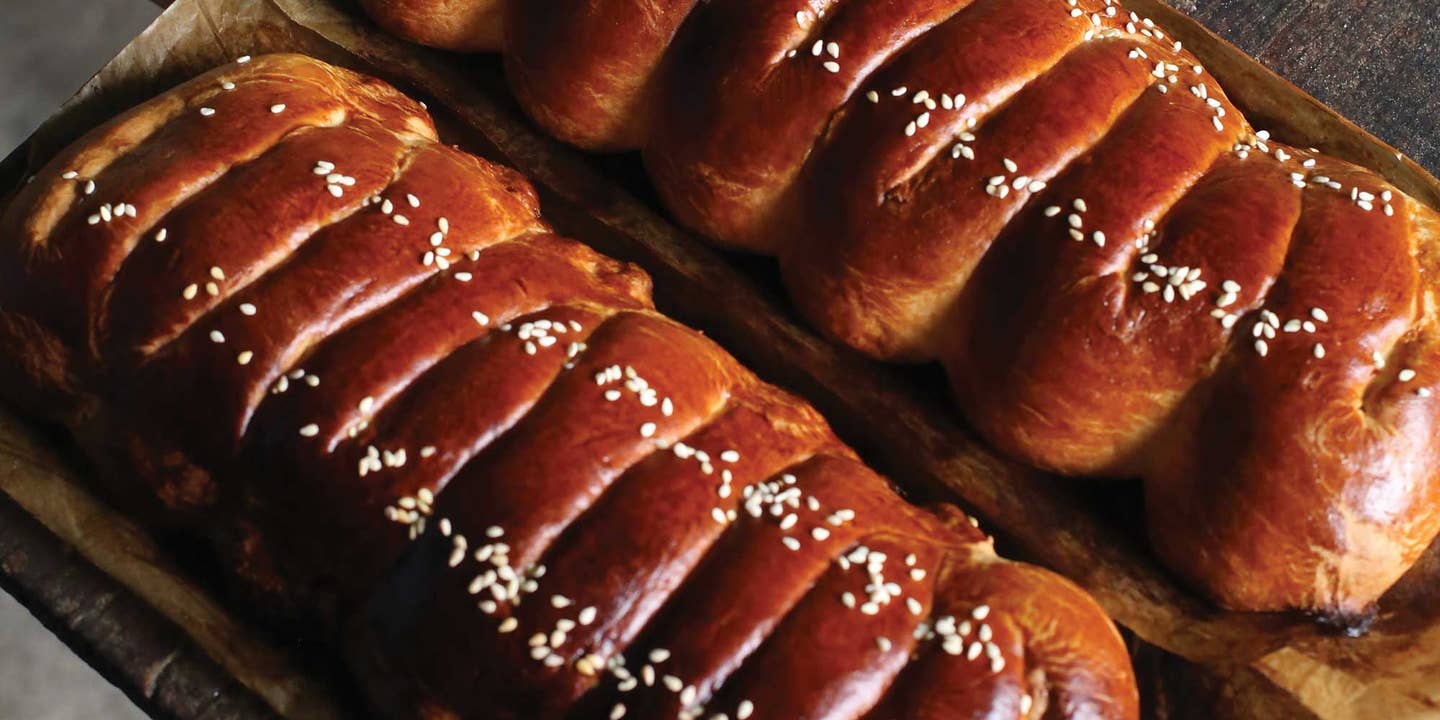 Travel
The Mexican City of Traveling Bread Bakers
The artisans of San Juan Totolac supply freshly made loaves to festivals all over Mexico
When David Cuapio's great-grandfather started making bread in the early 1900s, San Juan Totolac was just a tiny hillside village. He and his family would make their dough from wheat ground at the Spanish mill up the hill, mix in a little lard and piloncillo (unrefined cane sugar), and leaven the dough with pulque, a mildly alcoholic beverage made from the fermented sap of agave plants, which once proliferated in the region. They would load their bread into wooden crates, strap them to the backs of mules, and sell the loaves at whichever nearby village or town was celebrating a festival, usually tied to the local Catholic patron saint. Their customers called it pan de pulque, pan de burro (mule bread), or pan de feria (fair bread). In Totolac, they called it pan de fiesta (party bread), and it was how just about everyone in town earned a living.
Now grown to a town of 10,000, Totolac is practically contiguous with the neighboring city of Tlaxcala, the capital of the state of the same name. Most families—the Cuapios included—have long since traded out pulque for powdered yeasts, but the sweet, challah-like pan de fiesta is still available at fairs and festivals. For David, his wife, Claribel, and their two children, Barbara and David, pan de fiesta remains a family business. "My father did this work every week," the elder David says, digging his hands into a deep wooden trough and pressing yellow ribbons of butter through his fingers, "so to learn, all I had to do was watch."
Most weeks, the Cuapios—as well as the other 200 or so baking families in Totolac—prepare hundreds of loaves at a time. On Wednesdays, when most families bake, the entire village is saturated with the heat from the ­ovens and the aroma of fresh bread. On Thursdays and Fridays, the bakers drive out to whichever town—near or far—is having its annual fair that weekend. "There are ­bakers here who have traveled to every state in Mexico," Claribel says. David once traveled as far as the state of Aguascalientes, more than 300 miles to the northwest. Even in states as far north as Zacatecas and as far south as Oaxaca, you can usually count on at least one baker's having made the trek for the annual fair.
Pan de fiesta is not only one of the most common bread-baking traditions in Mexico, it's also among the oldest. During the Spanish conquest in the 1500s, the Tlaxcalans formed an alliance with the invaders to defeat their old enemies, the Aztecs. As a result, the Spanish Crown gave them special privileges, including the right to grow wheat. The first indigenous bakers learned their trade under the Franciscan monks who had established monasteries in central Mexico, and often prepared bread for ritual use in the church. According to Roberto García Juarez, one of the last bakers in Tlaxcala who still leavens loaves with pulque, some Tlaxcalans would bake pulque—to them, a sacred drink—into those ritual breads as a way to make surreptitious offerings to their own gods hidden in the body of Christ.
By the 1950s, the modernization-obsessed central government, which saw any vestige of pre-Hispanic tradition as a hindrance to progress, had allied with the industrial brewing companies to replace the vast fields of agave with barley for beer, and the use of pulque in baking largely disappeared. Juana Flores Perez, at 77 the oldest working baker in Totolac, recalls weekly trips as a girl to buy pulque for her parents' dough. But by 1960, when she had started her own business, pulque was scarce, and shelf-stable yeasts—ironically sold under the name "Aztec Brand"—started appearing on shelves around town. Even without pulque, the family tradition remains strong; all of Juana's 10 grandchildren have professional degrees, but five of them, she says, still spend weekends helping her bake. David's kids are studying too. "I don't necessarily want them to sell bread," he says, handing off the finished dough to his son. "But I do want them to learn the value of a peso."
The younger David tears the dough into balls and hands them to his mother and sister and a neighbor's 6-year-old daughter, Luna, who form an assembly line at a long table. They roll the balls into rings, shaping each winding loaf by binding six rings together with the press of a thumb. The kids coat each loaf with an egg wash and a sprinkling of sesame seeds, and with the last few pieces, they roll out broad, flat-faced loaves that Claribel and David decorate with coiling vines of dough.
After resting for an hour and a short time in the oven, the loaves emerge the color of glazed earthenware. "This one is the baby," Luna says, grabbing the smallest loaf, "and those are the mom and dad." She points to the two largest, shaped like diamonds. "They're all family."