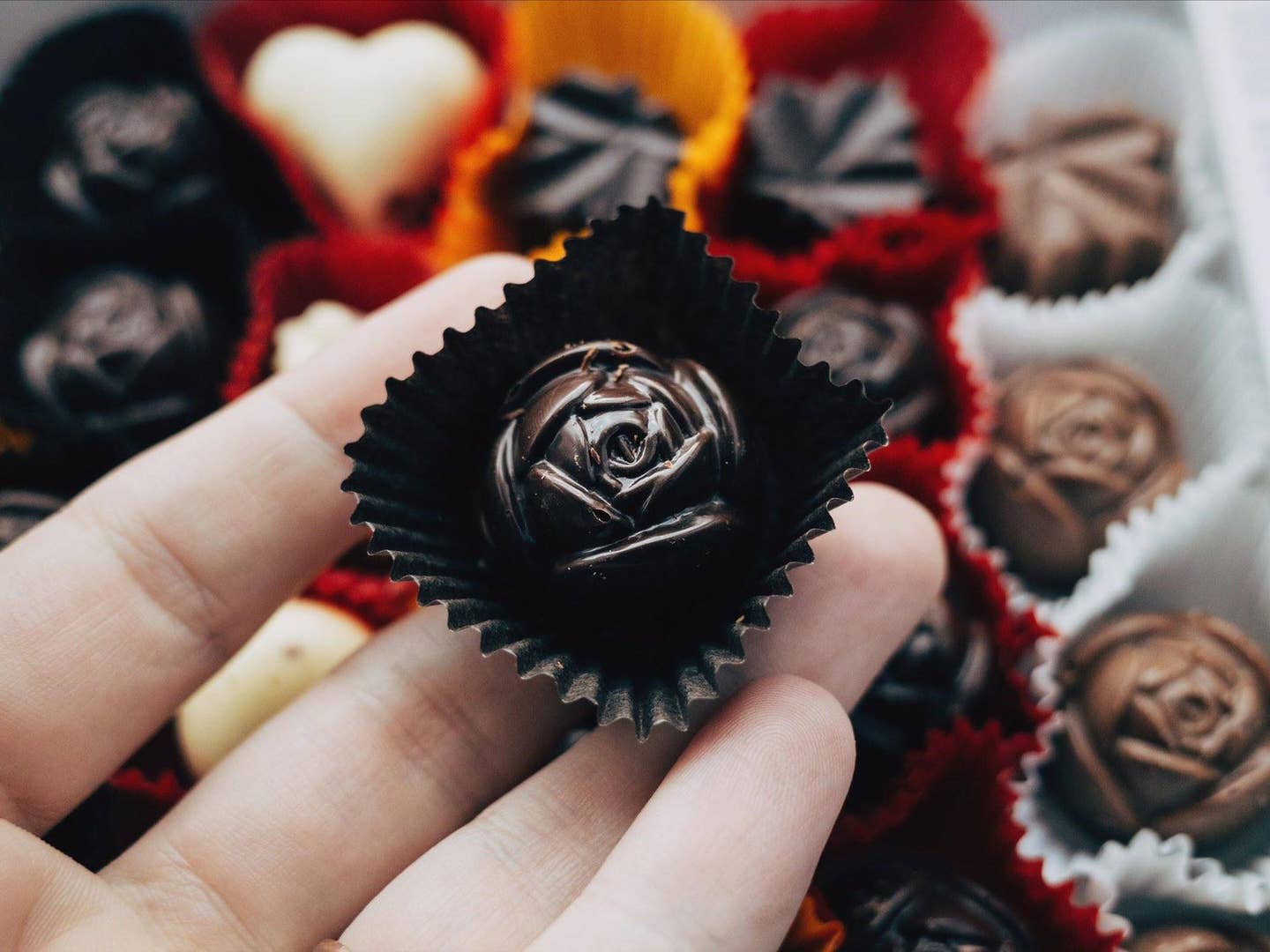 Culture
A Family of Syrian Refugees Have Launched Canada's Hottest Chocolate Company
Peace by Chocolate is bringing a taste of Damascus to Nova Scotia—and they can barely keep up with demand
For Assam Hadhad, there are two ingredients for living a happy life: peace and chocolate. Once a leading chocolatier in Damascus, this ambitious Syrian refugee is now reclaiming both, seeking a sweet start in Canada.
For three decades, Hadhad's company in Syria shipped handmade chocolate all over world, but he lost everything in the war. Seven months after fleeing to Canada, Hadhad has resumed his craft and opened a craft chocolate shop in Antigonish, Nova Scotia. Calling it Peace by Chocolate, he's selling handmade treats from a backyard shed in this tiny town of 4,000 residents, and remarkably, his start-up venture has quickly become Canada's most talked about sweets business.
"When we left Syria, we really felt the importance of the peace in our life," says Tareq Hadhad, Assam's eldest son and spokesperson for the business. "We are not only working in the chocolate field—we are working in the peace-building projects. [My father] really believes that whoever eats chocolate will be happy in life."
So far, the little chocolate shop on Canada's east coast has been a big hit, teeming with orders and even hosting a visit from the Canadian Prime Minister.
Hadhad first fell into chocolate-making "by chance," as Tareq says. Fueled by a sweet tooth, the self-taught chef began borrowing chocolate cookbooks from the Damascus library in the 1980s, and "playing with chocolate whenever he could." Soon, his father's hobby morphed into a serious venture.
"He started to create his own recipes," Tareq goes on. "He started to learn how to roast cocoa beans, make special flavor[s], and mix them with chocolate. He was creating so many different kinds." By the early 1990s, Assam was running a thriving 30-person chocolate factory in Damascus that exported products across the Middle East and Europe. "We were considered the second [largest] chocolate company in the Middle East," Tareq explains. "The factory was producing tons of chocolate a day."
Everything changed in an instant. In 2013, the factory was destroyed by a missile, just minutes after closing for the day.
"We really lost everything," says Tareq. "We also lost our home—the entire building of [our] family in Damascus was bombed and burned." Uprooted by "the crazy war," the Hadhads fled Syria and joined millions of other Syrian refugees in Lebanese refugee camps. It was a heartbreaking decision: most of the Hadhad family had never travelled, or even boarded a plane, let alone sought asylum in a foreign country.
"It was a very harsh time for us," he says. "We thought if we moved to Lebanon for one or two years, then maybe the war [would end] and [we could] come back to our home country."
After three long years in the refugee camp, the Hadhads realized that going home may not be an option. Luckily, in 2015, the family of six was accepted as refugees to Canada. "I was welcomed as [if] Canada was my homeland," says Tareq. "Everybody was trying to make sure that we are warm, safe, and happy, and we have everything we need to start our life here. Now we have an identity in a country that respects the human rights and freedom."
Settling in Antigonish in January 2016, Assam quickly picked up where he left off, making sweet treats in his kitchen. Within a few months, the Hadhads were selling small batches of chocolate at the local farmers' market, and by August 2016, had cobbled together a tiny shed beside their house that functioned as a makeshift "factory."
"The people from Antigonish helped us build that factory," says Tareq. "Plumbers, electricians, and carpenters—everybody that could help. They even gave us a loan to start the business and to get the supplies. It's a beautiful example about how welcoming people are here in Antigonish and all over the country."
Although locals loved their sweets, the big break for business hit in September 2016, when Canadian Prime Minister Justin Trudeau shared Peace by Chocolate's story at the United Nations in New York City. The shop was flooded by orders from across the country, ranging from individual requests to supplying product to large-scale conferences. Tour buses began arriving outside the little shed, unloading chocolate-loving tourists visiting from Canada, the United States, and even Japan. Just before Christmas, Tareq launched an online store, only to be so overwhelmed by orders he had to put it on hold.
"I had to shut it down," says Tareq. "We couldn't keep it open because there were tons of orders that we couldn't follow through."
The online store is running again, selling assorted boxes of chocolates, molded into Middle Eastern symbols such as the Damascus rose, Egyptian pyramids, and patterns resembling Syrian architecture. Each piece is handmade with fair trade dark, white, or milk chocolate, as well as local organic honey, pure juices, nuts, fruits, and spices.
With such an overwhelming response, Peace by Chocolate already plans to expand, hiring more staff and moving to a larger space in the spring of 2017. The Hadhads had another highlight last November, when they met the Prime Minister face-to-face. Naturally, Assam presented an edible gift that blended Syrian and Canadian traditions.
"We gifted him something that represents our Syrian culture and that we are integrated in this country," says Tareq. "We mixed special gift boxes with maple leaf-shaped chocolate and Syrian-shapes like the rose, the symbol of Damascus. It's to tell the story that we are proud to be Canadians, as we are proud to be Syrians."