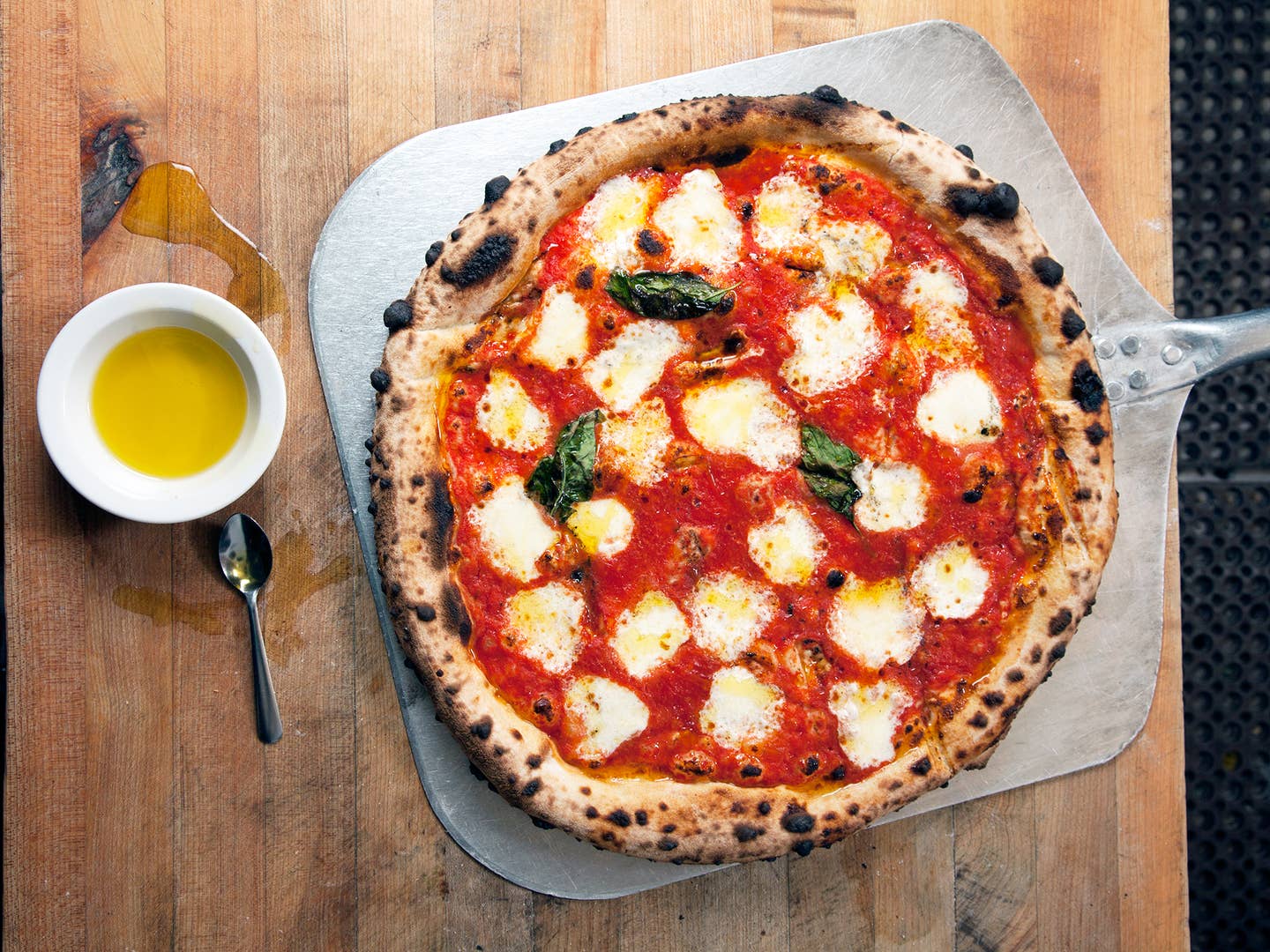 Culture
An Anonymous Internet Hero is Fueling Political Protesters With Pizza
In response to a groundswell of protests at American airports last weekend, Pizzaful Protest shows where we all share common ground
No matter where you are, or who you're with, if someone sends you a pizza unexpectedly, you've got an instant party on your hands. We can all agree on that, regardless of where we're from. But does that still hold true when the gathering is less about recreation than defending civil liberties?
One nameless Twitter user put this question to a proper field test this past week, when he harnessed the long arm of social media to deliver fresh pies to the swelling airport demonstrations speaking out against President Donald Trump's travel ban, which he signed into action on Friday, January 27th. What began on a frustrated whim has emerged in the subsequent days into Pizzaful Protest, a fast-growing non-partisan effort to provide both peaceful protesters and the law enforcement officials tasked with protecting their right to assemble something every one of us needs from time to time: a quick slice.
"I've been in a state of despair, anxiety, anger and fear...all these different things because of the current climate," says the man behind the Pizzaful Protest account. He prefers to remain anonymous, but admits that he's a Pennsylvania native who is not a stranger to political instability. In the mid-1970s, his father was "kidnapped, beaten, and left for dead" by fascist military forces in his family's South American home, forcing his grandfather to flee for Philadelphia, sending for his father shortly thereafter. It was a trip he was able to make thanks to the sponsorship of Quaker activists. (The organizer was in his mother's womb at the time.)
"I have a deep personal connection with [unrest] because of what happened to my family, and why we're here," he says. "I love America, I love liberty, freedom, and everything this country stands for."
This backstory ran through his mind last Saturday night, as he scrolled through Twitter to follow protests at airports across the country speaking out against President Trump's executive order, which temporarily bars both refugees and immigrants from seven predominantly Muslim countries (Iran, Iraq, Libya, Somalia, Sudan, Syria, and Yemen) from stepping on American soil. Removed from the action, he felt helpless, as if there was nothing he could contribute.
Then, he had what he describes as a "eureka moment." Identifying active Twitter users participating in protests at Terminal 4 of JFK International Airport in Queens, New York, he started @'ing them from his new @PizzafulProtest account, seeing if the hundreds gathered needed anything—specifically food.
"The account messaged me asking if pizza would help," says Pat Tobin, a Brooklyn-based comedian with a large Twitter following who was present at Terminal 4 from last Saturday afternoon into the evening. "I said absolutely."
Now it was time for the organizer to implement his impromptu idea—but luckily, he had considerable experience processing unconventional requests. Prior to living in Philadelphia, he worked in Manhattan for 17 years in hotel hospitality, a career that included a stint at a venue just blocks from Ground Zero during the events of September 11th, 2001. "I worked as a concierge for 17 years, and one of the things I pride myself on is I make things happen...even if I don't know how to," he says.
He immediately got on the phone and began calling pizzerias around JFK, and got shot down a number of times before one shop, which requested anonymity, agreed to make the delivery. He paid for 20 cheese pizzas out of pocket, coordinating their arrival with via direct message with Tobin.
"The protesters were very grateful and excited to be able to eat," says Tobin, who honored the organizer's request to offer slices to the NYPD officers working the protest, who politely declined but seemed appreciative of the gesture. As expected, the pies went fast. One woman broke down one of the empty boxes, wrote "STOP HATE" on it, and hopped back into the fray, new protest sign in hand.
Emboldened by the successful first transaction, the one-man Pizzaful Protest team began reaching out to other airport gatherings across the country, staying up late into the night to coordinate the delivery of another 20 pizzas to a group at San Francisco International, paying for this one out of pocket as well. Friends and strangers alike began reaching out to the organizer to contribute money to the cause. He quickly set up a GoFundMe, which to date has accrued nearly $3,000; 100 percent of the crowd-sourced money, he vows, will be used for future protest deliveries, save for reimbursing himself for the first two orders he covered solo. ("Some people donated as Paul Ryan and Donald Trump," he says.)
He followed up his first night by delivering another 20 pies, this time from Joe's Pizza in the West Village, to a Sunday-night gathering of lawyers and translators, coordinated through Manhattan-based actor Arian Moayed, a dual English-Farsi speaker who showed up at JFK to offer his skills as a translator.
"When you're in that sort of a tense situation, everyone's angry, everyone's fired up, and the police are there in riot gear, ready for anything. It's super tense," says the organizer of the thought process behind the campaign. "The last thing you need to do is throw hunger on top of it. I figure I could at least take the hunger out of the equation." (Pizza to the Polls, another social media-based campaign, got slices to citizens waiting to cast their ballots this past November.)
Though he's received some negative blowback on Twitter, both from supporters of Trump's travel ban and from like-minded activists unhappy with his open embrace of law enforcement—the big reason why he remains anonymous—the organizer, who's currently setting up an LLC to handle funds donated via GoFundMe, stands firm in his belief that pizza can help foster understanding. He encourages protesters and police organizations alike to reach out to him via Twitter with requests and comments.
"I'm happy to send pizza to anyone who is peacefully protesting anything," he says. "It's not partisan. It's about peace. It's about the beauty of America."