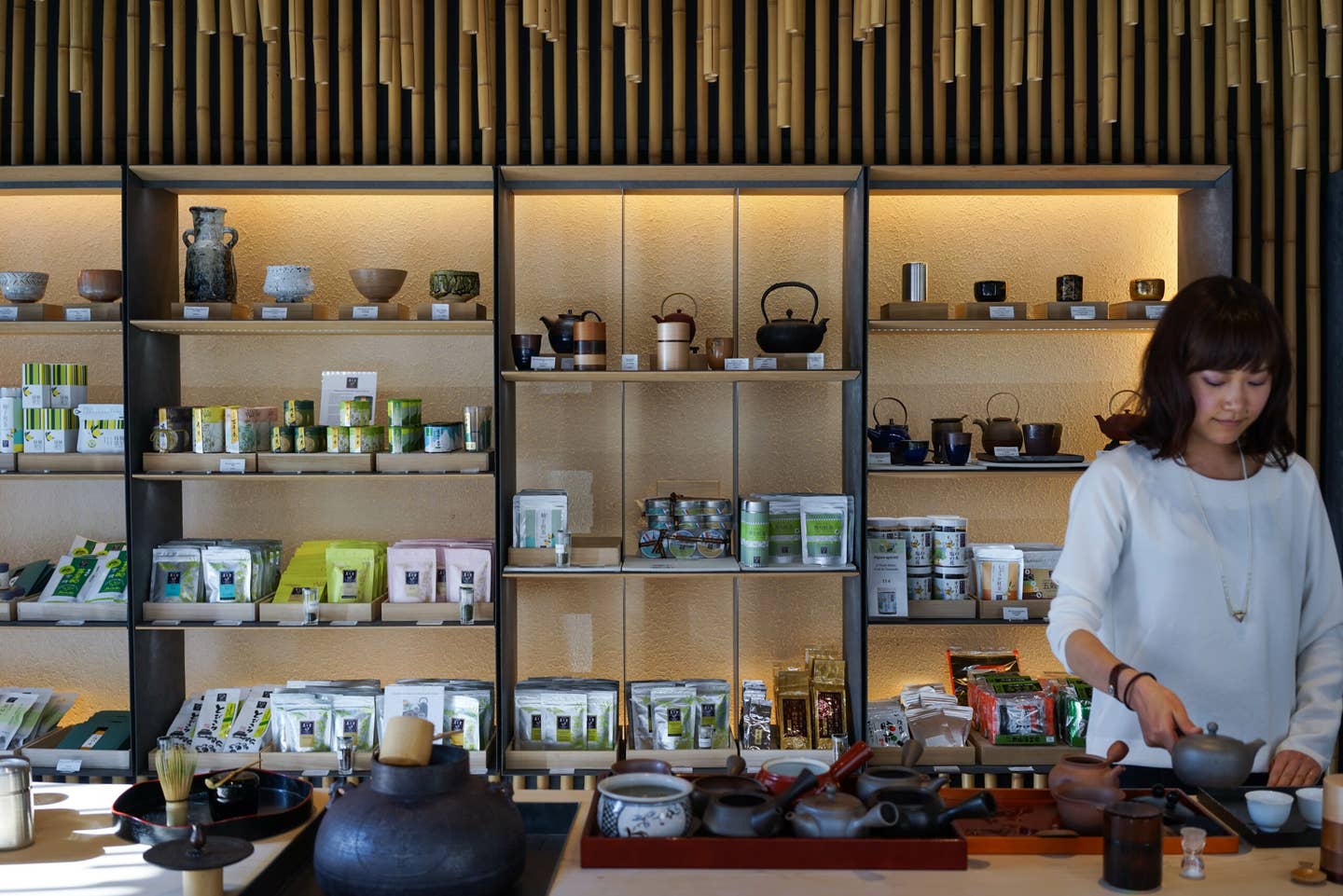 Travel
Sip on Japanese Tea in the Heart of Paris
At Jugetsudo, a tea room in the city's 6th arrondissement, go for the gyokuro
There are countless lovely ways to pass time in Paris, but one of my favorites is to stop into Jugetsudo, a Japanese tea shop and tasting room in the 6th arrondissement. This serene, bamboo-filled space houses high-quality teas, museum-like displays of handmade tea wares, and a large table for enjoying tastings, complete with all the quiet ceremony that goes into a properly brewed cup of tea.
Watching tea being prepared for you can be mesmerizing. Each type served here has its own process, requiring particular vessels or tools—it's much more complicated (and elegant) than dumping boiling water over leaves. There are specific details, like measurements, temperatures and timing, that might leave the average person fumbling and clumsy, but the staff here know these things inherently. They make the intricate processes look effortless, and a little like magic.
The most interesting experience comes with gyokuro, what they describe as the "noblest" of Japanese teas. The leaves yield an intensely savory drink, full of umami. They're brewed three times, and each brew tastes slightly different from the last. After the third round, the leaves are prepared with a mix of soy sauce and rice vinegar and presented for eating. Until my first visit to Jugetsudo, I'd never done this; the novelty of it stuck with me for days.
Each tea is served on a small tray with some kind of accompaniment. They have a selection that includes handmade cookies flecked with tea leaves, savory rice crackers, and traditional Japanese cakes. Everything is delicious, you can't make a bad choice.
Jugetsudo has become a place I make sure to visit any time I'm in Paris. It's perfect for taking a midday break (and I know I'm not alone in thinking so — every time I visit there are ladies at the table engrossed in books while sipping their drinks) or waiting out some passing rain.
Jugetsudo
95 Rue de Seine
Paris, France 75006
+33 1 46 33 94 90