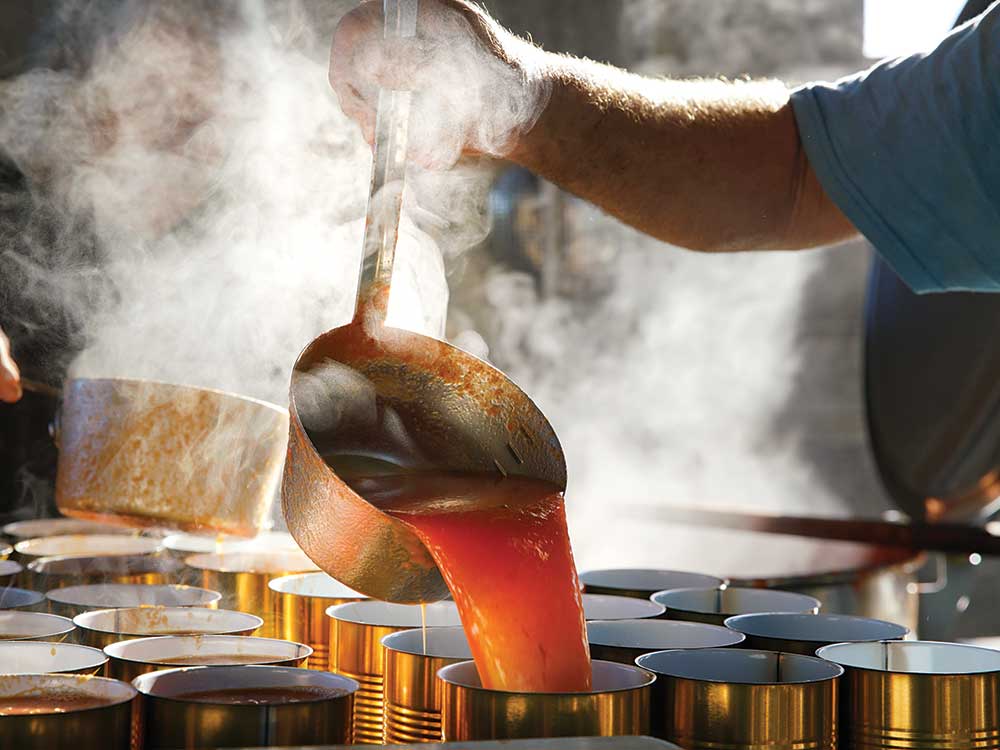 Culture
Preserving Tradition: Inside One of Appalachia's Last Communal Canneries
At Glade Hill Cannery in Virginia's Franklin County, a local community is working together to preserve more than just a way of life.
Around three in the morning Ronald David turned on the lights and fired up the boiler at Glade Hill Cannery in rural Franklin County, where tobacco fields and apple orchards checkerboard the red clay foothills of Virginia's Blue Ridge. A sturdy 74-year-old former mechanic with a bottlebrush mustache and a crescent wrench stuck in the back pocket of his jeans, he is the master canner at one of the remaining community canneries in operation.
It was still dark when parishioners from Greater Mount Parrish Baptist Church arrived to cook the 40 bushels of fruit they had cored and sectioned here a day before. Soon, steam from the pressure cookers gathered on the ceiling and fogged the studio windows of this cinder block building, a former schoolroom and occasional garage for the county fire truck. David donned a red apron and scribbled notes on his clipboard after checking the gauges and valves on his equipment.
"I needed something to do when I retired from DuPont back in '93," he said. His accent was burred with an Appalachian cadence slightly impenetrable to an unfamiliar ear. "The lady used to run this place, I'll bet you, consistently every pot she made tasted the same. She and my mother went to school together, that's why she asked me to come up here and take over."
Community canneries evolved in tandem with victory gardens, the morale-boosting civic campaign first launched in 1917 that encouraged amateur gardeners to grow and preserve their own harvests as a safeguard against wartime shortages when commercial crops were increasingly diverted to support troops overseas. At the peak of the government-subsidized program in the 1940s, the United States had more than 3,800 self-help canneries. And while that number has since dwindled significantly as food processing became more industrialized, one of the last strongholds is Virginia, where there are more than a dozen in service for diehards who still prefer their own canned goods to store-bought.
Sited behind an elementary school on the Old Franklin Turnpike, Glade Hill Cannery has endured for almost 80 years. The open workroom, with its pitted and cracked concrete floor, smelled of industrial-strength bleach and apple peels. Unsealed quart cans and Mason jars were piled on worktables next to stockpots and cutting boards. Three 50-gallon, steam-jacket kettles lined one wall. Above them were processing timetables for peaches, cherries, tomato juice, squash, Brunswick stew, and headcheese. A potbellied stove sat idle. (David warms up the cannery with coal during "airish" winter months.) Sandra Preston helped fellow parishioners load buckets of Golden Delicious and Stayman apples—popular Virginia Piedmont varieties—into a whirring, belt-driven extractor. She removed hot pink rubber gloves and wiped condensation from her glasses. "We do this when the spirit moves us," she said. Or when David can squeeze them in. More than one church group in the region uses Glade Hill to produce homemade goods for fund-raising drives.
Bundled in a brown velour tracksuit and fleece beanie, 87-year-old Dorothy Moore dropped chunks of hog jowl into cans filled with pinto beans. Her son Larry, a rawboned veteran of the Gulf War, packed others with chopped chicken and turkey, as his four brothers stacked them in cages set on dollies.
"Mama does this every fall," he said. "All this gets split up between the families." They hauled the cages full of cans to a pair of pressure cookers, where David gently lowered them in with a pulley system. He tightened down the screws and set the hands on a manual clockface, a low-tech timer he fashioned with cardboard and felt-tip markers to track doneness. Apple pulp spit and bubbled in the kettles, deepening from blush pink to ruddier caramel.
Late in the morning, a vegetable farmer from Patrick Springs appeared pushing a hand truck stacked with late-season tomatoes. His daughter Emily, a sixth grader, washed them at the sink station. She was skipping school. "If a frost comes early it'll ruin us," she said, solemnly.
Parishioners pitched in to help them, sharpening knives, cutting up tomatoes, and loading them into a steamer, conferring on methods and their own recipes. More folks showed up with jars of string beans and sweet potatoes. A batch of mustard greens headed to the electric Dixie Canner seamer. (The Georgia-based manufacturer, founded in 1895, played an early role in providing equipment to the community cannery program in Southern states.) The farmer took his turn at the machine, sealing lids on still-hot cans of tomato soup.
Buckets of cores and peel pile up, but nothing goes to waste: David feeds cannery scraps to his cows. His wife, Carol, handed me a glass of apple juice from the extractor. It was cold and tart.
"I would not do near as much at home," said Jessie Derey, spooning applesauce into jars. She grew up on a tobacco farm down the road and attended grade school with David. "The county funds the cannery. They're planning a new one in an industrial park, but I don't know what that's going to do to the community, because they won't go there like here. Nobody can replace Ronald."
Outside in the afternoon sun, children climbed on the schoolyard jungle gym. David added more sugar to the kettles, and stirred the apple butter with a wooden paddle. Church members clustered as he drizzled in concentrated oils of clove and cinnamon. They dipped spoons in the mixture, tasted, smelled, checked consistency. A few shrugged. The clove was a bit forward.
David added salt. "I been putting it in for a long time," he said. "You saw that old lady with the cane over yonder this morning? I was searching for a taste that wasn't sweet, and Dorothy told me, 'Let me see that saltshaker a little bit.' Some look at me like I'm crazy but it gets the taste right."
The Greater Mount Parrish volunteers nodded, and finished their long day pouring apple butter into jars. Glade Hill's master canner put away his oils, and showed me into the back storeroom, which still contained a blackboard and a worn oak school desk inscribed with his name. When asked whether he's training a replacement, particularly in light of the potential move to the industrial park, he demurred: "None so far."