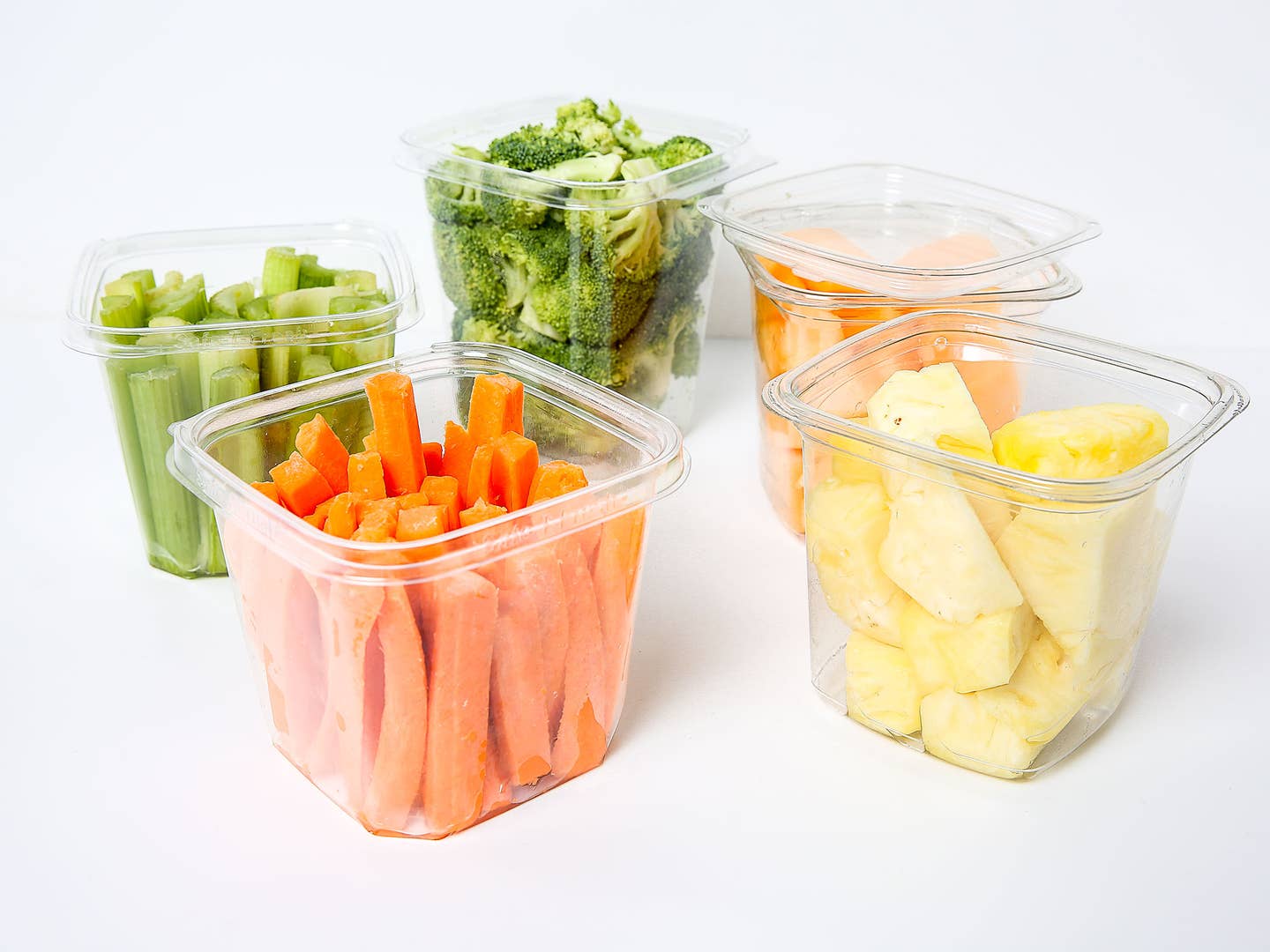 Culture
How Much Time Do You Save Buying Pre-Chopped Produce?
Slide through our tests to see how much more you are paying – and how long it would take to chop these items yourself
It's all baby carrots' fault.
In the 1980s, the carrot business wasn't in a good shape—literally. Supermarkets wanted carrots to look pretty and uniform: the same shape, size, and color. Nature of course doesn't work this way, which led to a lot of waste. In some loads, as many as 70 percent of carrots were tossed for largely cosmetic reasons.
A farmer called Mike Yorusek got tired of the discrimination against ugly carrot, so he tried cutting them and peeling the ends. Ta-dah, baby carrots were born, and they changed the industry forever. In 2016, 67 percent of all carrot sales in the U.S. came from baby carrots.
They're surely convenient, but every time I see them, I can't help but wonder: Isn't this just a waste of money? I mean, how long would it take me to chop these myself, and how much would I save?
So I decided to find out.
I surveyed my local New York groceries—Whole Foods, Food Emporium, Duane Reade, Foodtown, and Gristedes—for the most common ready-chopped products prepped by the store (not name brand products), then calculated the median prices of those fruits and vegetables as whole produce and ready-chopped.
At home, I took out my average-sharp knife, a cutting board, and a stopwatch. And started chopping. In case you are wondering, I consider myself as an average-paced-chopper—not a professional but not a beginner. My chopping time includes peeling, de-seeding, and chopping produce to the same shapes and sizes of their ready-chopped counterparts, and the weights account only for the final prepped weight.
tried to do same-sized bites as the ready-chopped ones were. The chopping times include peeling and chopping, and the weights include only the edible parts.
Slide the images below to see what time you save and what premium you're paying for it.
So, which fruits and vegetables are worth paying extra? The differences in chopping times were not remarkable: the lightest (and the cheapest) items took the most time per pound to chop, but they were also the easiest ones to chop, like carrots. The heaviest ones (and the most expensive) are usually fast to chop, but they are usually also the most annoying ones to chop, like pineapple (peels and spines!). If you ask me, spend your money on those items you really hate to chop. But if you're looking to save some money on your grocery bill, consider: getting a pound of each of these fruits took me less than ten minutes and saved me almost 30 dollars.