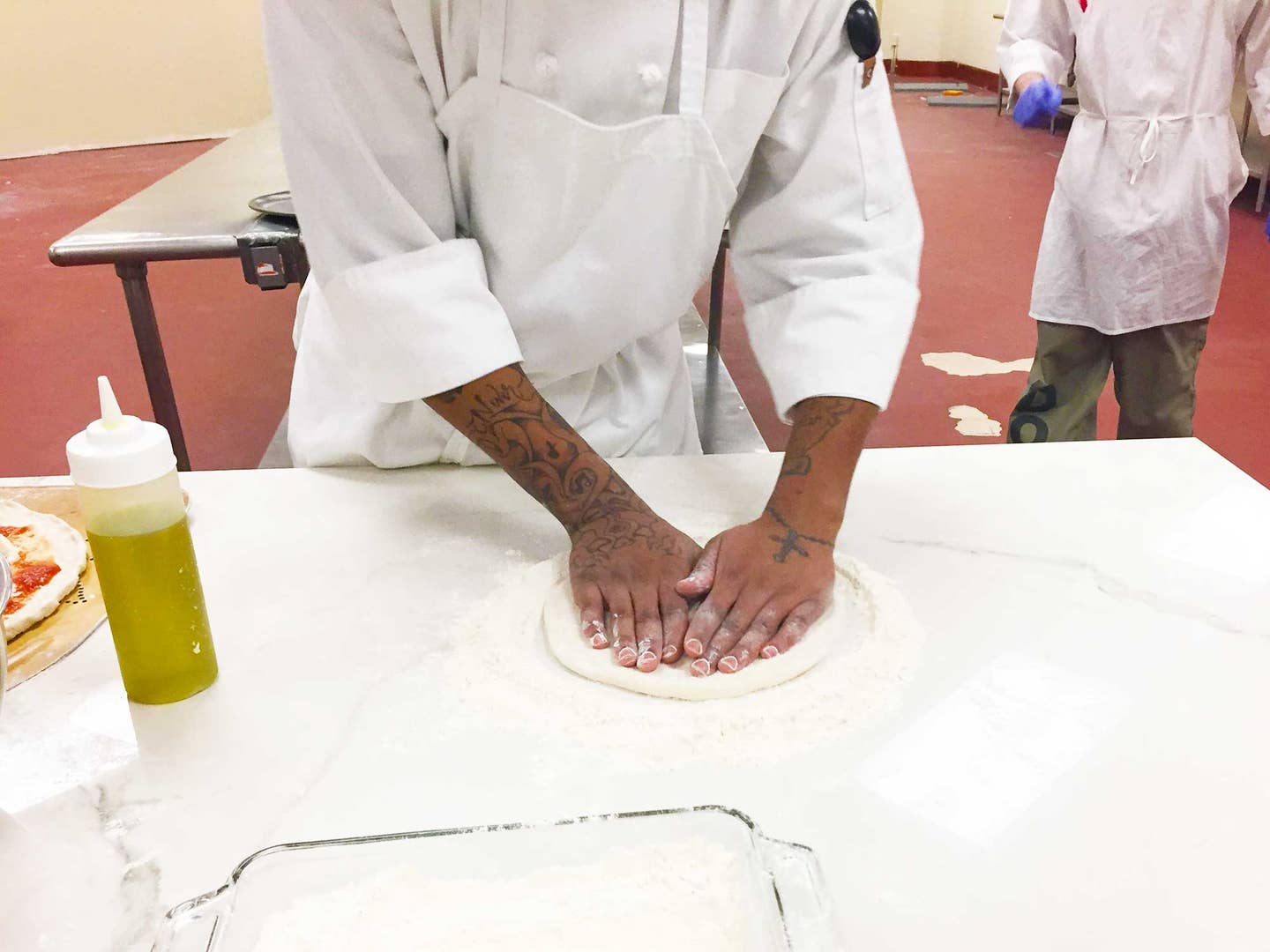 Culture
How a Pizza Non-Profit Prepares Inmates for Life Beyond Prison Walls
Chicago's Recipe for Change provides mentorship and kitchen training for detainees of the Cook County Jail
That's the mission of Chicago-based Recipe for Change, which provides culinary and fine arts education, job skills, and mentorship to both prison and post-release populations with the hope that an altered world-view and heightened sense of personal responsibility will keep participants from reentering the system once they've left. It currently serves the non-violent detainees—those who have perhaps landed in jail for theft or drug-related offenses—of Chicago's Cook County Jail (the largest jail in the United States), and has worked with over 200 detainees since its inception in 2014.
Overseen by Italian-born chef Bruno Abate, the three-month curriculum includes a wealth of lessons: kitchen workspace practices, knife skills, the use of fresh herbs and seasonings, Italian thin-crust pizza-making, design and presentation of foods, dining room etiquette, and nutritional coursework. Inmates who complete the program walk away with a repertoire of over 30 recipes and a foundation of culinary skills that goes far beyond pizza. While they can only currently receive a certificate of completion, the organization aims to offer industry-based certifications such as food handler's licenses in the future.
The work of Chef Bruno and Recipe for Change won't go unnoticed this holiday season. Chicago's Cardinal Blase Cupich will pay a visit on Christmas Day to bless the kitchen—last year, he even shared a lunch with the detainees. Board member Kim Mulligan acknowledges how important it is to remember those behind bars during the holidays.
"While we are a secular organization, we agree that during this holiday season, it is incumbent upon all of us to look within and find compassion and understanding both for those less fortunate and those who have made mistakes," Mulligan tells SAVEUR. "The circumstances of our students are complicated and we do not sit in judgment of them, rather we offer them opportunity, dignity, and vision to see a future open to possibility."
Recipe for Change is one of many restaurants and culinary organizations to offer opportunities in the kitchen to the incarcerated and post-release population. In New York, the popular Snowday food truck recruits employees through Drive Change, an organization that trains and employs formerly incarcerated youth, while barbecue restaurant Arrogant Swine works with DOE Fund, a Brooklyn homeless shelter that aims in part to combat recidivism, for staffing.
Looking for a way to contribute? These organizations run entirely on donations. To find one near you, reach out to your local jail to inquire whether they have partnerships with a skills or educational non-profit. After all, this season is as much about giving to those who have less as it is about celebrating what we have.