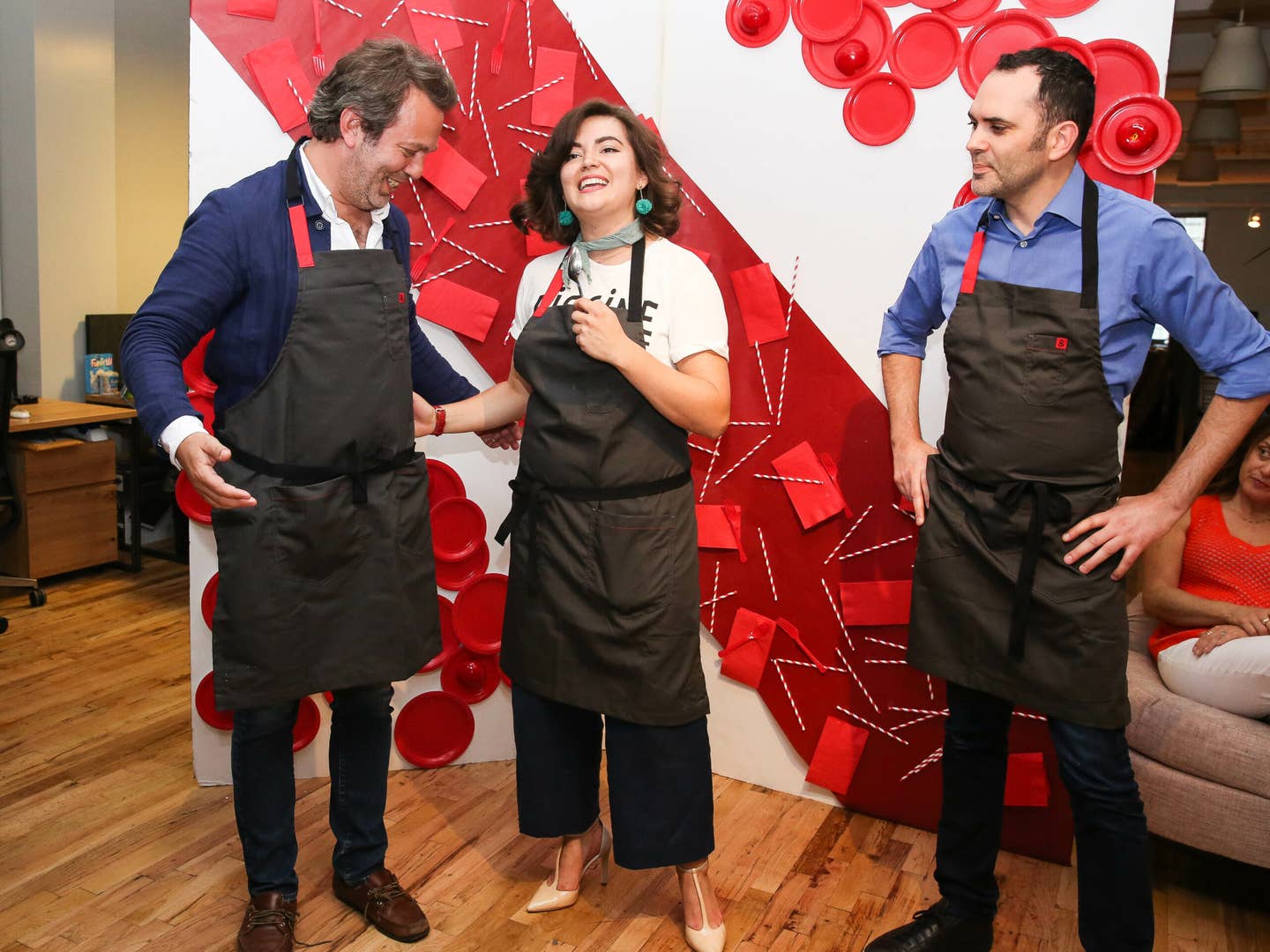 Culture
Dominique Ansel and Hedley & Bennett Team Up With SAVEUR to Fight AIDS
Top chefs unite to fight against AIDS and HIV with (RED)
Everybody was seeing red: it was in cocktails, pizzas, balloons, wine, popsicles, dresses. In celebration of Chef Dominique Ansel's collaboration with apron masters Hedley & Bennett, and in support of the fourth annual Eat (RED) Save Lives, we decided to host a not-so-little cocktail party.
Chef Ansel was easy to talk into to join the team. "I'm always the first one to jump in. I needed help when I was growing up in France, so it's important to me never to forget that there are people who need help. And if I can bring something, to give back—I'm happy to help," said Ansel.
This time Ansel wasn't running around the kitchen; he was here the promote the charity apron, co-designed by him and Hedley & Bennett. The apron is sold exclusively online during June, with proceeds going goes to (RED), a charity organization founded by Bono and Bobby Shriver to make it easy for everyone to join the fight against AIDS.
"I struggle with making small food, this is about smallest I can do," laughed chef Justin Smillie as he was preparing bites for the guests to arrive at SAVEUR's cocktail party. But Smillie was struggling for a good cause, as all the other restaurants who joined the evening. Smillie's restaurant Upland was serving toasted bread with fermented green chickpea hummus and almond butter, and bluefin tuna wrapped around grilled mushrooms. Smillie brought his traditional Japanese yakitori grill, a konro with him, hoping not to set the office on fire. For a cooling finish, Smillie prepared strawberry yogurt chili polenta popsicles.
Chef Mario Batali has been part of Eat (RED) events every year since they started four years ago. At SAVEUR's reception, his restaurant Otto was serving pepperoni, prosciutto-rucola, marinara, margarita, and cacio e pepe pizza slices—which disappeared as soon as they were set out. Jonathan Waxman's restaurant Barbuto charmed the crowd with duck bites, accompanied with caramelized orange peels and pistachios. And Chef Ansel made sure everyone left on a sweet note with one of his kouign amann pastries to go.
Besides purchasing one of the gorgeous aprons, you can join the fight against AIDS by attending the first ever Eat (RED) Food & Film Fest today in New York's Bryant Park. This 'the ultimate New York picnic' is designed by chefs like Mario Batali, Ina Garten and Jean-Georges Vongerichten. Guests will spread out on the lawn with their gourmet treats, while the cinema classic Sleepless in Seattle plays on the big screen. 100% of the ticket price goes to fight AIDS.
See more bites and faces from our party in the photos below.