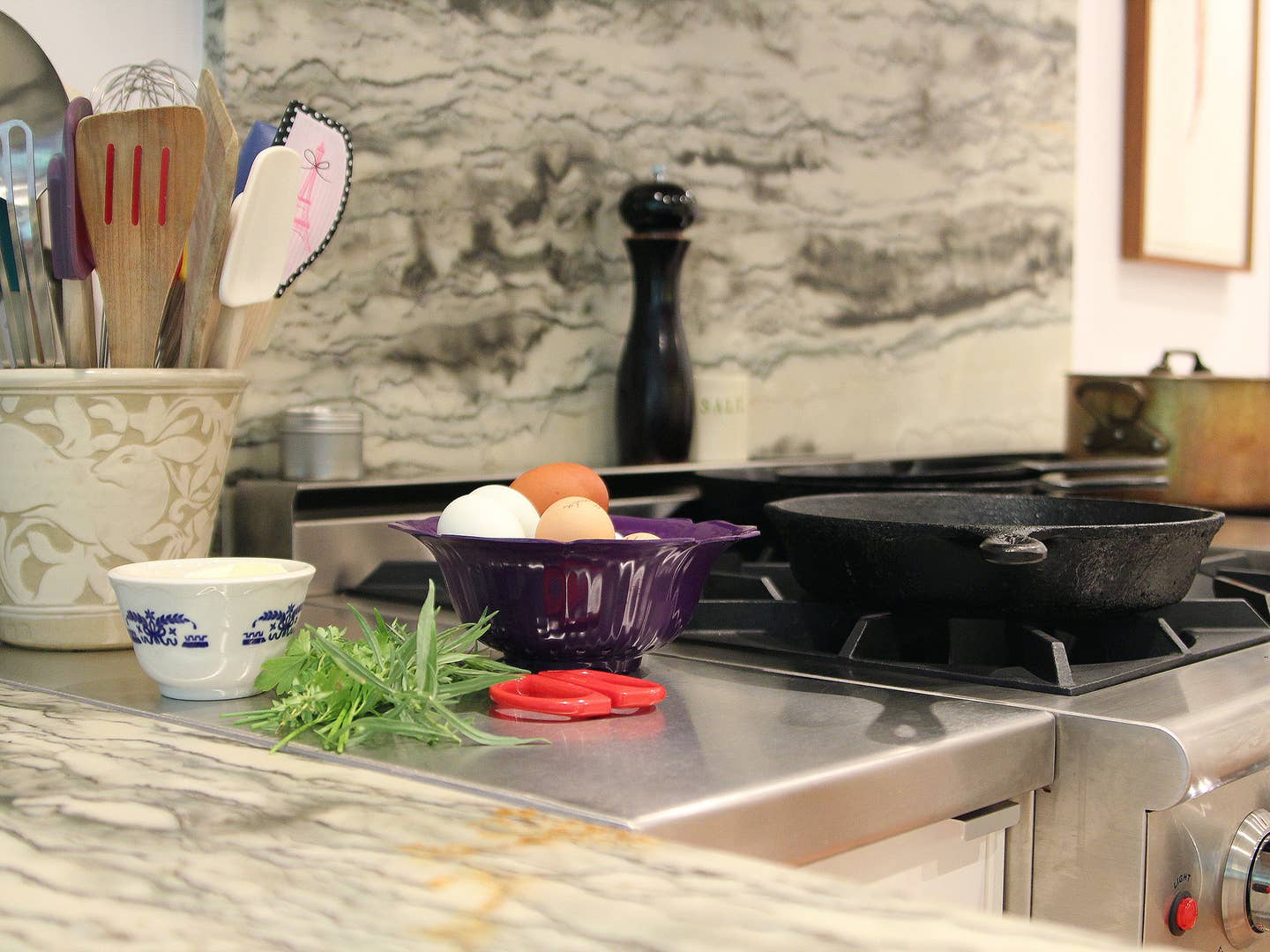 Culture
Renovation Diary: Where Function Leads Form
Cookbook author Cathy Barrow takes on a kitchen redesign
My kitchen was a disaster. After furiously blogging and writing a cookbook, I looked up to find it gasping its last breath. The oven and cooktop limped along with unreliable temperatures, hot spots, and sputtering burners. The ceramic tile floor buckled with a nearly 3-inch slope from one corner to the other. Even a wall of windows and photography-friendly northern light couldn't light up the kitchen; the windows were blocked by an ancient, enormous, stainless steel hood. The final indignity: the distance from a long work counter to the sink on other side of the room. A full step too far meant there was a constant trail of spilled food on the ground.
So, I decided a change was in order. I put together an inventory of the equipment and tools I use on a regular basis including those that, because of space limitations, were kept in the basement, my office, or in the guest room closet. I was determined that my new kitchen would have room for everything.
And then I went online to Pinterest and clicked my dream kitchen together. Oh, the gleaming surfaces, shiny appliances and pretty accessories I pinned! My blue-sky dreaming took a decidedly nerdy turn when I imagined the space as a Brigade de Cuisine, each chef's area of expertise outlined and defined. This became my metaphor. Cuisinier, Saucier, Garde Manger, and Plongeur were plotted out in the new kitchen.
The Cuisinier is the engine, the heartbeat, the very core of the kitchen, set up for serious cooking. We pulled standard IKEA cabinets forward 6-inches to increase the counter depth from the typical 24-inch depth to a full 30-inches deep. That extra half a foot is where I tuck the stand mixer out of the way, and stash the food processor, leaving plenty of open counter for kitchen work. A stainless steel countertop cleans up like a dream whether I'm dealing with 10 pounds of raspberries or a dozen ducks.
The Saucier area is all about the stove and the adjacent counters where I stage the prepped food. Just by hanging pots and pans from a rack I have the most used cookware right at hand, and cabinet space is freed up, too.
Hidden behind tall doors, the pantry and refrigerator wall (the Garde Manger) is fitted with pull out drawers for spices and spice blends, salts, baking chocolates and sugars, grains and flours, oils and vinegars, plus one drawer devoted to small baking tools like pastry tips, miniature tart pans, and cookie cutters, so nothing gets lots.
And I designed my own sink! Oh là là, the plongeur is deep, it's wide, it holds the largest pots and an entire baking sheet, flat. Because I loathe dish drainers, I got a built-in draining board with a perforated cover, too.
At the end of the day, while fancy restaurant speak may be a fine way to visualize a kitchen renovation, my kitchen remains a home cook's space. It's where we eat our meals and entertain our friends, lounge on Sunday mornings and huddle on winter nights. It's the most important room in my house, and now, I've finally paid it the attention it needs.