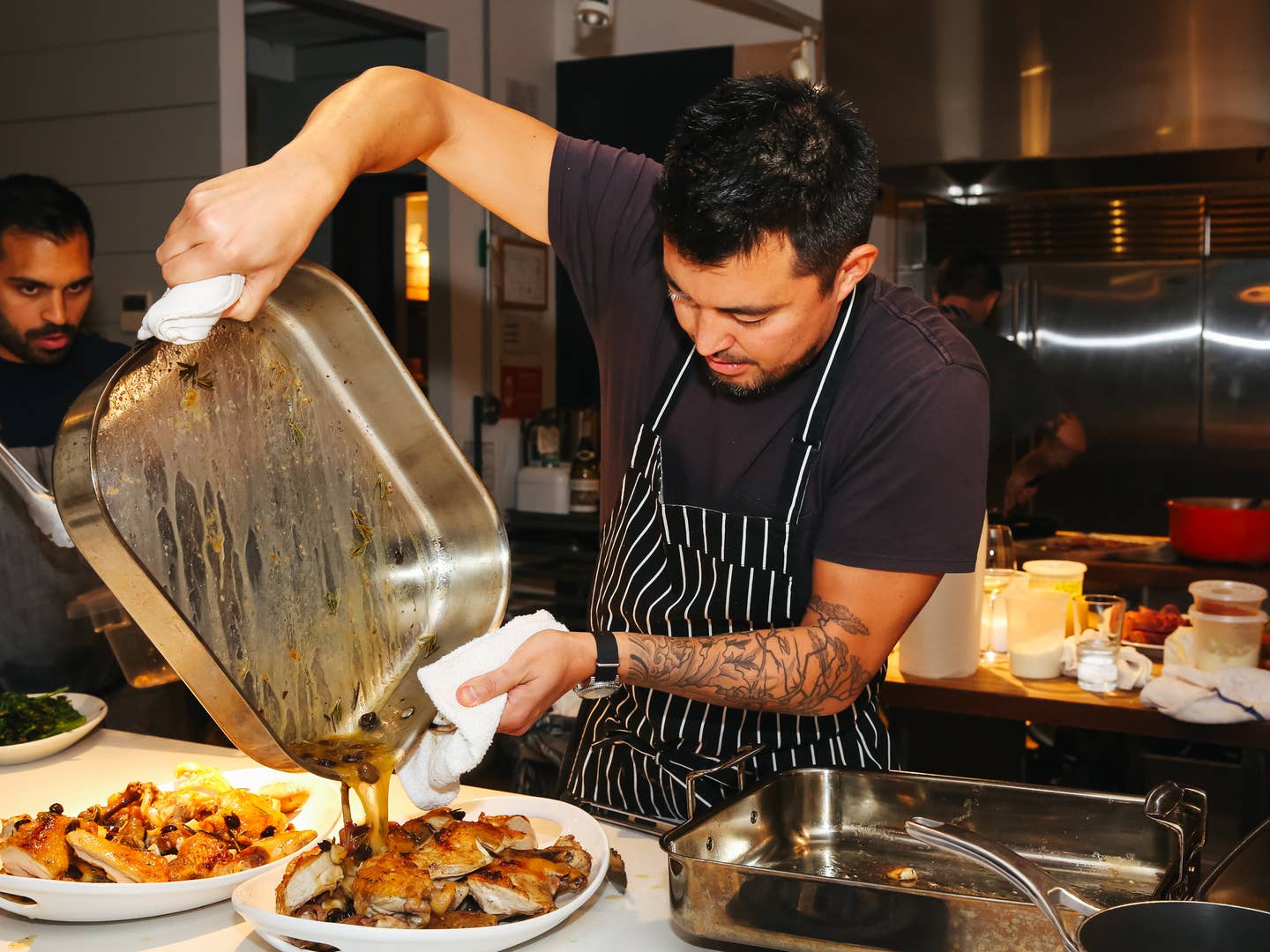 Culture
We Ate Pasta, Pasta, and More Pasta During Our Roman Feast with Nick Anderer
The chef and his team from Marta and Maialino took over our test kitchen for the latest SAVEUR Supper
For the first time in years, chefs Nick Anderer, Jason Pfeifer, Joe Tarasco and Jessica Weiss were all cooking in the same kitchen. As they whipped up traditional Roman dishes like bombolotti all'amatriciana nostranna and guinea hen alla cacciatora, the group seemingly couldn't stop smiling.
"I think the common bond here, besides friends, family and good food, is Rome," Anderer said to the guests.
The way the chefs see it, they are a family. Their relationships are complex, and they've overlapped in many kitchens, but they never forgot where they came from. Originally, Tarasco, Anderer and Pfeifer worked together in the Gramercy Tavern kitchen before Anderer opened Maialino with Danny Meyer and Union Square Hospitality group. Soon after, Tarasco and Pfeifer joined the Maialino team. After a few years at Maialino, Tarasco and Anderer started on a new restaurant venture: opening Marta. Currently, Pfeifer is the head chef at Maialino, Anderer is the chef at Pizzeria Martina, and Tarasco is the chef for Marta, Caffe Marchio and Vini e Fritti. Weiss, who also started baking desserts for Maialino, now dishes out pastries at Maialino, Marta, Caffe Marchio and Vini e Fritti.
The supper was aptly titled a "Roman Feast," and from start to finish, it felt like we were working our way through a traditional five-course meal in the eternal city. We pregamed our meal during cocktail hour with light bites of gooey mozzarella alla carrozza and tuna stuffed peperoncini, washed down by negronis and prosecco. Then, we moved onto the antipasti, where the chefs promised the radicchio salad with pecorino romano and pomegranate dressing would be the "lightest thing we'd eat all night." Then, when they filled our plates with fried cacio pepe and bruschetta, we began our very tasty crusade into the land of roman carbs.
"This is clear fat-boy food," Anderer said. "It's a little bit of gluttony, but that's a part of why we cook."
Aside from a familial bond and a joint kitchen, another thread these chefs share is their passion for pasta. When speaking about the hearty comfort food, it's clear how much they love noodles. Weiss even showed off her pasta socks she wore to celebrate the chefs' reunion. For the primi course, the chefs prepared a creamy spaghetti with anchovy butter and bombolotti all'amatriciana nostranna.
And of course, if we were really in Rome, we'd do as the Romans do, so each of our courses was accompanied by a curated wine pairing, ranging from a 20-year-old white that had been aged in caves, but tasted fresh and crisp, to a sweet strawberry dessert wine.
"Why do I love roman cuisine?" Anderer said. "It's ugly. It's gritty. It's messy. It's unapologetic. It gets all over your clothes."
But Tarasco joked, "I seem to get food all over my clothes anyway when I eat, whether it's Roman cuisine or not."
However, the dishes definitely didn't prove to be ugly, from a picture-perfect guinea hen alla cacciatora to a plate of beef tongue accompanied by other braised meats. But unapologetic seemed to be a theme for the evening, because none of us were sorry that we enjoyed these foods so much.
To top off the evening, Weiss provided an abundance of desserts, ranging from a plum crostata with whipped sage mascarpone to a delicious torta caprese and roasted pears with olive oil zabaglione. And of course, no Roman meal would be complete without tozzetti, which is a specific version of biscotti originating from the center region of Italy.
To Weiss, who helped out with the entire meal, whether it was topping off pasta with parmesean cheese or plating a salad, it was the pure sensation of them all being in the same kitchen, feeding a hungry table. She said, "It's really just all about creating really great food that is unpretentious and welcoming."