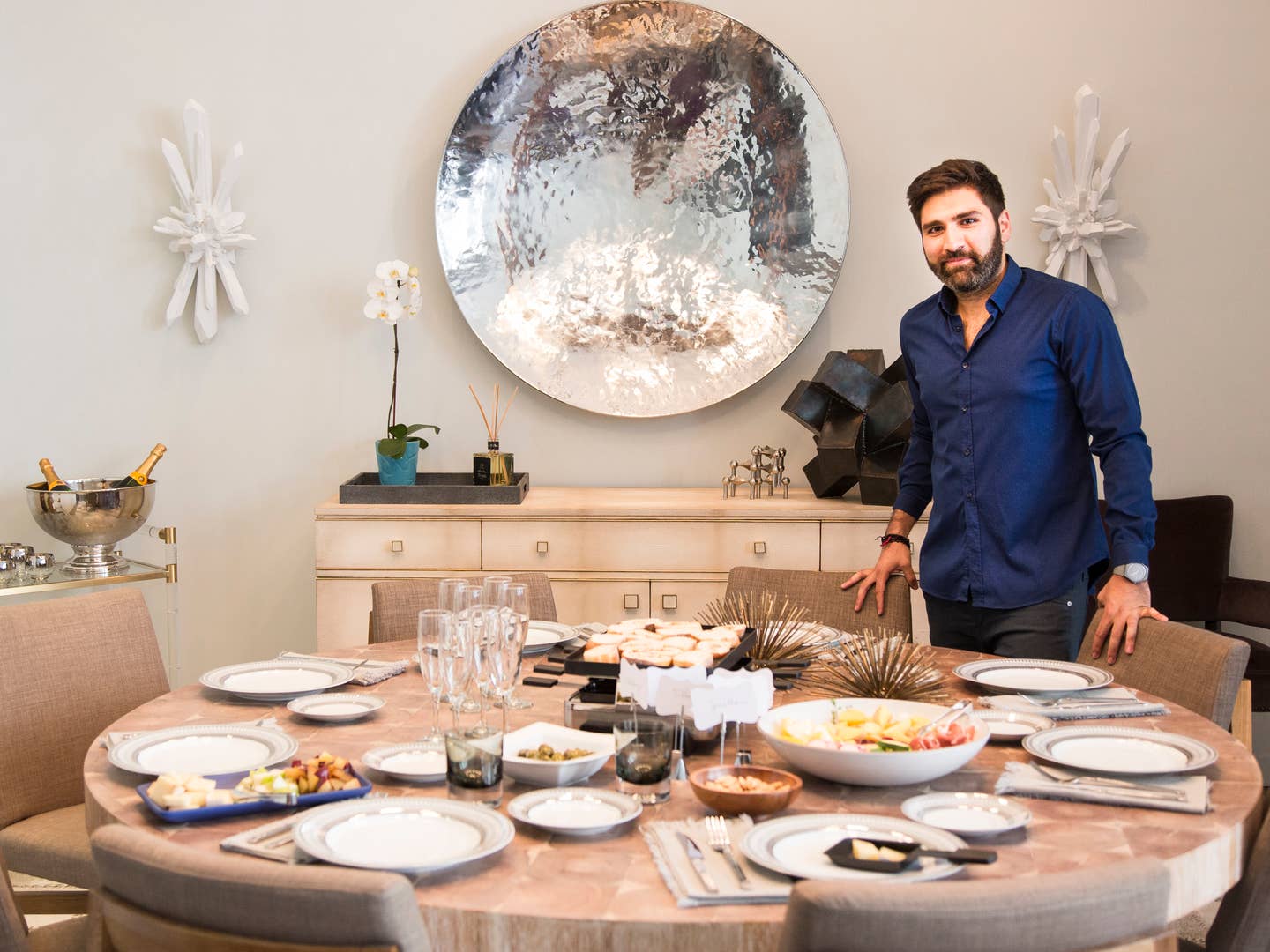 Culture
A Host's Guide to Kitchen Design
Jonathan Yaraghi, Safavieh's creative director, reveals his best tips for decorating dining spaces with guests in mind
"If I can't fit my guests at the table, I won't try to feed them," says Jonathan Yaraghi, creative director of Safavieh, a rug and furniture company founded by his family more than 100 years ago in Iran and now based in New York. The 32-year-old designer is the driving force behind the company's expanding online business and innovations like the spring-coil mattress that's delivered in a box the size of a golf bag. At home, he likes hosting seated dinners with his girlfriend in his Soho loft. With its 14-foot ceilings, original wood beams, and double-height windows that bring in the sights and sounds of the neighborhood, the loft and its open layout are great for guests. We visited him recently to get his tips on how he transformed the space to suit his love for entertaining.
What's the key to a great kitchen?
I think it's the island, because of how it brings people together. Before getting my island, the kitchen was not an active space when guests came over. The moment the island was added, it suddenly became the place where the party started. I don't have a large kitchen, but I put one in anyway, and I love it.
It's an unusual island, too, because it has an open space below the countertop, which you rarely see.
Yes, I had it made for me that way. I display my ceramics on the open shelf, but it can be used as extra storage space for just about anything.
How can someone get that look?
You can totally transform your kitchen by finding a cool furniture piece that works as an island. You can even just find a great piece of stone, and get a carpenter to put a simple base on it. The intention should be to create a focal point in the kitchen, and that's really what this one does. People just gather around it.
How do you add personality to a kitchen?
One thing that's really fun is hardware. I bought the handles for my island at Anthropologie, and I think that's a great way to personalize a piece that you're otherwise able to find in any store. The moment you put the "jewelry" on, you get a new look. It's like adding pillows to a sofa.
How about color?
My kitchen is very black and white, but I do like to add a little color, and I do it with flowers. They really pop, especially against the white marble. I like to keep my countertops super clean, with not a lot on them, so for me, adding fresh flowers is the way to go.
Wood floor or tile?
I like wood floors, because they're warmer. The only place I like to see tile is as a backsplash against the wall, especially if it's large pieces of marble.
Tell me about your dining room table. It's really striking.
It was made for this space by Terracea, a line we carry in our stores. Their tables are made in Mexico. When you look at the top of it and see all the pieces of wood, tiled together, it's really fabulous. I definitely wanted a round table. Before I moved in there was a rectangular table, but I think it messes up the vibe during dinner.
Is the table the first thing you should choose for the dining room?
No, I'd say you should look for the rug first. It sets the stage for what you're going to bring into the space, what colors you're going to bring in. Mine is a square rug, and it's made of cowhide in shades of brown and gray. When you look at it, you see that everything else kind of falls in—the silvers, the metals, the round dining table. It's not necessarily the focal point of the room in the end, but it's important as a starting point.
How do you keep things interesting, design-wise?
I think for a dining room, whether you're having an occasion or not, it's important to have a couple of pieces that you move around. Maybe a nice sculpture, or a bowl, things like that. I rotate mine all the time. So you'll constantly see things turned around in the room. It gives a different feeling every time.
What's the biggest mistake people make in decorating?
They go too far left or too far right. And they try to get a matchy-matchy look. I think it's important not to become comfortable with one extreme or the other. You have to find the right balance. You shouldn't go too traditional or too contemporary. You have to kind of bring in an element of surprise, something that isn't expected.
How can you instantly update a dining room?
Chairs! There are so many great options for dining chairs right now, and they make such a big difference. New chairs can change the entire look of a dining room. And don't be afraid to mix styles, like putting contemporary chairs with a traditional table. It brings a great new feeling to the space.