To Salvador Dalí, food was an endless buffet of symbols and sight gags, a metaphor for pleasure and pain, sex, and politics. As a child, Dalí wanted to be a chef, and as an artist, he was always hungry. "Beauty will be edible," he once said. "Or will not be at all."
Dalí's dietary obsessions—lobsters, eggs, sea urchins—inspired many of his Surrealist set pieces. Even the melting watches in his seemingly food-free masterpiece, The Persistence of Memory (1931), were modeled on oozing Camembert. Bread, above all, fed the artist's imagination. Baguettes popped up in his paintings along with pan Catalan and "sodomized" Portuguese bread crumbs—intentionally inscrutable and nonsensical, in classic Dalí fashion. In Paris, he befriended the famed Parisian boulanger Lionel Poilâne and commissioned a birdcage, a chandelier, eventually an entire set of bedroom furniture baked out of bread. "What man cannot do," went another Dalí koan, "bread can."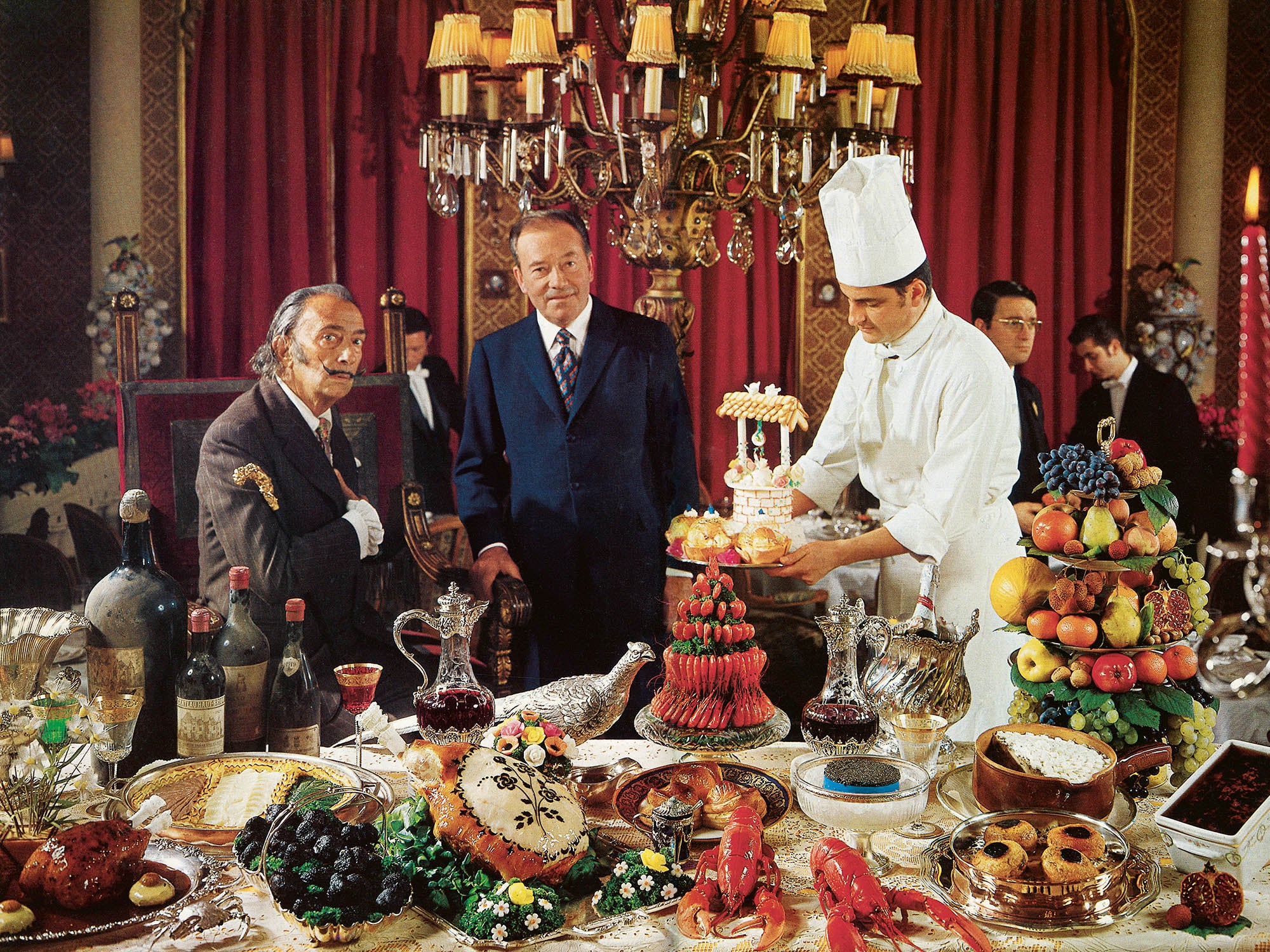 Dalí's Surrealist cookbook is full of non-recipe recipes mixed in with images of the master himself dining at Parisian restaurants.
Check Price
This fall, Taschen published a handsome facsimile edition of Les Diners de Gala, a cookbook the artist wrote in 1973. Named after his wife, also a legendary gourmand, it's one of the most unusual recipe books ever created, a bit like Escoffier on acid. Today, signed copies sell for as much as $25,000. I once sat at the New York Public Library for hours, flipping through Dalí's illustrations of dishes and meals in a kind of terrified thrall. Crayfish towers are topped with the torso of Joan of Arc, her amputated arms gushing blood. Chickens are trussed with barbed wire. A swan, its head chock-full of human teeth, is served on a pastry dish. Dalí is there, too, pictured at the swanky Parisian restaurant Maxim's, wearing a plush velvet suit, holding a golden scepter, surrounded by a Rabelaisian feast of his own devising.
As for the recipes themselves, they're a gas—designed to amuse and repulse in equal measure. Steaks are baked for hours; boiled brains mushed into avocado toast; tuna, caviar, and lamb shoulder slathered in béchamel. Dalí's Surrealist cuisine was a bit like his Surrealist art: The outlandish jokes and self-spoofing persona concealed tremendous technique. That's evident in Dalí's more straight-faced recipes—for a champagne sorbet or celery au gratin—which are full of anachronistic charm and fairly easy to pull off. My new dinner party staple is Dalí's roast leg of lamb flavored with madeira, brandy, cloves, and garlic. It's a crowd-pleaser, even without the entertaining art-world backstory.
Dalí often spoke of wanting to consume the things he loved—from Antoni Gaudí's architecture to his wife's beautiful face. Perhaps this is why he held gastronomy in such high regard: Most of its creations could be safely ingested. "It does not seem enough to devour things with our eyes," he once wrote. "Our anxiety to join actively and effectively in their existence brings us to want to eat them."