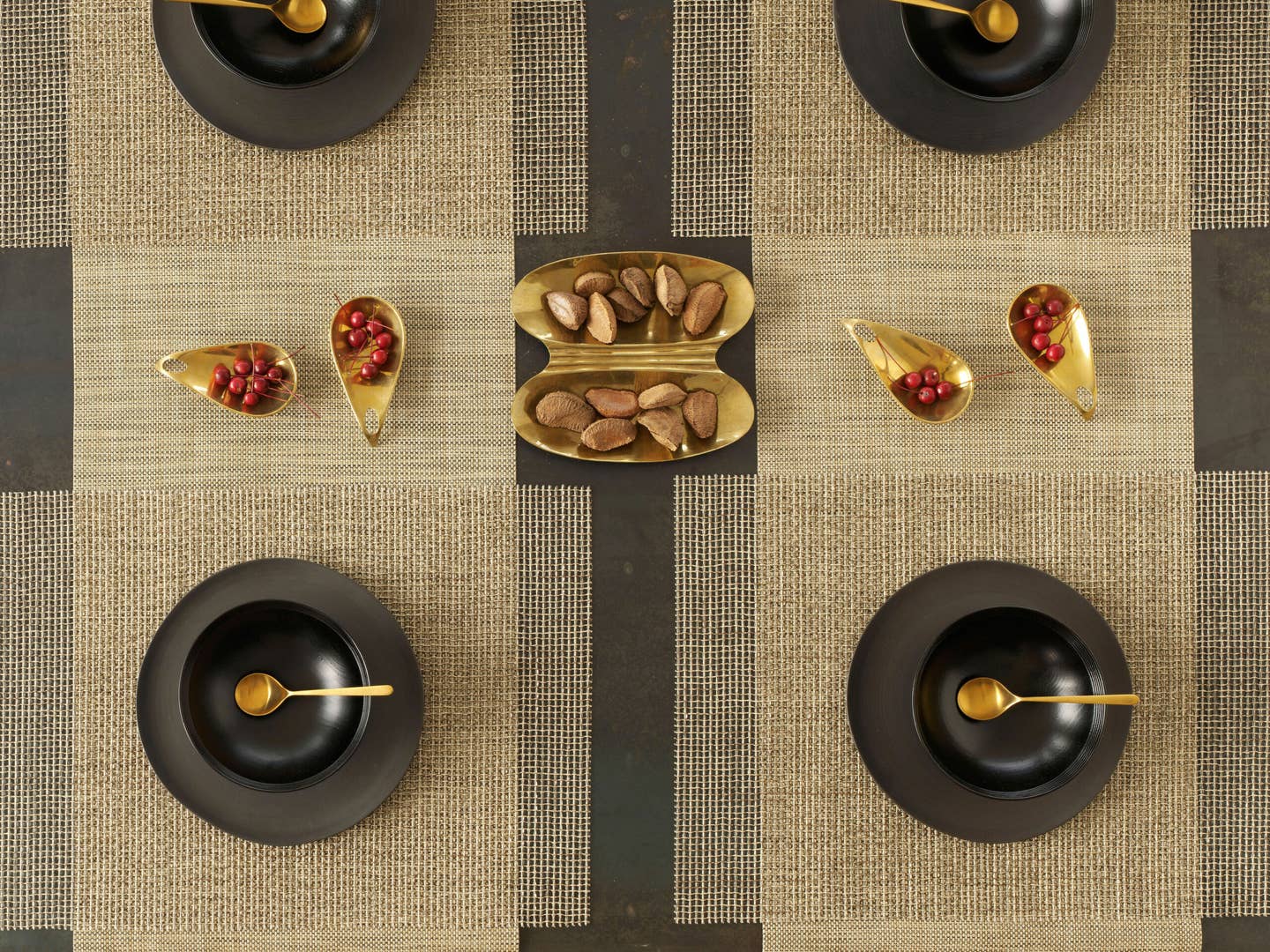 Culture
The Case for Ditching Your Tablecloth
Designer Sandy Chilewich on the superiority of the simple placement, and other table-setting tips
Sandy Chilewich knows how to set a table. "To me," Chilewich says, "the table is the canvas. There can be so many textures and colors and layering that you can do on a table that you really can't do anywhere else." Sandy builds these layers and executes her vision in many ways. But there's no tablecloth. Ever. And there hasn't been since 2001, when she formed a partnership with Tom Colicchio to ditch the white linen and spark a sea change in what restaurants and home cooks put under their plates.
In the early 2000s, Tom Colicchio was building his own brand and getting ready to open Craft in New York. Susan Holland, who runs a catering company whose clients include Bed, Bath & Beyond, ESPN, Prince, and Frank Sinatra, was using Chilewich mats early on at her events. She introduced Tom and Sandy.
"It was around the time restaurants started to be not just about the food, but the whole environment," Sandy remembers. "It used to be that white linen tablecloths defined good restaurants. But Tom has a rustic quality to him," Sandy says, thinking back to the point in her career she inadvertently reset the fine dining table, "and white linen tablecloths don't fit into that aesthetic. Tom had these beautiful wood tables that he didn't want to cover with a tablecloth. He still wanted to protect the tables, but he wanted to bring color into the room in doing so."
Sandy and her textile design brand Chilewich are based in New York, but it was a trip to Alabama in 2000 that started her placemat kick. She discovered a factory there using woven, extruded yarn to reupholster patio furniture. She brought the idea back to New York, recreated the material, started making placemats, and founded Chilewich.
"I didn't think of placemats right away," she explains. Bags and shoes came first. "But when I put the fabric on the table for the first time I thought, 'That looks amazing!' It wasn't until the market responded that I realized, 'I've really solved a problem.'" Placemats are modular and swappable in a way tablecloths are not. They're easier to design around and maintain, and their functionality comes with a smaller price tag, to boot. "You don't have to launder them, and that cuts a huge cost." Now Sandy's placemats are all over the world at restaurants and homes from Los Angeles to Dubai.
Of course, swapping dynamic placemats for a stark tablecloth is only the start. Here are five more tips from Sandy, so your Thanksgiving table can look just like hers.
Get creative with the salt and pepper containers: "Roam your house and see what you can use. You might have some little bowls on your vanity that you put jewelry in. There's nothing wrong with putting them on your table. Or, go get something. But cheap! It doesn't have to be expensive."
Forget the huge flower centerpiece: "People get overwhelmed about flower arrangements. One of the best things you can do is get a small vase, cut a single flower really close to the top, and set that in the vase. It's simple, but it can make a great statement."
Break into storage to mix the old with the new: "I have inherited, through generations, pieces of silver. They aren't modern, but I like the combination of traditional things like that – wedding gifts you may have in storage and never use – and juxtaposing that with a modern palate, and something more contemporary."
Add color to your white plates: "If you're going to set a table for thanksgiving, white is a little antiseptic. Most people have white plates. I do as well. So have your white plates, but put something on them. It doesn't have to cost a lot of money, but think of warm, fall colors like brown and red, and bring those onto the table."
Think about heights and layering: "You can just lift something slightly off the table. Turn a small bowl upside down and place a larger bowl on top. It looks wonderful and adds dimension to the table. If you're using a runner, don't just leave it on the center of the table, as a decorative thing with a vase on it. Layer it with placemats and create patterns."
And here are three products to make your table look like Chilewich's:
Chilewich Runner ($45): "It's all about runners for me," Chilewich says. "They don't have to just sit on the middle of the table with a vase on it. You can layer two of them, to create a sort of tête-à-tête," she says, "and use placemats to create even more layers and cover a lot of area."
Tom Dixon Small Form Gold Bowl Set ($90): Chilewich recommends these bowls to add color to the table, "and don't be afraid to put your cranberry sauce in them," she says.
Terrain Metallic Leaves Garden ($30): This wire garland comes in two colors, and Sandy loves either for the versatility and the number of ways they can be shaped and bent around whatever else you have on the Thanksgiving table.