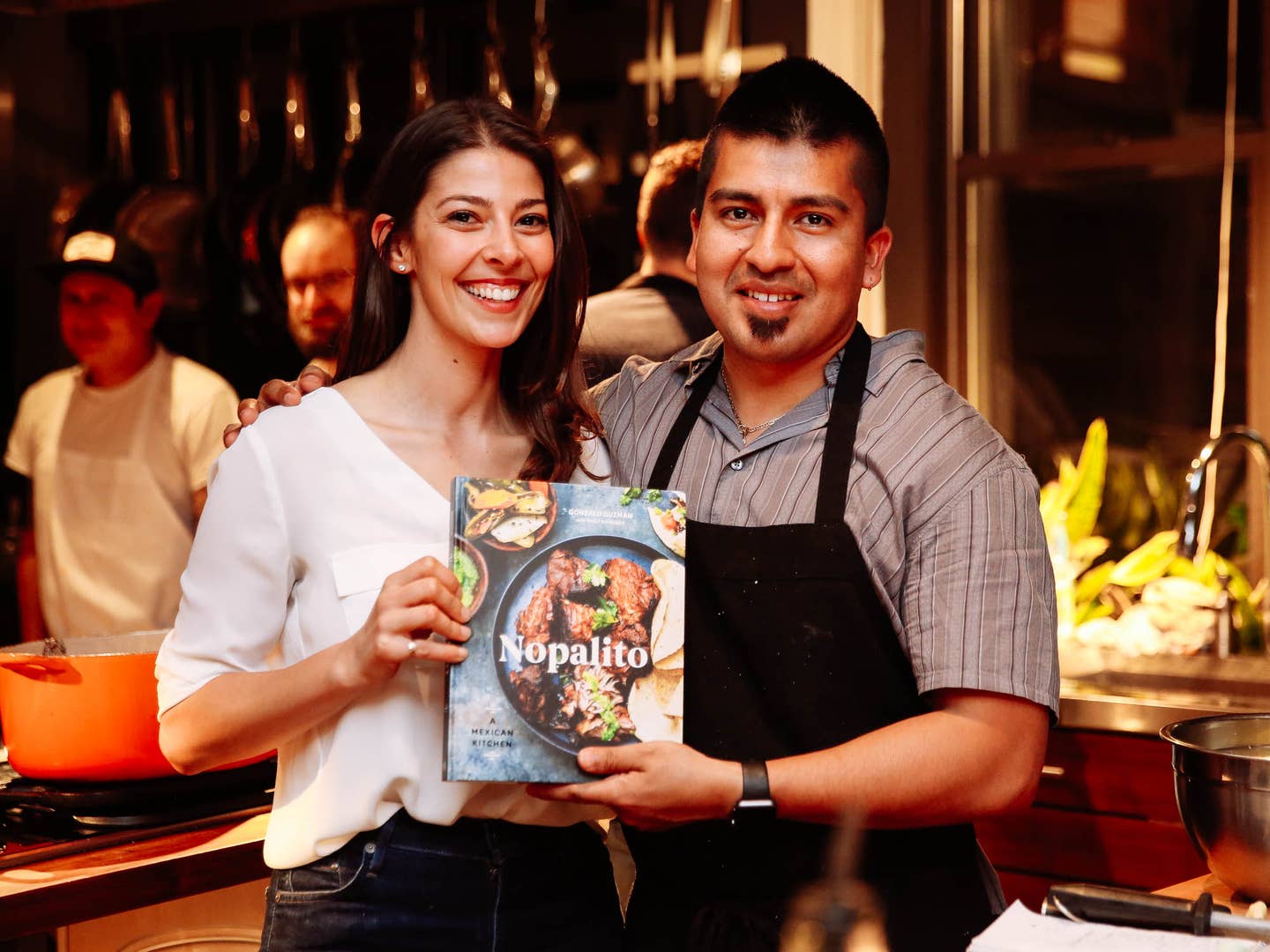 Culture
Scenes from our SAVEUR Supper With Gonzalo Guzmán
"What I do in my kitchens here [in San Francisco] is an attempt to remember and honor the way things were back then," writes chef Gonzalo Guzmán in the introduction to his new cookbook, Nopalito (Ten Speed, 2017). At last night's SAVEUR Supper, Guzmán, who grew up in the rural village of Catemaco in Veracruz, Mexico, has prepared pounds and pounds of fresh masa, ground on a molino and awaiting transformation into tortillas, crunchy tostadas, and unbelievably crisp and fluffy spicy beef–filled empanadas.
Guzmán himself is quite humble about his talents, and describes his cooking in much the same way; but while it's certainly the honest, authentic food of his small-town family meals in Mexico, it's been informed by his years spent in various San Francisco kitchens. The most striking thing about Guzmán is his real love for the food he's preparing, a love that extends throughout his cookbook with co-author Stacy Adimando, and is even more apparent by the presence of several former staff members who gathered last night to help put this dinner together.
The night began with cocktails served by a pair of bartenders formerly of Guzmán's San Francisco restaurant, Nopalito. Del Maguey mezcal palomas made from freshly squeezed grapefruits were gently splashed with Cynar before they were served, while Siete Leguas margaritas were the perfect foil for the array of small bites that were to come: miniature chicken tinga tacos, huitlacoche tostadas with black beans, and red snapper ceviche tostadas. Fried just moments before, the tostadas are red and green and orange, vibrant from the fresh heirloom corn, and are thick and crackly on the tongue.
The meal commences, accompanied by a selection of Spanish wines from Mestizaje, and a Banshee rosé that smelled of ripe, juicy peaches. The team had flown in some Mexican beer as well, from Baja Brewing Company in Los Cabos. A pair of ceviches hits the table, one brilliant orange and studded with shrimp and another made from thinly sliced scallops doused in salsa verde. And then the empanadas: Half filled with carne de res and half filled with potatoes and cheese, the fresh-fried shells are at once voluminously airy and shatteringly crunchy. A duo of sauces accompanied them, one a silky crimson and the other a smooth, smoky vermillion. Both were not to be missed.
Before long, the main course arrived, slowly stewed cochinita pibil, topped with pickled red onions and served alongside fresh tortillas, black beans, and a salad of nopales (prickly pear cactus pads), salt-cured throughout the day, crunchy and green and tossed with onions and fiery habaneros. A little goes a long way, but the heat opened up the flavors of the tender pork, and the elements together struck a grand harmony greater than the sum alone. And just when we thought we couldn't take another bite, just one more awaited us: Bite-size polvorones (Mexican wedding cookies) were served, with a petite mug of hot chocolate that had been simmering away on the stovetop with cinnamon and dried chiles. It was simple and exquisite, and somehow, had us all nostalgic for Guzmán's family table back in Veracruz.