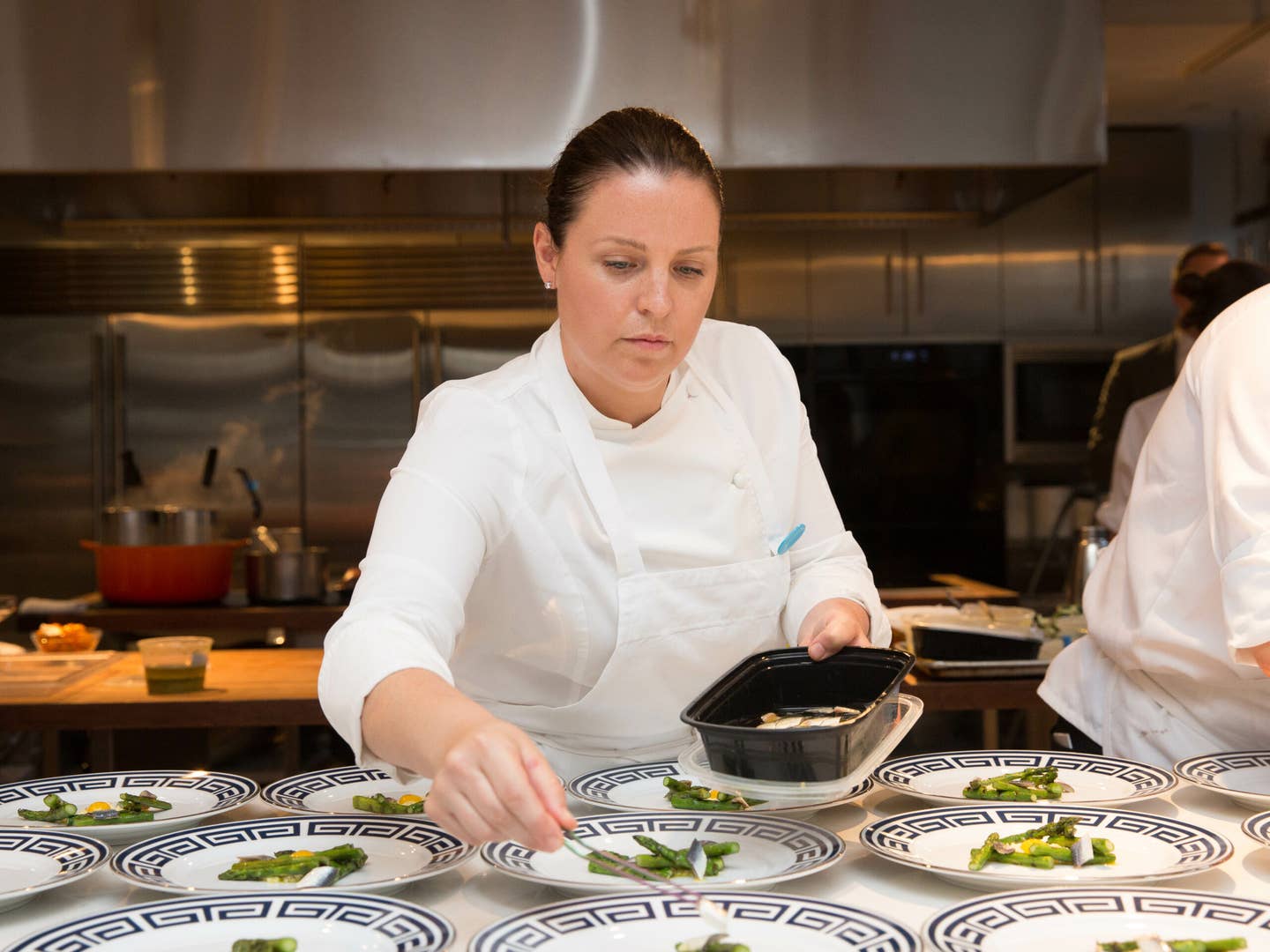 Culture
Scenes From Our SAVEUR Supper With Del Posto's Melissa Rodriguez
One of the finest restaurants in Manhattan took over our test kitchen, and dropped some chocolate bombs
Chef Melissa Rodriguez proved at last night's #saveursuppers that you don't have to have an Italian grandma to be able to execute a perfect Italian dinner. The SAVEUR test kitchen turned into a candle-lit, first-class dining room, as one of the finest restaurants in Manhattan, Del Posto, took over.
Rodriguez took control of the kitchen at Del Posto in the beginning of this year. When she first arrived to the restaurant five years ago, she didn't have any experience cooking Italian food. She learned through reading, traveling, and working with Mark Ladner (the former executive chef), Mario Batali, and Lidia and Joe Bastianich (the owners of Del Posto), she explained. Rodriguez said she is definitely making changes to the 12-year-old restaurant, but she's not trying to reinvent the wheel: "I'm focusing on making the food even more delicious."
The evening started with a grilled asparagus salad, served with egg-based crème and citrus-cured sardines. It was followed by heirloom tomatoes, flourishing in every shade of red and yellow, served with a cloud of smooth ricotta mousse and a spicy chile vinaigrette.
Moving to warm courses, Chef Rodriguez served two pasta dishes. The first one was a paper-thin pasta filled with roasted beet and coated with poppy seeds, smoked ricotta and pistachios (Farfalle Ripiene ai Casunzei). Then it was time for Rodriguez's own creation, an earthy, rich girella Genovese consisting of heritage pork with mushrooms, wrapped in thin pasta, then grilled crisp.
"You can tell this meat has been loved," said one of the diners as the last savory course, a combination of juicy porchetta, crispy, puffed pork rinds, and soft summer scafata landed on the table.
And it didn't end there - guests also tried Amor Polenta with roasted nectarines, blueberries and a bit salty mascarpone cream. And then Chef Rodriguez dropped the bombs. The Del Posto staff came to the table and smashed big chocolate balls on the table so hard they cracked open, and smaller, silky, handmade chocolate truffles poured out.
As diners applauded Chef Rodriguez and her staff, there was only one thing left to say: "Bravo!"