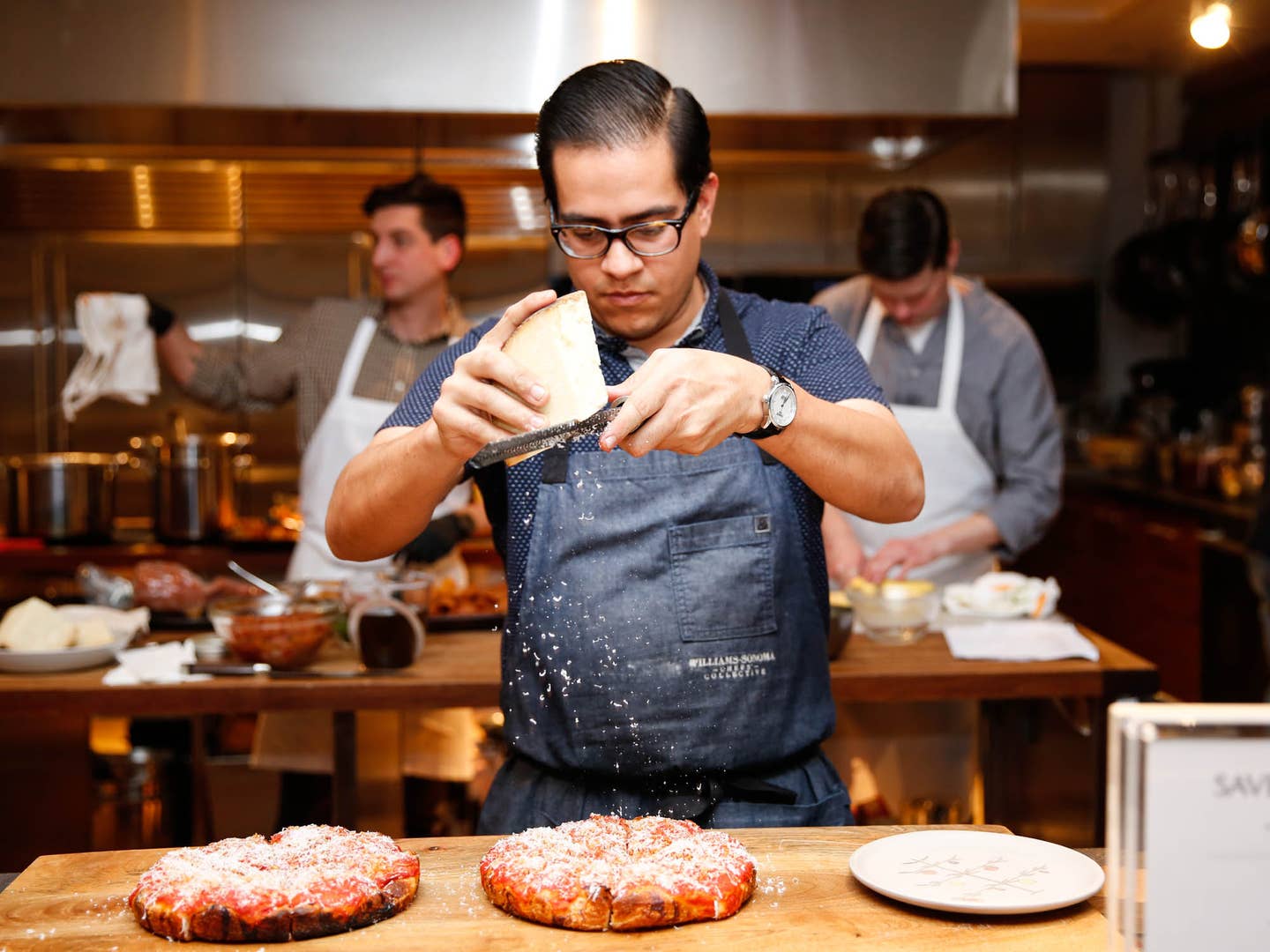 Culture
Chef Michael Toscano Cooks South Carolina Food Through an Italian Lens
You have to try fennel pollen in fried risotto
At last night's SAVEUR Supper, Chef Michael Toscano of La Farfalle dished out a beautiful and indulgent Italian feast—with a very important caveat. He utilized ingredients indigenous to Charleston, South Carolina in his Italian dishes. "I cook the food of the region through an Italian lens—I try to incorporate the history of the area into traditional Italian foods." He started the evening with a rich and flavorful fried risotto, whose flavor was intensified by fennel pollen from the Charleston area. Other canapés included a Sicilian style pizza, with a wonderfully enormous and bready crust, along with ciouscolo anolis with orange rind mostrada.
The seated meal began with a visually stunning octopus carpaccio (a reinterpretation of a dish from his time at Perla); a raw veal tonnato with Tokyo turnips and cornichon; and a roasted brussel sprout panzanella with Charleston white shrimp chips. Toscano emerged from the test kitchen to share some insight on his cooking, and explain his use of regional foods in his dishes, particularly in the pasta e fagioli he served as our second course. "Antebellum golden rice in Charleston has such history, and we use it to make the pasta dough for an otherwise traditional pasta e fagioli."
The unexpectedly rice-based dish was true to the spirit of its Italian inspiration, but had a uniquely earthy flavor. It was followed by the main course, a spread of thick prochetta slices topped with chicharrónes; marinated artichokes with "neonata," Italian for "tiny baby fish"; and roasted sunchokes nestled in kale and hazelnuts. Chef treated us to rich olive oil cake and hazelnut shortbread for dessert, as well as a taste of a rare, locally-produced corn whiskey from Highwired Distillery. Diners left inspired by Toscano's take on everything from pizza to carpaccio, and anxious to visit La Farfelle for more.