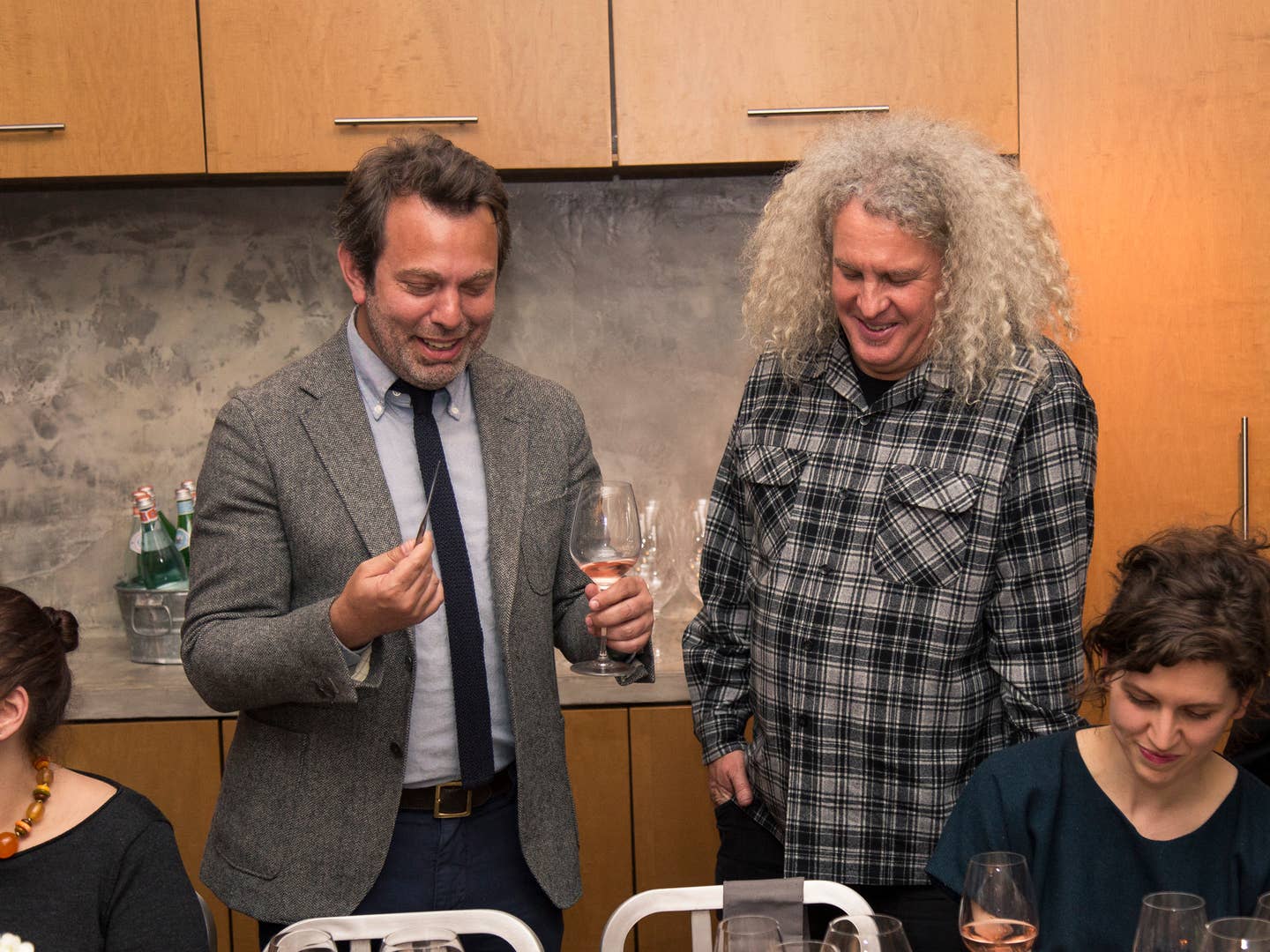 Culture
Eating Dinner With the Wine Radical
Scenes from our SAVEUR Supper with winemaker Charles Smith and Washington chef Hannah MacDonald
"I'm a gypsy," Walla Walla, Washington chef Hannah MacDonald said, lighting a cigarette—a coffee mug full of Champagne nudged between her arm and side. Her wanderlust has taken her to Paris, where she lived with Madame Poupon (yes, that Poupon) and Switzerland, where she was a private chef for a hot air balloon company. But last night it landed her in our test kitchen, where she hosted a SAVEUR Supper with Walla Walla wine radical Charles Smith.
"Hannah has fed me and every other winemaker in Walla Walla for the past eight years," Smith said. MacDonald did this from Brasserie Four, the restaurant she opened in 2008 and recently sold to a friend. She wants to move. Again. "We wanted to bring Walla Walla to you," Smith said, addressing the 30 people around the table. He and MacDonald have the same philosophies. They are both inspired by classic French ideals, and they both approach their craft without overworking their product. They also both like to "get saucy," as MacDonald says. It just so happens that she does it with food and Smith does it with wine.
For Oregon crab cakes it was a Cognac-laced Americaine with loads of butter (crab's best friend) and a pinch of cayenne. The chicken soup that cooked for eight hours got a spoonful of arugula pistou (pesto without pine nuts). Steak au poivre got the black pepper-Cognac-treatment, and dessert, a tarte Tatin with Fuji apples, was buoyed by a crème anglaise. "It's not French ingredients," MacDonald said, "but it's local food with classic sauces."
At the table, Smith was getting saucy in his own right—enjoying his wines with guests. Smith's reputation and passion was shared last night with a tableful of wine and spirit enthusiasts, Joe Campanale of L'Artusi and Damon Boelte of Grand Army among them. There was a rosé from Italy's sangiovese grape for folks as they arrived, but Smith looked mostly to France for the wines he served with MacDonald's food. "I'm not trying to emulate the French," Smith said of his Burgundian-style chardonnay, "but white burgundy is considered the best chardonnay in the world. So why not try to knock on that door?"
Smith's other wines at last night's SAVEUR Supper were all from French varietals: sauvignon blanc, Grenache, and syrah. For him, and MacDonald, it's all about, "respect for history and learning from what has past," Smith said, "and experiencing it in a contemporary way." So we did. And we found out that, for MacDonald, home is really where the stove is.
See more scenes from our dinner below.