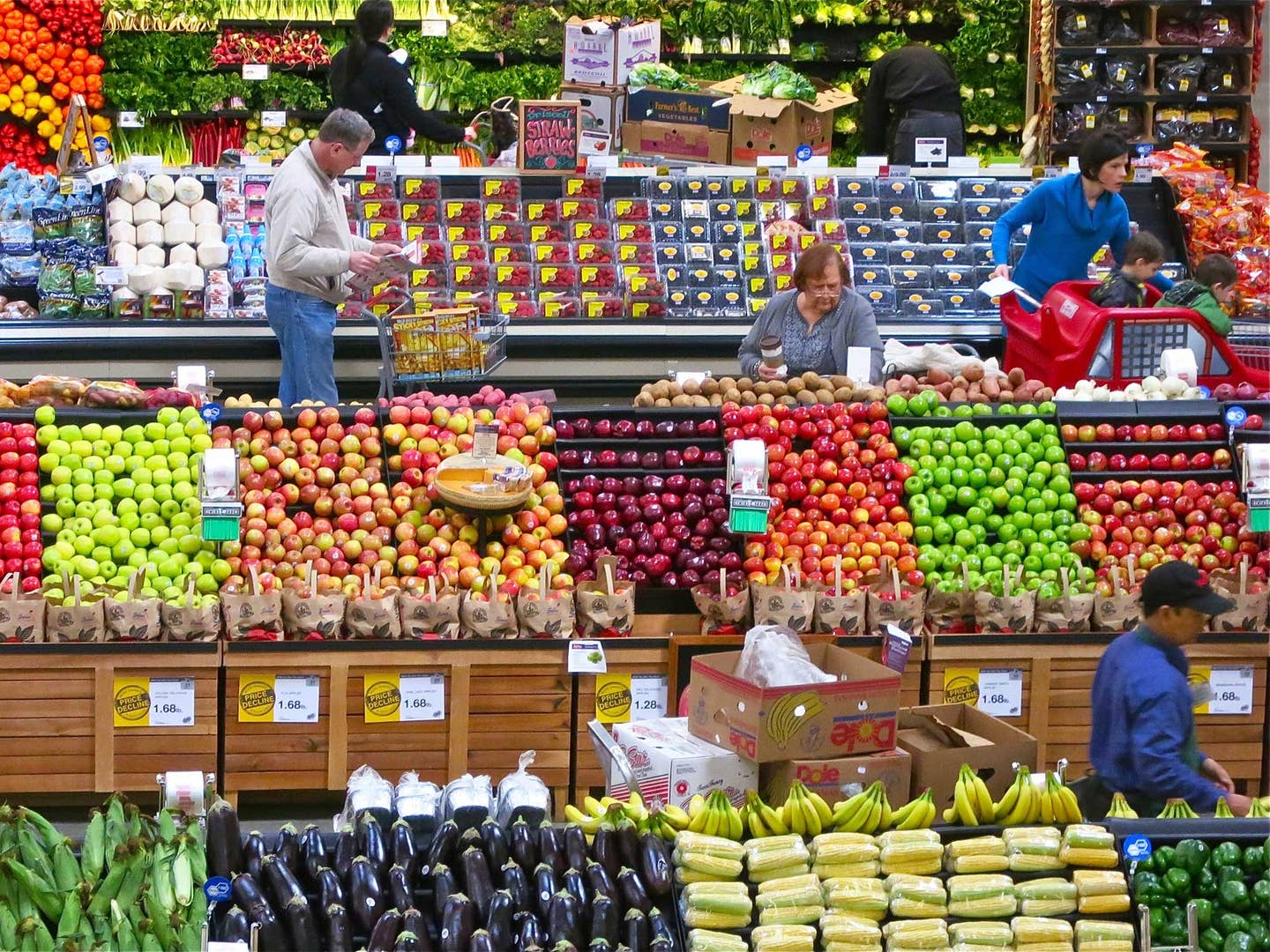 Culture
How One Supermarket is Using Consumer Psychology to Reduce Meat Consumption
If you're having trouble voluntarily upping your plant intake, science will help you take the first step
Ever feel overstimulated when you walk into a grocery store? It's not just you: grocery stores are designed, much like casinos, by consumer psychology to guide you down specific paths that benefit the store more than you. In many a well-documented study, psychologists have determined that placing produce—what with all its bright, enticing colors—near the front of the store help improve mood and increase hunger. Meanwhile, essentials like dairy and eggs, are "hidden" in the back, forcing people to pass by countless unnecessary items before they can finally check off their basic grocery-list boxes.
But it seems like some classic shopper manipulation tactics might now come in handy, at least for plant-based diet supporters. As Munchies reports, it was announced last week that University of Oxford researchers will be partnering with British supermarket Sainsbury's and charity Wellcome Trust to find out which methods work best in actually changing shoppers' habits (whether they realize it or not).
Some of the key proposals include: "placing vegetarian alternatives on the same shelves as meat products, giving vouchers and loyalty points to shoppers who choose vegetarian products, and providing recipes and leaflets that outline how shoppers can eat less meat." By removing the distinction between meats and their vegetarian equivalents, and doing away with dedicated vegetarian aisles, the study will force shoppers to make a side-by-side comparison and choice every time.
Other tactics tap directly into the textbook principles of consumer psychology. Studies show that displays located at the ends of each aisle, known in the industry as "end caps," are some of the most effective, selling up to eight times faster than the same product located within the aisles. The Oxford study will make use of this phenomenon, Sainsbury's director of brand Juditch Batchelar tells The Guardian, by promoting pastas made from vegetables on the end caps.
The five-year study reflects an already established trend in the UK to move away from meat. In America, while our overall meat consumption is up in the last 30 years, we've thankfully decreased our consumption of red meat, which, in addition to being taxing for the environment, is higher in saturated fats and linked to various diseases. Should the Oxford study result in conclusive findings, it could be a solid starting point for vegetarianism here in the States, even if that means using psychology to lead people, like sheep to the slaughter...free lifestyle.