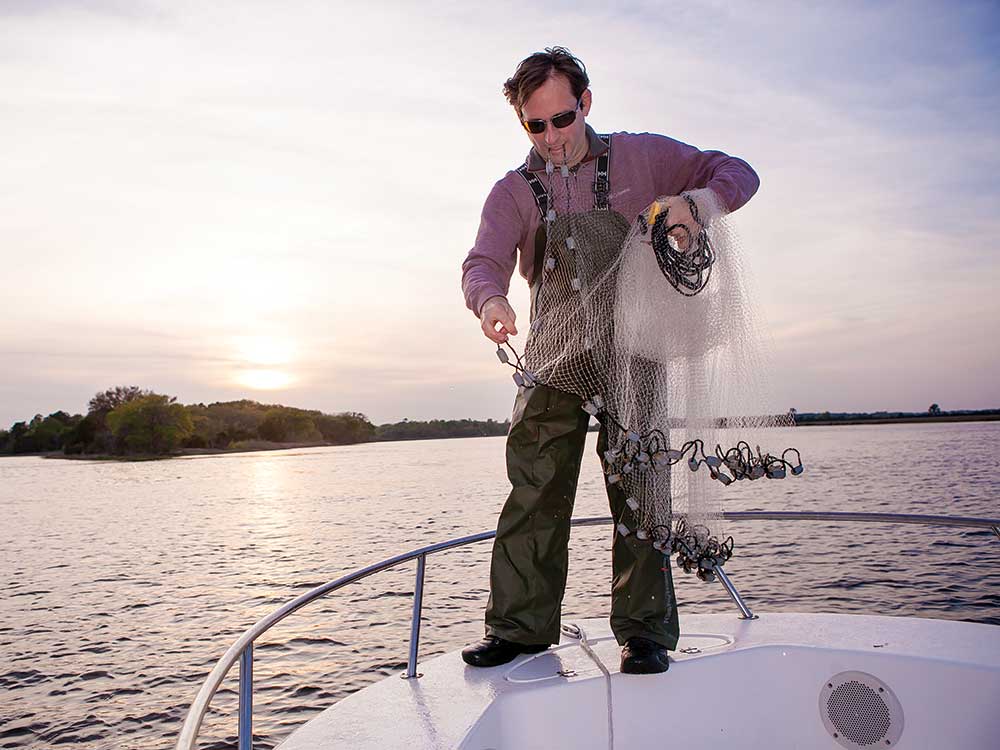 Culture
Shrimp Baiting is a Dying Art in South Carolina's Lowcountry
And Charleston chef Chris Stewart is doing his best to keep it alive
A little before sunset, a johnboat departs James Island, South Carolina, carrying three men, an empty cooler, bait, and marking poles. Chris Stewart, chef at Charleston's Glass Onion, fought traffic after a day in the kitchen to be here. Shrimp baiting in the Lowcountry is legal for only 60 days a year, in late summer, and he couldn't bear to miss an opportunity.
South Carolina is the only state to allow this practice—attracting shrimp with homemade bait before casting a net over them—as baiting too often can deplete the shrimp supply. But since shrimp baiting's heyday in the 1990s, the average number of licenses has dropped from 18,000 to just 6,200 last year. Rapid development, from new condos to waterfront mansions, is dramatically changing the landscape—and its demographic. The lore of shrimp baiting, with its intricacies of nets, fishing spots, and bait recipes, is fading away.
Originally from Alabama, Stewart has adopted the Lowcountry as his home, and for more than a decade has championed shrimp baiting, a tradition that he feels emphasizes the personal relationship of humans to the sea. During the limited season, fishermen affix baitballs—dried lumps of fish meal and clay—to lines dropped in the water, marking each with a pole. As the bait breaks apart and the shrimp swim in, the pilot runs the boat slowly around the poles to concentrate the shrimp, while Stewart casts a 10- to 12-foot net into the center. He's particularly proud of his cast-net prowess, a practice he first witnessed as a child on the Gulf Coast. The limit is one 48-quart cooler full per day, so a pro might "cooler out" in one pass and head for home.
Stewart is outspoken when it comes to just about everything, but fiercely so about sourcing food from his adopted home, even if most of his restaurant guests have never heard of shrimp baiting. He's taught the art to many chefs and friends, but these days, he's thinking closer to home: "I can't wait to get my kid out here and teach her."