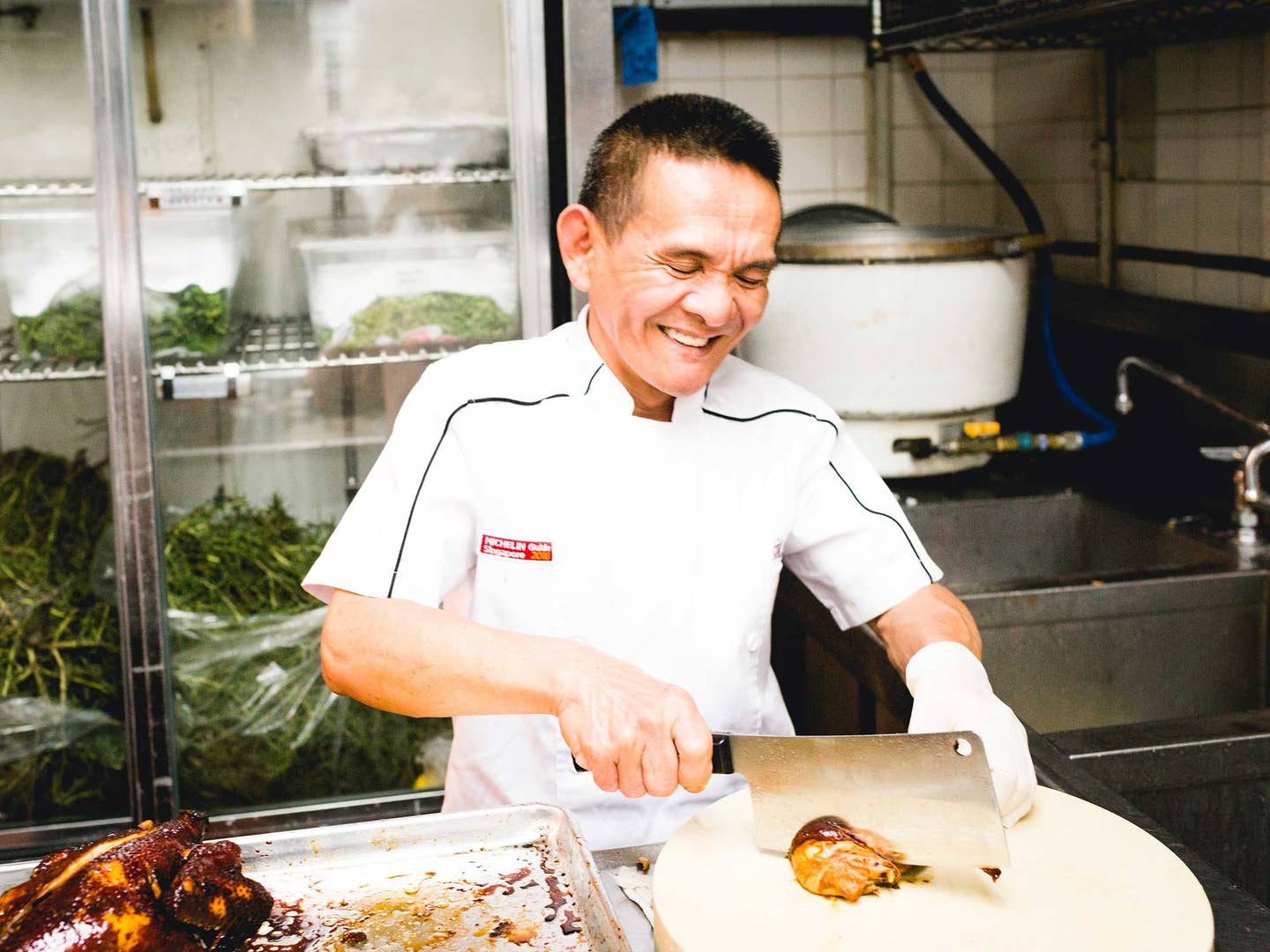 Culture
Meet the Man Behind the World's Cheapest Michelin-Starred Dish
Singaporean hawker Chan Hon Meng brings his soy-braised chicken and rice to the States for the first time ever
Chan Hon Meng made waves worldwide when his Singapore-based food stall, Hong Kong Soya Sauce Chicken & Noodle, won a Michelin star earlier this year, earning him the distinction of serving the cheapest Michelin-star meal in the world at roughly $2. Joining nearby Hill Street Tai Hwa Pork Noodle as the first ever street vendors recognized by the famously elite-centric restaurant guide, Chan's stall, and the 51-year-old lifelong chef himself, have become global ambassadors for Southeast Asia's traditional hawker food culture.
That humble stand, which has been mobbed with lines since the news broke, sells an average of 150 chicken dishes each day. But in just a short span of time, Chan was able to use his newfound fame to open up a brick-and-mortar location of his stall, the original location of which will now be run by an apprentice. Earlier this month, Chan arrived in the United States for the first time ever to cook a meal as part of Tiger Beer's Tiger STREATS dinner series, joining forces with Chef Christopher Kostow of Napa Valley's three Michelin-star The Restaurant at Meadowood. Served at New York City's Indochine, the menu included Kostow's whelk "lasagna" agretti and Chan's signature soy-braised chicken with rice.
We spoke with hawker Chan, via a translator, about his thoughts on his whirlwind of success, and the role that his victory plays in bringing attention to the street-food culture.
How have you seen the hawker industry change in the past few years?
In the past, people viewed street food as just a way to earn a living, a means to get by. You cook, and it's just another job. So over the last few years, there's been a lot of recognition for Hong Kong food and street food. I've seen a progression from a past to now, and I'm happy about the kind of change that has gone on in Singapore. He hopes that it will continue and inspire other people to be hawkers.
Do you think that change helped make it possible for your food stand to win the Michelin star?
It has helped me gain some recognition, yes. Because of the street food's popularity now, it helped bring attention.
What advice would you give to someone who wants to follow in your footsteps?
I hope that the younger generation will give it their all. It doesn't matter what industry you're in, if you put your best foot forward. That's one piece of advice I can relate to.
In New York, the food market trend—with Smorgasburg, and all the other big food markets we have here—is very popular, and many young people want to get involved. Do you feel like there is the same level of interest in Singapore's youth?
In Singapore, it's not many young people who want to be hawkers, but there are more than there were 10 years ago. There is a lot of hard work that goes into it, so people may want to do a degree and go to office job.
You're working with Chef Kostow tonight—has it been exciting to work with so many new people since you won your Michelin star?
I've been a hawker chef my whole life, so I'm really delighted to have the opportunity to work with other Michelin chefs. For example, Chef Kostow is a Western chef, and he makes lasagna. I get to actually see people culturally through their food. It's been very exciting.
What is something people here in New York and America may not know about Singaporean food?
There are many traditional dishes that people try when they visit, like Hainanese chicken and rice and chili crab. What people may not know is that these are foods that have been handed down from generation to generation in the hawker community, not new dishes.
What's one dish you think people should definitely try?
Well, Singapore is a very diverse country, it's much like American because we have many immigrants. We have the Malay ethnic group, the Chinese ethnic group, the Indians, and a minority which are Europeans who have settled in Singapore. Each group has its own special food, so I encourage you try foods from all the groups, not just chicken and rice!