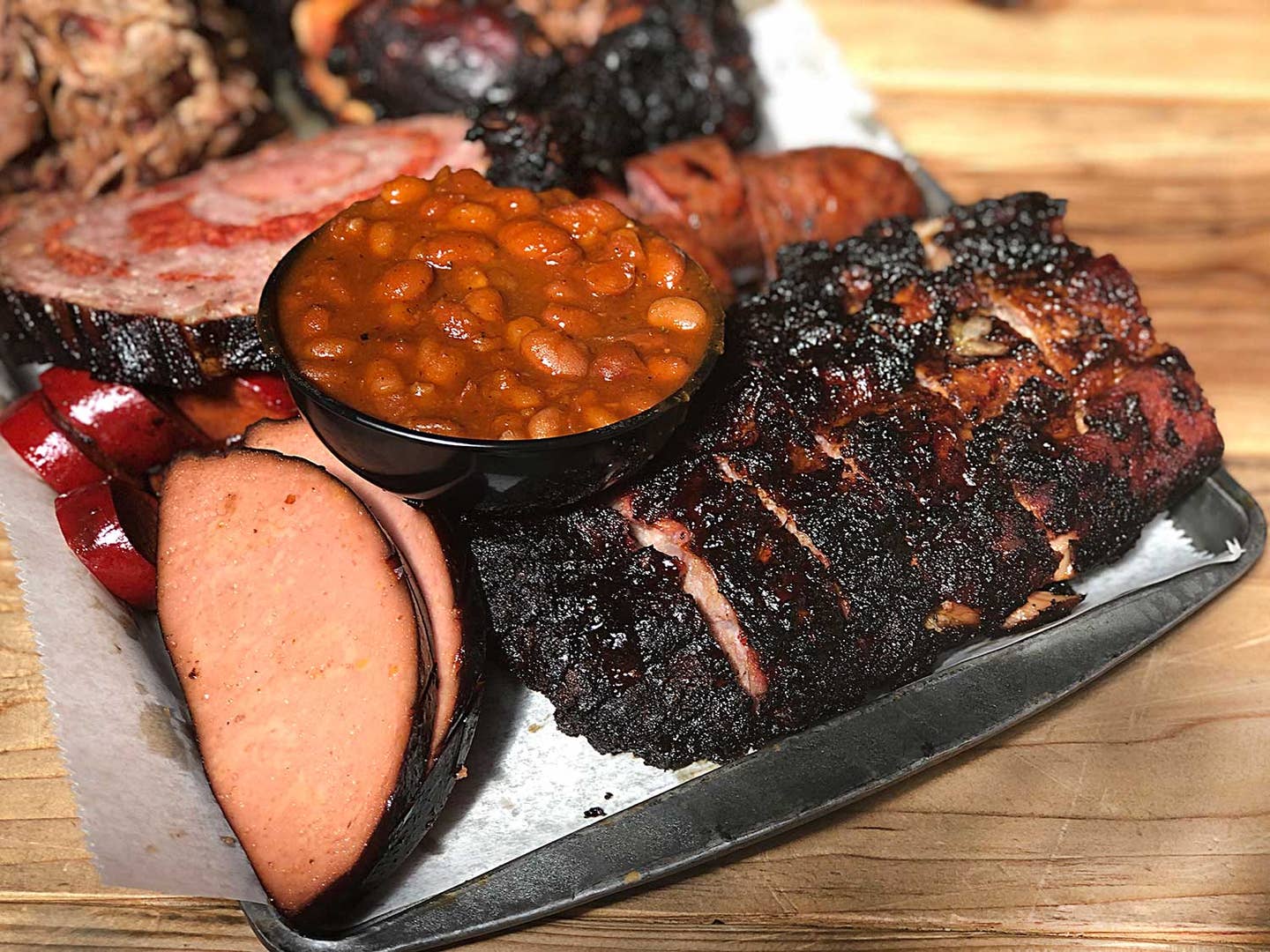 Culture
Why Smoked Bologna Is the Secret Star of Oklahoma Barbecue
No barbecue plate in the Sooner State is complete without a side of "Oklahoma tenderloin"
"It's not a steak dinner without barbecued bologna," says Oklahoma native Courtney Johnson Von Neida. A healthy side of sausage meat might raise eyebrows outside the Sooner state, but here the dish makes an appearance everywhere from backyard parties to trendy barbecue restaurants—and yes, even at steakhouses. While every state has its own unique barbecue traditions, one of the hallmarks of an Oklahoma one—beyond the ribs and chopped beef (brisket)—is smoked bologna.
At Elmer's BBQ in Tulsa, you can get ribs, chopped beef, smoked bologna, and a hot link, all at once, with Keith Jimerson's famous "Badwich." Jimerson, like everybody else I ask, isn't certain why smoked bologna became such a big thing in Oklahoma, but he fields the question with the same guess as the rest. "It's poor people food," he notes. "And we were poor people." Sometimes called "Oklahoma tenderloin" or "Oklahoma prime rib," it was a cheap way to make a meal for the whole family, he explains. They could put it in gravies or gumbos, smoke it or fry it. But even today, with the destitute Dust Bowl days of Oklahoma well in the past, both classic shops like Elmer's and trendy new hotspots like Burn Co. carry smoked bologna, a humble tube meat beloved by anyone who grew up eating barbecue in Oklahoma.
You don't have to be from Oklahoma to appreciate what a trip through some smoke does for the otherwise ordinary sausage: It seeps into the porous texture of the emulsified meat, giving it a strong smoke flavor throughout every bite. It transforms the meat, once sliced, into a soft layer that can either serve as a little nibble on its own, or, at its best, a condiment of sorts to other meats on barbecue sandwiches, lending moisture and extra smoke.
Joe Davidson, who turned his love for barbecue competition into a business making smokers, and then into a restaurant group called Oklahoma Joe's BBQ, grew up on smoked bologna and makes it daily in his stores. In a restaurant just hours away, in Kansas City, Davidson says of the Oklahoma favorite that he "couldn't give it away." But in Tulsa, he'd be run out of town if he ever took it off the menu.
Oklahoma Joe's uses an all-beef bologna, he explains, because he found that the mix of beef and pork, or beef, pork, and chicken that other people use tends to make for more air gaps that cause it to burst. Starting with a 10-pound chub of bologna that is a foot-and-a-half long and about six inches in diameter, he scores all around the exterior before slicing it into quarters lengthwise. Everyone has a different tactic on what shape they smoke it in—halves are very common—and how they score it. The little pie wedge-shaped slices that result from this style, he explains, mean that every bite has a little of the outside edge and the interior. Davidson grew up on a ranch with pecan groves, and like many Oklahomans, smokes his bologna over pecan wood.
The meat smokes at about 275°F, hotter than most of the meats Davidson smokes. "If you do it too slow," he explains, "there's too much smoke in it." It's finished when it starts to sweat a little bit, and he pulls it out to cool before slicing it and dressing it with a tomato-based Southern mustard sauce (not, he notes, to be confused with a yellow Carolina-style sauce).
Across town, at Burn Co., the darling of the Tulsa barbecue scene, pitmaster Nick Corcoran quarters and scores his bologna, then smokes it over hickory at around 165 to 185°F, just until it darkens and goes soft. "It's just expected," he says of having bologna at the shop. When the shop first opened, they actually didn't have bologna on the menu. Corcoran says he convinced owner Adam Myers to run it as a special—and it stuck around on the handwritten board for two years before they moved locations and it jumped to the permanent menu. Today, he estimates they go through at least 20 pounds each day.
"When I was a kid, smoked bologna was all I would eat," he recalls. Before he liked brisket or ribs, especially the reheated kind at the old-school barbecue places of his childhood, smoked bologna was all he wanted. He makes the same guess as Jimerson about why it took root here: "Everybody's always had fire, had a way to cook meat, but we haven't always been able to afford meat." He guesses people smoked whatever they could to get that smoke flavor they craved. "It's a legitimate craving," he says.
While many Americans grow up eating Oscar Mayer–type lunch-meat bologna, restaurateur Chuck Gawey of Tulsa's Albert G's says, "We've just taken it to another level," in Oklahoma. "We as adults still like our bologna." He likes it in combination with other barbecue meats slapped on a sandwich—with brisket, hot wings, or turkey. For restaurateurs, points out Gawey, the fact that it became popular because it was cheap still matters today: "Cost-wise, it's great," and that's a big help in the barbecue business, where the big meat portions tend to get expensive. Gawey is related to the Elias family who own the last Lebanese steakhouse in Tulsa and grew up serving smoked bologna alongside steaks and tabbouleh at Jamil's in the '70s before he opened his own place in 1992. But even with all that history, he still isn't fully sure where the tradition came from, other than being eminently affordable. "You can blame my mom and his mom and all those moms who started us on this stuff. That's who can tell you," says Gawey.
Albert G's manager Marcus Welch pops by as we chat and offers the idea that maybe it started with the big German population living in Texas, that the bologna they eat is a descendant of leberkäse. But pinpointing the origins of Oklahoma's smoked bologna seems as futile as trying to convince people from outside of Oklahoma of its merits as a dish. "I grew up eating bologna, and it's still good today," says Jimerson of Elmer's. He lists the questions he gets from visitors: "What's bologna, I don't know what it is, I don't eat bologna." But it's barely different than other things that everybody eats, he says. "If you eat a hot dog, you kind of already eat bologna." It's just so much better in Oklahoma, where it's been smoked, sliced, and slid across the counter of a barbecue joint.