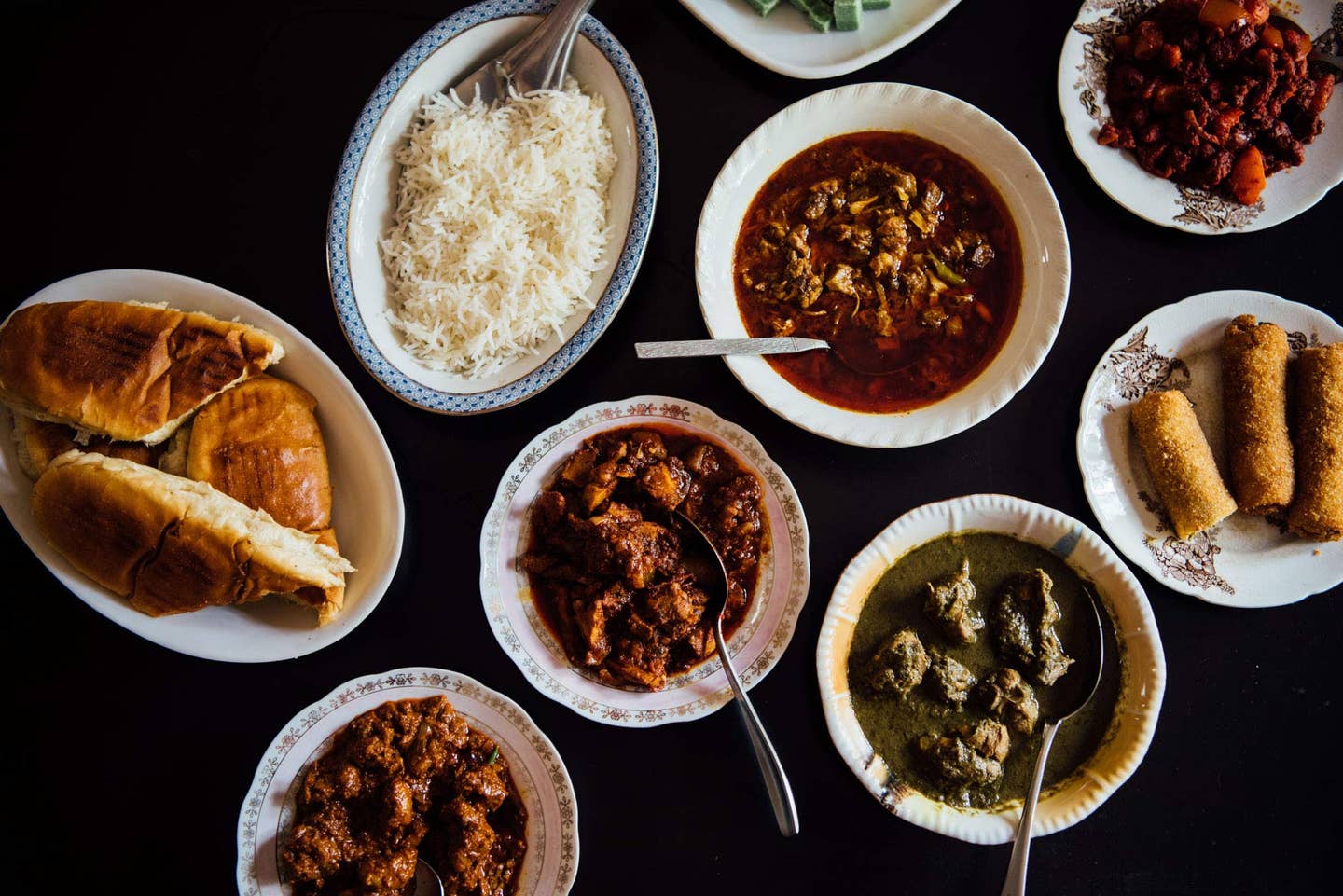 Travel
Sorpotel and Sannas: Remembering Christmas in Goa
Cookbook author and photographer Nik Sharma travels back to India to visit family and celebrate traditions through food
In her tiny kitchen, hovering over a large stainless-steel pot proudly marked by the many nicks and scratches accumulated over the years, Lucy stirred the stew once more before taking it off the heat to cool. This stew was not to be served immediately, but would instead be left in the refrigerator for a few days, when she'd serve it at Christmas. She argued that this time—allowing the tender bits of pork to cure in the thick and fiery broth of vinegar, chiles, and spices—would make it taste even better. On Christmas day, my grandmother would warm the stew and serve it with either rice or sannas, soft, steamed cakes made with fermented coconut that would act as sponges to absorb the rich broth. This pork stew, called sorpotel, was the highlight of every Christmas lunch I spent with Lucy, my grandmother.
Christmas, and the month of December in particular, is time for pomp and festivities in India. Be it the Goan and East Indian Christians* (the name refers not to their location but rather their historical ties to the British East Indian Company) on the western side of the country, the Mangalorean and Syrian Christians of the South, or the Bengali Christians on the East, Christmas is celebrated with great excitement and tradition. Some of these rituals are unique to each of these groups and many of them manifest through the food they cook—like the sannas of the Goans or the fugias (a sweet, fried, and yeasted balloon-shaped bread) of the East Indians.
Christmas preparation in Goan families starts a bit early: Dried fruit for the rum cake will be soaked in spiced rum anywhere from a month to a year in advance. Marzipan is made from ground cashew nuts and colored and shaped into various edible holiday-themed shapes such as wreaths, mistletoes, snowmen, and Santas. Eggless cookies called nankhatais will be baked and iced, and fried cookies like the shell-shaped kulkuls will be dipped into sugar syrup. The sweets are then divvied up and distributed to families, neighbors, and friends on the eve of Christmas day.
The savory aspect of the Christmas meal receives as much attention as do sweets in my family. The sorpotel is cooked days before to give it enough time for the flavors to mature. My grandmother prepares her shrimp pulao, simmered in chicken stock, and grinds fresh cilantro to form the base of the sauce for her chicken Cafreal. Hot and tangy pork vindaloo is boiled in large pots, jars of balchāo—a spicy pickled shrimp concoction—are opened, and Goan chouriço is removed from its casing and stir fried with thin slices of red onions, bell peppers, and green chiles. Sometimes, there's a mince pie stuffed with ground beef cooked in red vinegar and some years, she cooks a shepherd's pie. The table is always full with plenty to go around.
Most of the culinary practices and techniques in the Indian Christian communities were influenced and shaped by the Portuguese, French, and English colonists that came and conquered various parts of the country. Goa was a former Portuguese colony and as a result, many locals adopted the faith of their new rulers, as well as their dietary practices. Meat became a part of their diet, as well as the fiery chiles that the Portuguese had brought from their travels to South America. This is now what Goan cuisine became best known for.
Sorpotel was one of those many dishes brought by the Portuguese to Goa. The rich and spicy pork stew was originally developed by their African slaves in Brazil as a way to use up the undesirable offal and blood. Cooked in vinegar, the stew would last much longer than normal, proving beneficial when traveling on long journeys. After the Portuguese introduced sorpotel, it was quickly adopted and modified by the local Goans. While household dishes vary, the typical components include boneless bits of pork meat and liver that are cooked in toddy vinegar (a vinegar obtained through the natural fermentation of coconut palm sap). Using pig's blood is rare now, so most cooks achieve the deep brick-red color using ground dried Kashmiri chiles. Once this rich stew is cooked, it is left to mature for a several days before it can be served.
My grandmother has long since passed, and her recipe has since been modified by my aunt, Elaine. Gone is the pork liver, the blood, and the toddy vinegar (they're too difficult to source) and instead, she combines pork shoulder and pork belly and cooks them with malt vinegar to recreate that same rich taste and flavor. I now stand in the same kitchen with my aunt, where years before I watched my grandmother prepare her sorpotel. We chop the pork into tiny cubes and grind dried chiles with spices in the blender, as I listen to her anecdotes about my grandparents. One thing hasn't changed about this dish: It still gets better with time.