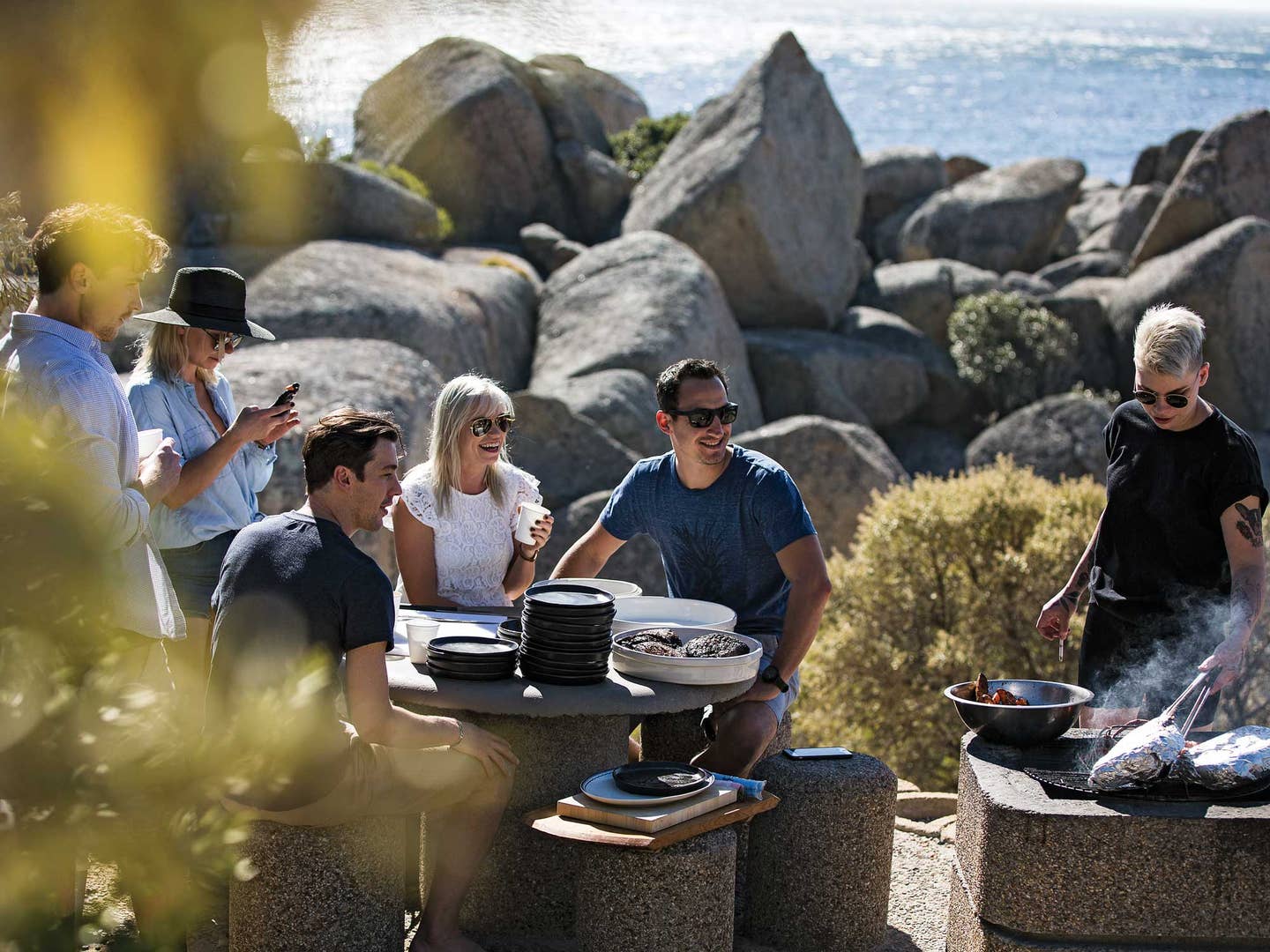 Travel
The South African Art of Braai
In Cape Town, summer means braai—the unifying tradition of good, old-fashioned, gather-round-the-fire barbecue
First a coincidence: 1.8 million years ago, about 500 miles up from the southernmost tip of Africa, in a widemouthed cave dug into an eroded hillside, Homo erectus discovered barbecue. He'd been an ape, not all that long ago. But his teeth had shrunk as his brain grew; he was now having trouble chewing raw meat. He had recently lit his first fire. One day, Homo erectus threw a carcass onto the flame. The burning meat grew tender. He bit in and lived to see another sunrise.
That cave is called Wonderwerk, the Afrikaans word for "miracle," and it happens to be located within the borders of South Africa, a country positively obsessed with grilling meat. Is it a coincidence that meat was first grilled on what would become South African land? Yes, probably. But it's the type of coincidence you dwell on—there's more to it than a country's ephemeral borders and a random cave. There's a deeper truth here. If you stare at it long enough, you could learn something about the way the world works.
I came to Cape Town to eat. And if you're here to eat, you must braai.
The simplest way to understand braai is to call it barbecue. That's a linguistic as well as cultural translation—it's both cuisine and pastime. As with the word barbecue, you can throw a braai and braai a steak. Its usage is fluid, and omnipresent.
"We have 11 official languages in South Africa," Jan Scannell tells me, "and braai is a recognized word in every single one."
A decade or so ago Scannell christened himself "Jan Braai" and embarked on a national crusade to rebrand September 24, the country's Heritage Day, as Braai Day—akin to officially declaring Thanksgiving to be Turkey Day. As improbable as it sounds, it worked.
This is not simply a feat of marketing. Many South Africans already braaied on September 24 (and most other weekends throughout the year; Cape Town's climate is perfect to the degree that residents really only complain about wind). The renaming was a kind of metonymic transfer of energy, from the idea to the way the idea was celebrated. It was also, more importantly, an attempt to draw out what little common ground was shared in a fractured country that still bears the scars of apartheid.
Perhaps that's putting too much pressure on a day, a name, and a style of cooking. No holiday could properly salve a country's racial tension. But it's worth giving credit to the common ground. South Africans—the native tribes, the colonial immigrants, and the descendants of the Asian slave trade—all braai. Somewhere between 15 and 20 million South Africans braai on Braai Day. That's nearly half the population.
"It's a great equalizer in South African society," Scannell says. "The wealthiest people braai with proper wooden fires and the poorest people braai with proper wooden fires. It's a way of preparing food, but it's also a social gathering."
In backyards and on patios; in the suburbs and deep in the bush; atop shining new grills and on beds of thornbrush: To braai is to gather with friends, often on long, lazy afternoons, and grill meat, often over wood. Lamb is popular. Chicken piri-piri—a remnant of Portuguese colonialism now so thoroughly integrated into South African culture that it's spawned a casual dining empire called Nando's—is common, too. There are steaks of all cuts, side dishes reliant on abundant corn, an ingenious variation of the grilled cheese, and sausage—lots of sausage. The sausage—here called boerewors, or "farmer sausage"—is worth dwelling on. In this one sausage, Scannell says, you can find African meat (often beef, sometimes pork and lamb, too), a fondness for sausage-making left over from French and Portuguese seafarers, and spices (coriander, cumin, and nutmeg), carried by slaves from the East.
In other words, boerewors is a bit like Cape Town itself: chock-full of heritage and very delicious.
Anyone who's ever been to Cape Town will tell you it's among the most picturesque cities in the world—a horseshoe of low sprawl built around a jutting peak, bracketed on one side by the frantic, blue South Atlantic, and on the other by the vast false horizon of Table Mountain. Anyone who's been to Cape Town in the last few years will tell you another thing: It's a good time to be hungry here. A network of young, talented chefs has begun to fan out through the city. There are high-end tasting menus and lowbrow street-food geniuses. There are hipster burger joints with nouveau Sloppy Joes and a croissant-slinging bakery obsessed with egg sandwiches. There are wood-fired pizza places and bright, loud sandwich joints, and menuless tapas spots tucked behind cookware shops.
And, of course, there are braais. In Gugulethu, one of the vast townships that abut the city, Mzoli's Place offers tourists and locals alike a kind of daily braai party, with loud music, big grills, and abundant beer. About half an hour from the center of Cape Town, the open-air establishment is presided over by Mzoli Ngcawuzele, who opened the butchery stall in 2003. It's since grown into a bona-fide destination—more a dance club with a grill as its backdrop—one of the few township locations included in Western guidebooks. The relationship here is complicated: African townships, these massive, endless grids of two-room cement houses and steel-sided shacks, are a crash course on the lingering effects of institutionalized racism and economic stratification. That tourists tend to arrive and leave via Uber without so much as venturing off the block is proof of either safe or cloistered traveling, depending on whom you ask.
You can see a braai in its natural habitat without leaving the city center. You must go behind the houses, into the backyards of the people who live here. And once you're here, standing over a pile of burning wood, it helps to know a good butcher.
Out to the Woodstock neighborhood, a 10-minute drive due east from the city center, in an old industrial corridor now converted into a string of trendy stores, restaurants, and lofts, there is a retrofitted garage called Frankie Fenner Meat Merchants. Here, Andy Fenner, one of the city's preeminent purveyors of meat, has reimagined a butcher shop as a contemporary art gallery—all slick and white inside, its hanging carcasses perfectly framed inside a meat locker behind a square of glass. Fenner fetishizes provenance above all else, sourcing his cuts mostly from farms he's personally visited, like a father-son cattle operation called Langside, near the city of Queenstown in the Eastern Cape.
"My beef farmers are hardcore, grass-fed purists," he says. (Fenner scrutinizes the diets of the animals he buys like some people do their own children's.) When it comes to lamb, he buys only Karoo, a regional variation prized in South Africa for its distinct herbal flavor. What Fenner cannot sell in the shop or to other restaurants, he brings to Ash, a restaurant where he is a partner. Ash's head chef Ash Heeger devises her menu partially based on what is available at Fenner's butchery—a smaller-footprint approach to cutting up animals. "We struggled to find ways to use pig heads," Fenner says. "We would make guanciale or a fromage de tête every now and then, but we couldn't sell them fast enough. The heads kept piling up." Ash now features a pig's head scrumpet (nuggets of breaded and fried terrine) that is, according to Fenner, the restaurant's most popular dish.
All of this is to say, for both restaurateurs and everyday Capetonians, Fenner is the preferred middleman for good meat. As it happens, he is also known to throw a hell of a braai.
Fenner and his wife, Nicole, live in a small, old Victorian house in Tamboerskloof, a hillside community of unimpeachable quaintness just off Bree Street, one of the city's main drinking and dining drags. From Fenner's porch—actually, from everywhere in Tamboerskloof—the view is dominated by Lion's Head, the mountain rising just behind it. But even with that backdrop, the focal point of Fenner's home is indoors, in his kitchen, a wide, open room that spreads across the back of the house, all concrete floors and brick walls, with big arched windows framing two sides.
The Fenners had spent the day preparing, and as their friends arrived, they began cooking in earnest. The room filled just as the afternoon turned into evening. Three rambunctious dogs (two of Fenner's, one belonging to a friend) raced through the dining room, crashing into legs as they worked the corners. We drank beer at first, then switched to gin and tonics, then a succession of wines. Leaving guests thirsty is a cardinal sin of proper braaing. The Fenners chopped and cooked, sending waves of food into the group. The first was a platter of quartered grilled cheese sandwiches, called braaibroodjie, prepared over the open flame and served as a kind of amuse. (A proposal: Make all grilled cheese sandwiches this way.) The second: those famous boerewors, cased by Fenner himself, served in bite-size morsels with spicy chakalaka, a local pepper relish. The appetizers slowed to a halt as the Fenners plated the main courses: Karoo-raised lamb rump, as deeply herbal as promised, cooked just a shade north of rare; egg salad, touched with spice; samp and beans, a minimalist's vision of chili, just white beans and dehulled corn kernels, stewed in smoked lard until soft; and mielies, more corn (corn is big here), this time served cold in a simple, pleasing salad. Nicole and Andy took off their aprons as the grill flickered down, and found a seat. By now, everyone was a few drinks in, and the dogs, exhausted, napped on the couch. We ate slowly, lazily, and went back for seconds and thirds.
Set the food aside. Is there a real difference between a gathering like this and a barbecue back in the States? No, not really. But how could there be? To stand around an outdoor flame is as elemental to humanity as anything. To grill was our second eureka moment, after the harnessing of fire itself. Of course it transcends borders. Of course a braai here looks like a backyard barbecue elsewhere. Cooking for, and with, friends is a celebration of community. Cooking with an open flame is a celebration of the will to live.
1. Seek out wood: "Braais use wood or charcoal to generate heat," says Andy Fenner in his recent book, Meat Manifesto. "Gas braais exist, but they're a cop-out." In South Africa, a local variety of bush willow called hardekool is the top choice. If you can't get that past Customs, look for seasoned hardwood or lump charcoal (not briquettes, which contain chemicals)
2. Think about your meat: At Fenner's shop, whole animals are sourced ethically from farmers he trusts. Likewise, do the research to locate a butcher shop that carries high-quality, humanely raised meat, and can answer questions about its provenance.
3. Consider lamb: In the Cape, Karoo lamb is the champagne of sheep. "In the [Karoo] scrubland, the first thing you'll notice is the smell," writes Fenner. "It's an intense, herbaceous aroma. Wild mint, wild rosemary, and other plants with glorious Afrikaans nicknames like skapbossie and silverkaroo—this unique, indigenous vegetation is what our sheep eat."
4. Take the heat: Braai heat should be varied according to ingredients. Boerewors, lamb rump, or thick steaks can be grilled over high heat; push coals aside, and cook fish and more delicate cuts of meat over indirect heat.
5. Bring Wine: At American BBQs, beer may prevail, but in Cape Town—a city surrounded by vineyards—wine is a braai staple. Look for chenin blanc from Mullineux & Leeu or A.A. Badenhorst, both from Swartland, a region north of the city.
1. The Butcher: With three locations throughout Cape Town, Frankie Fenner Meat Merchants butchers whole, ethically raised animals. Stop by the Woodstock location for their famous braaibroodjie, a local variation on grilled cheese.
2. The Restaurant: Ash, run by chef Ash Heeger, is the recipient of Frankie Fenner's unused cuts, including pig heads. There, in the spirit of South African braai, almost everything is cooked over open flames.
3. The Braai Spot: Tucked along the coast of Table Mountain National Park, Oudekraal Beach is on a small bay beneath a jumble of boulders. A handful of braai sites with chunky stone grills are scattered along the beach, perfectly positioned for you to watch the waves while flipping boerewors. Gauge the wind before you go because Cape Town is notorious for its gusty weather.
4. The Guesthouse: Run by two hospitable expats from France, the peaceful six-room La Grenadine feels like a tiny slice of the French countryside and is situated near Kloof Street, one of the liveliest blocks in Cape Town. Happy perk: Upon arrival, you'll be greeted with crisp, crumbly, homemade butter cookies.