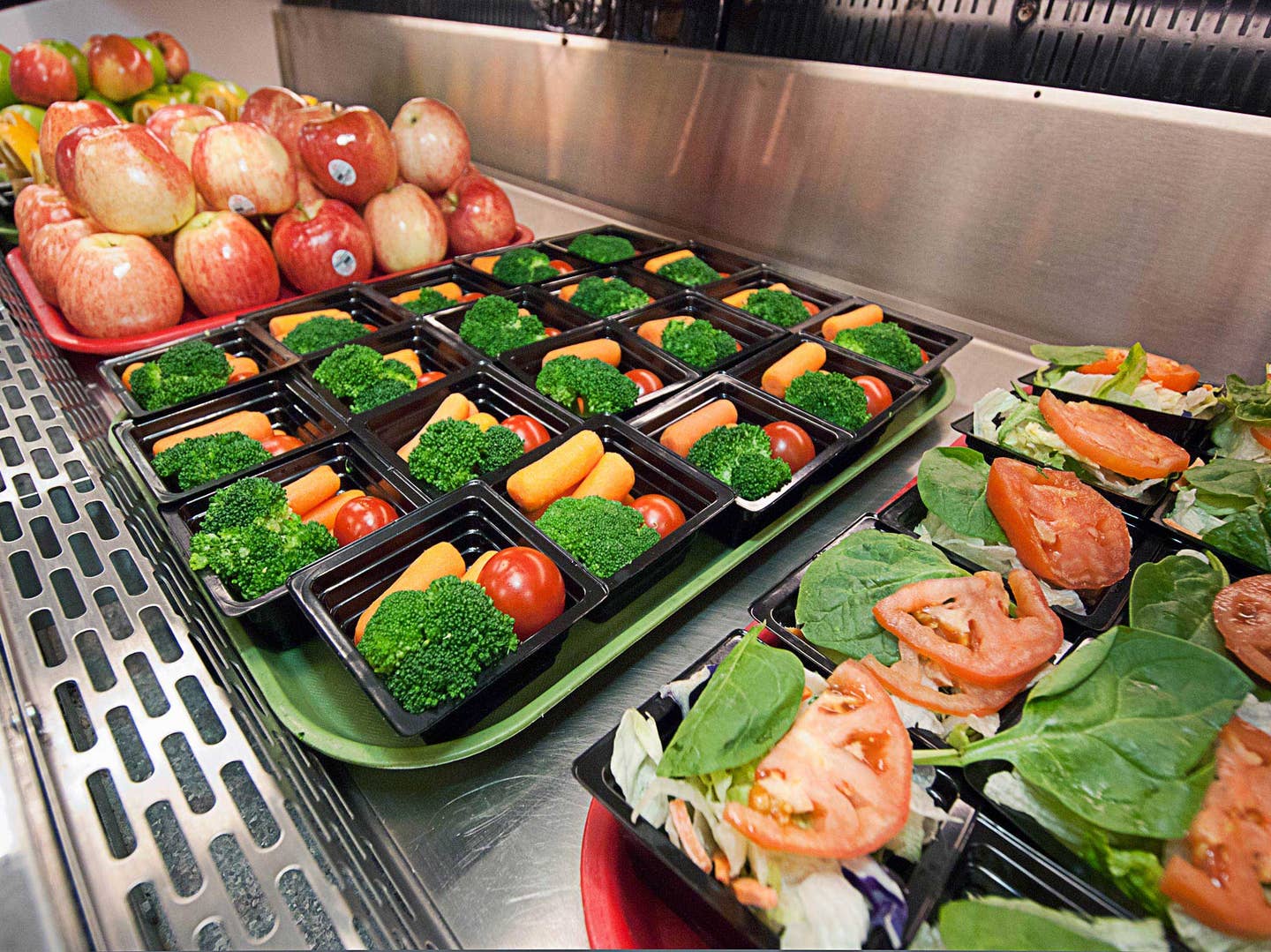 Culture
How Four South Carolina School Districts Are Shaking Up School Lunch
Using innovative, scalable models, these school districts are reimagining school lunch programs, hoping to bring change outside their home state
Every week, a large semi-trailer truck stops at the cafeteria buildings of most public schools of America. A driver exits the cab, opens the trailer, extends a ramp, and begins carting boxes of foodstuffs into the school. It's not a particularly interesting scene, but this truck is the backbone of our current public school food system, one inherently geared toward institutionalization, efficiency, and nutrition—at least so far as it meets federal guidelines. Modern public school food service is full of strict regulations, tight labor costs, federal mandates and monies, and nearly non-existent profit margins. As such, the average school lunch is less concerned with taste, and more concerned with being cheap, highly processed, and highly transportable.
However, four South Carolina school districts—Spartanburg, Greenville, Charleston, and Richland counties—are transforming their cafeteria meals with four unique strategies, featuring a combination of farm-to-school programs, rooftop gardens, worm-wrangling, and outside grants. But most of all, it comes down to the individuals working within the system who, instead of seeing dead ends, see a challenge. They believe there's a world where our children can subsist on more than chicken nuggets.
Spartanburg: Distribute Differently
In 2014, Superintendent Darryl Owings of Spartanburg's District 6—11,000 students strong, the largest of Spartanburg's seven school districts—began a push to serve fresh, organic food. The district ended a long-standing contract with a cafeteria management company, and when they couldn't find reliable sources for organic food, District 6 built a system to raise as much organic food as was practical (exempting imported foods like bananas and avocados) and in that step, committed to being one of their own biggest food suppliers. Soon, with the help of various local grants, Farm to School Coordinator Dylan Nitzkorski came on board, tasked with managing a new 120-acre district farm and greenhouse.
But there wasn't room in that funding for the logistics of getting the school's produce from the farm to the cafeterias of District 6, a last critical step to completing the mission. Without trucks or workers to distribute their own produce, a new solution was required: Finding a distributor willing to purchase and re-sell the produce. That supplier then earmarks the school's share of produce to sell back to the school, and any extra product gets sold and distributed to the wider market, ideally providing a little profit.
This connection to distribution is what makes the organic farm successful for the district's initiatives. The farm is still gearing up full operations, and yet it's already providing supplemental vegetables to 7,800 children a week, or close to two-thirds of its students. Four types of lettuce are harvested from an aeroponic greenhouse system; tomatoes, peppers, watermelon, zucchini, kale, onions, and squash are all grown seasonally; and much of it is served on salad bars at nine district elementary schools, bars made possible through another grant, this one from the Chef Ann Foundation. According to Nitzkorski and many other public school employees interviewed, grants are vital for start up capital in new initiatives, since USDA school funding just doesn't have that kind of wiggle room. Nevertheless, his experience in the Peace Corps taught him to envision new solutions.
"My role is to illustrate how we can scale local production," he says. "School systems are increasing that scale beyond individual consumers." Small joys, not theories, fuel the everyday work though, he says, recalling the day he hand delivered some broccoli as a sample, and the cafeteria worker beamed and immediately asked, "Can we get more of this?" If Nitzkorski and his team have their way, the answer is a resounding yes and includes plans to move toward distributing local grains and increasing shelf life through flash freezing and vacuum sealing. They already have a packing shed ready to go.
Greenville: Running Like a Restaurant
Joe Urban, Director of Food & Nutrition Services for Greenville County Schools, focuses on menu creation and manages his cafeterias like a chain of restaurants. "I look at profitable, high-quality food, manage costs, and operate as a business," he explains. "With 101 schools, we can leverage huge buying power. I threw out the unwritten handbook for school food directors that focuses on what kids will accept. Instead, we treat them as guests to entice, and look to the restaurant world for trends."
Visit a Greenville County School, and you might see a build-your-own taco bar including Alaskan pollock as a protein choice, enjoy a Certified Angus burger on "Burger Day," order a salmon caesar salad, or even run into well-known chefs and pitmasters during occasional visiting chefs events. "There are huge profit opportunities in school food service," Urban attests. "We just haven't been leveraging it right." Urban's exciting is one increasingly being tried in other locations nationally, including East Boston, as reported by Civil Eats in November 2017. The Shah Family Foundation provided funding for that four-school pilot program, but district leaders are hopeful that leveraging the buying power of a district with 57,000 students, along with increased "buy in" from children purchasing school lunch, can offset the costs long-term.
At Lower Richland High in Hopkins, the focus is on the opposite end of the spectrum: what's being discarded when lunch is over. In 2011, Lower Richland High School was state-identified with persistently low achievement ratings and received an improvement grant. One of the stipulations required a focus on STEM (an NEA program focusing on science, technology, engineering, and math), and the administration, spurred by a simple brainstorming session, chose to bring vermicomposting into the campus. It would provide a real-world look into the cycle of food waste and food production. The school installed a dehydrator in the cafeteria that transforms food waste into dry, stable "worm food;" trained cafeteria staff on how to use that dehydrator; converted a previously unused space to a "worm shed;" and enlisted three classes of special ed students to execute the program, returning usable compost to a greenhouse and three 5x10-foot beds.
"This is a 50 percent volume waste reduction, and the students also get hands-on experience with all STEM aspects," says Laura Ros, project manager for Engenuity SC, an outside firm contracted to help manage the district's STEM projects and provide connection to the community. "It's a thriving vermiculture operation at this point, integrated into the daily life of the school." Right now, the produce grown in those beds are for students and staff to take home, but if the school was interested, the model could be easily scaled to provide soil nutrients for larger projects.
Charleston: From The Rooftops
In Charleston, Wando High School has been focusing on gardening in their suburban setting, with a greenhouse, up to 10 large raised beds, and a rooftop teaching garden with rainwater cisterns. It all started with the enthusiasm of teacher and coordinator Katherine Donohoe (currently on medical leave), who in 2009, saw how fascinated her students were with the concept of hydroponics. Given the school's lack of budget, she secured a hydroponic system for the school that had been previously confiscated by the local police department during an arrest. Then, a penny sales tax was passed to allocate more public funds, and the program blossomed into a model for the state. Soon Wando High School had approximately 50 students a year planting and harvesting food such as fresh herbs, eggplant, or lettuces to supply one of the massive school's multiple cafeterias. "It's not just about the fresh food on plate for us," Donohoe explains. "I've seen that if a kid knows they were part of growing food, they are going to eat it. There's a pride there."
Whether it's distribution, menu creation, waste disposal, or classroom integration, administration in these districts are willing to allow creative thinking and put in extra time to get programs off the ground. At the same time, people outside public schools are looking in, saying "How can we help?" It's seems clear that current in-school funding isn't sufficient to fuel that creativity, but there are supplemental funds available for those willing to find them, providing a glimpse of new models beyond the semi-trailer. Fresh, high-quality, well-prepared food can come from a school cafeteria. "It was a lot of little things," recalls Donohoe. "We just kept going."