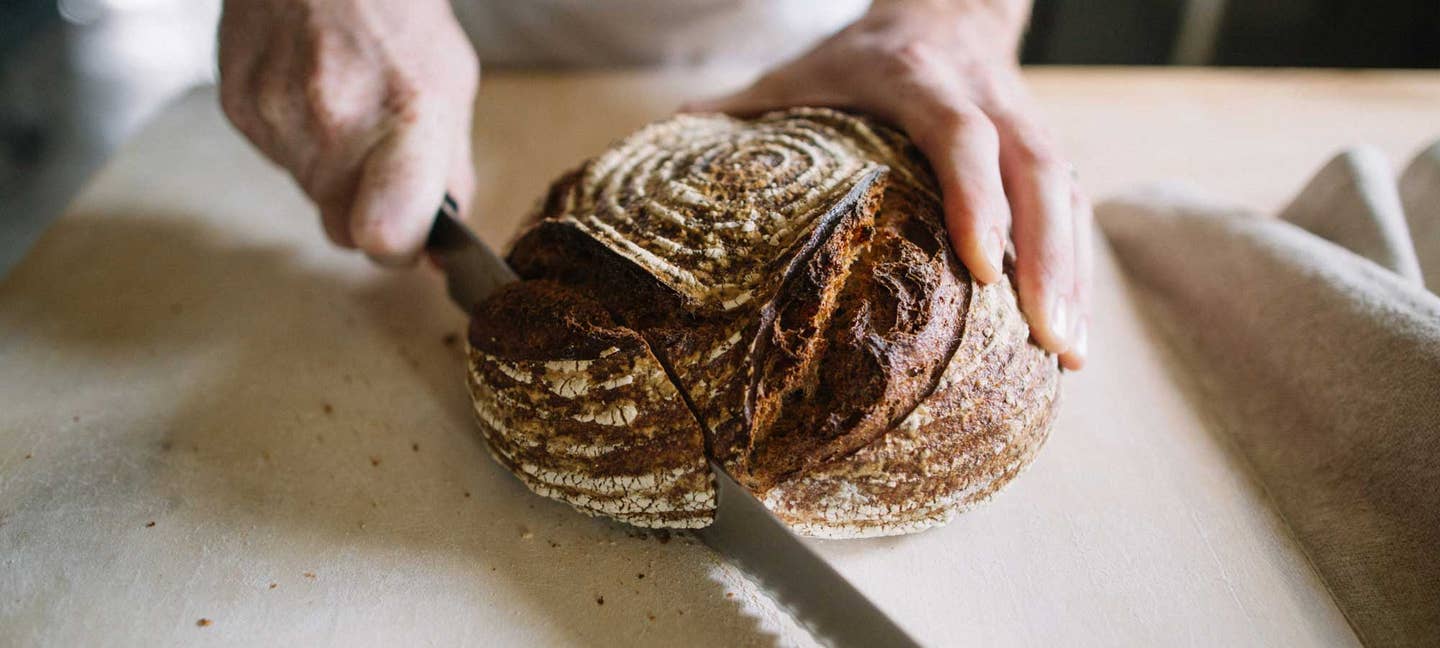 Culture
In the American South, an Heirloom Baking Boom Is Underway
With a long history of experimenting with heirloom grains, the South is perfectly primed to be the country's next baking hub, and this crop of bakers, millers, and farmers is going to prove it
It's time to call it: Southern baking has changed. Of course, the Southern U.S. still cranks out plenty of biscuits and cornbread, but these days, hearth bread baking is arguably the most exciting development. Already well established elsewhere in America, particularly in California and New England, the artisanal bread movement is transforming in the hands of Southern bakers: European techniques are meeting uniquely Southern ingredients, from old varieties of rye, rice, and corn, to more modern varieties of wheat being grown and harvested locally. Southern bakers are creating something new that is intimately tied to the region's terroir.
A longstanding cultural knowledge of these old varieties still thrives in South—as well as an abundance of local mills—and bakers from across the country are inundating Southern states in hopes of joining this new movement. With the tremendous diversity of grains, the knowledge shared across industries, from chefs to millers, bakers to brewers, it was only a matter of time before a bread making revival happened here. And now it has a distinctly Southern accent.
"In the South, the Old World came to live," says Glenn Roberts of Anson Mills and the Carolina Gold Rice Foundation. "It [the South] refused to get involved in industry milling until after the Civil War, and add to that, the largest experimentation on improving on Old World Wheat varieties was in South Carolina, North Carolina, Virginia, and Georgia." These experiments—which sought to adapt existing varieties to their new home in the hot, humid American South—were fueled by an intensely wealthy antebellum planter system.
This was before the days of modern science, however, and only a select few had the working knowledge required to create such improvements. In the American South, the practical understanding of these grains and their performance was anchored in the enslaved African community. Many slaves had an intimate understanding of these specific crops, and were invaluable players in determining how they might grow better in America. Their knowledge, combined with the intense wealth built on the backs of their uncredited labor, is what has led the South to their modern day, "seed stars," like the beloved Carolina Gold rice, that have become heirloom to the region. Because of the South's general resistance to change, these improved Southern heirlooms still showed up on farms well into the 1980s, either grown traditionally for food or as windbreak or cover crops. Now, a variety of bakers and millers are hoping to bring them back.
Many modern millers based in the South began their careers as bakers—many of whom baked in American breadmaking strongholds before moving to the South and becoming interested in the region's traditions: sorghum, heirloom corns, and many small scale wheat and rice varieties.
Jennifer Lapidus of Carolina Ground in Asheville, N.C. was one such baker. Originally from California, she relocated to North Carolina and began milling her own flour in the early 1990s. While many bakers during that time were focused on how a particular oven affected the finished loaf, Lapidus was taking a different approach. "I realized that bread doesn't change as profoundly with the oven you use as it does with the flour. I think if you're committed to being a baker—and being a baker is commitment—then you're chasing after that not quite achievable loaf of bread. A good flour can underscore whatever you're doing to coax and create flavor."
In 2008, she decided to focus more singularly on milling, and with the help of grants, committed to closing the gap between farmers and bakers by creating Carolina Ground. The mill works with local farmers to distribute their whole grains, or mill those whole grains into flours and sell them to bakeries. And hers isn't the only such story: David Bauer, also of Asheville, is now focusing on milling after running his popular bakery Farm & Sparrow for years.
Other folks, such as Chris Wilkins of Root Baking Co., recently relocated from Charleston, S.C. to a brand new expanded operation in Atlanta's Ponce City Market, where he's committed to milling his grains himself. "I am a breadmaker, not a historian," Wilkins says. "For me, using local has to taste good, and I have to like the people who grow it. Making bread is about relationships, and I get through to the history of these heirloom cereals through relationships."
Wilkins is quick to point to the work of Chef BJ Dennis, author Michael Twitty, and organizations such as the Carolina Gold Rice Foundation who are all working to research and revive the knowledge, practices, and contributions of the enslaved African population—many of whom initially brought the grains to America as illegal contraband. "We basically wouldn't have all these interesting grains to use without the African connection," says Wilkins. "It's interesting. There's all this freedom, but also a deep connection to a weighty record. I think the South is the most exciting place to be a baker because the large infrastructure doesn't really exist in the same way as other places. It's easy to close the loop between miller, farmer, and baker."
Michael Matson moved to Nashville in 2015 after baking stints in Atlanta and rural New Hampshire. With each move, he became more and more committed to his craft, and now he's the baker-in-house at lauded Nashville operations Rolf & Daughters and FOLK. But he has no interest in milling his own flour; he prefers working with Lapidus at Carolina Ground. "I found a mill three hours away sourcing regional grain," he explains. "I don't have to deal with logistics and space."
He primarily pursues making one specific bread, in which he's currently using T75 flour from Carolina Ground and bread flour from Lindley Mills—another mill in Graham, N.C. "I also use a whole rye flour from Jennifer [Lapidus] that is grown in North Carolina," he adds. But none of these are those original heirloom varieties. As the milling system in the South grows and stabilizes, it's making room for newer small-scale varieties too.
"Heirloom isn't important to me," Matson says, "but sourced and grown in the Southeast is. I want my bread to reflect the place." He defends the flavor that comes from grains grown in local soil, and strives to support local farmers making use of their unique Southern ecosystem instead of seeking out specific varieties.
Another baker, Lionel Vatinet, originally from France, seems an unlikely acolyte of the Southern local grain movement, but he asserts the opposite. "I believe that what is grown as close to your surroundings will help your immune system the best, and economically it is better; you don't have to transport across the country."
In Cary, N.C., Vatinet's La Farm Bakery has been in operation for 17 years and has three locations, with consistent presence at four farmers' markets and multiple Whole Foods Markets in the region. Most weekdays find the cafés with long lines out the door during lunch. Vatinet earned the title of Maître Boulanger (Master Baker) from France's prestigious artisans' guild, Les Compagnons du Devoir, at age 23, and has been baking and teaching ever since. La Farm is clearly built to bring good bread out of an elite ether and into more households.
Vatinet purchases milled flour from a variety of sources, including the aforementioned Anson Mills, Carolina Ground (he's been a customer for nearly nine years), and Lindley Mills. He is also aware of the impact his tremendous purchase power can have on the changing farming landscape: "We bakers move silos, and we can impact this world faster."
La Farm makes plenty of white flour sourdough and white chocolate baguettes—easy, reliable sellers—but is incorporating local (usually heirloom) grains more and more, including in a monthly featured loaf. With his high output, Vatinet simply can't get all the grain he needs from one local supplier. "With the six Whole Foods locations now, we must work with a combination of the channels that have what we need," Vatinet says. "For example, every two to three weeks, we receive over a ton of flour from Jennifer [Lapidus] alone, both whole wheat and rye varieties, all stone ground."
These days, farming is still mostly all about commodity and single crops, so encouraging farmers to scale down has to make economic sense. (Make no mistake: Compared to large conglomerate, monocrop farms, growing heirloom grains is small scale.) If they're going to put the effort into growing heirloom grains, they've got to be able to sell the stuff.
So it is the chefs, millers, and now bakers who are influencing the farmers, often through one-on-one personal requests. For example, Wilkins sources grain for Root Baking Co. directly from Justin Cannon of MC Cannon Farms in Moncks Corner, S.C. A third-generation farmer, he continued farming "on the side" when he began working at the Clemson University Coastal Research and Education Center, a facility vital to the research and field work for growing heirloom varieties. There, through the work of Dr. Brian Ward, Cannon "got curious about it."
"Growing grain is all about the economies of scale, and the margins are so thin, that in these niche markets, growing a particular grain for them [chefs, bakers, millers, distillers] can actually be better," Cannon says. He started growing Abruzzi Rye specifically for the market (it had previously been an occasional windbreak crop for his family farm), Jimmy Red Corn, and Georgia Gore Wheat, but still grows soybeans for the commodities market.
"It can be very enjoyable to grow these [heirloom varieties]," he continues, "and I am open to trying things, but I have to have staples then experiment on the side." For Wilkins' part, he enjoys being able to talk personally with the farmer who is growing the grain for the flour he works on the bench; it fuels his creativity. It also allows him to pick up a phone and discuss margins and needs, making his business more nimble and adaptable to change.
Farmer-turned-miller-turned-restaurateur Greg Johnsman of Geechie Boy Mill tries to do it all. Born in the South Carolina upstate, he married into one of the largest farming families on Edisto Island in the Lowcountry. On Edisto, he began looking for a way to supplement his farm and popular farmstand.
"My passion is old junk. I love old equipment and knowing how it functions," Johnsman says, so he began to let his gearhead ways go wild collecting and restoring old mills. The passion deepened when he began growing things to mill, which led to him getting involved with the research center and heirloom-seed-obsessed Chef Sean Brock.
"I started with one mill in 2007, milling about 10 tons a year of heirloom corn," he says. "Now we have six to seven mills running, averaging a ton a day on each one." Geechie Boy Mill has since grown 11 varieties of corn, in addition to wheat, Carolina Gold rice, and Sea Island Red peas. The mill's products are now distributed in all 50 states, and each week, Johnsman provides milling demonstrations on a antique mill installed at Miller's All Day, a restaurant on King Street in Charleston, S.C. in which he is a partner.
Although the ingredients used in the region might differ from other parts of the country, the movement is spreading in much the same way that many creative trends do these days: The parties involved (in this case chefs, bakers, brewers, farmers, and millers) share information, trials, and successes, and document a lot of it all on social media so that anyone looking for inspiration can find it.
"We have a chef or a baker touch [contact us] every day," Johnsman says. "Bakers have heard stories, tasted product, and growers have met other growers and want to get involved."
Despite the enthusiasm on the craft side, some Southern consumers are still warming up to the idea—the South's resistance to change remains alive and well. But the efforts of those such as Vatinet, Lapidus, and Bauer have paved the way for young bakers like Matson and Wilkins to attract more hungry folks, as well as funding for bigger scale baking programs.
"We are educating one loaf at a time," Vatinet says. "We might get them in with white chocolate baguettes, but they can taste something unique when they get here."