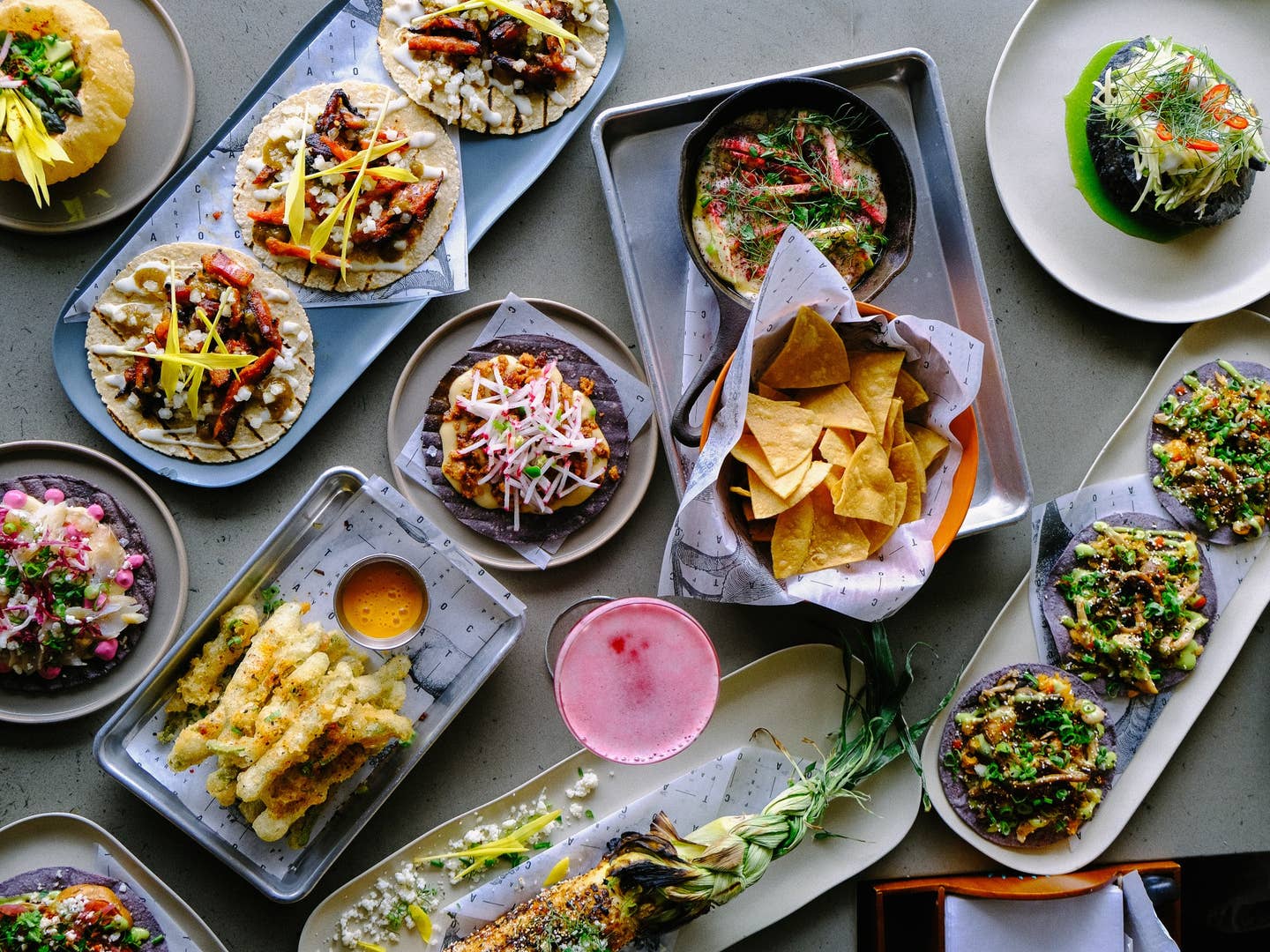 Travel
7 Culinary Gems Across Colorado
From Grand Junction to Fort Collins, Colorado is building a well-earned reputation as a destination for incredible dining. Here are the standout cities you need to visit now.
While areas like Denver and Aspen have well-earned reputations for trendy takes and fine dining—like the members' only club and hotel Clayton's trio of glamorous food and drink destinations and the newly renovated Little Nell Wine Bar for indulgent après-ski bites, respectively—there is so much more to the Colorado food scene. From Fort Collins in the north with Rare Italian steakhouse and dessert sweet-spot Ginger and Baker to Grand Junction in the west with Taco Party and Le Rouge, there are exciting destinations across the state, each with their own distinct flavor. Discover towns like Golden—home to the Coors brewery—have unveiled travel-worthy concepts, including The Golden Mill, an indoor/outdoor food hall and beer garden built in a historic mill on the scenic Clear Creek. Ski towns like Breckenridge are upping their culinary game with new entries, like Rootstalk, an elevated New American joint housed in a breathtaking Victorian home from the 1800s. Even Silverthorne, with a population of just over 3,000, is getting in on the action, with Bluebird Market, a 30,000 square-foot space opening this summer featuring nine chef-driven concepts, local retailers, an artist collective, and a flexible co-working space.
"Chefs from all over the state are trying to showcase what is available and unique to us and to continue to define Colorado's relatively young culinary history," notes Josh Niernberg, chef and owner of Bin 707 Foodbar (and a semi-finalist for the James Beard Award for Best Chef: Mountain category).
To steer you in the right direction, we put together a road trip for your tastebuds, so to speak, by highlighting seven of the most exciting places for food right now in the Centennial State—each with plenty of outdoor space to enjoy those legendary views and famed 300 days of sunshine. Buckle up, because things are about to get tasty.
Head up I-25 to Colorado's northern border, where you'll find Fort Collins—Colorado's capital of craft beer brewing. One of the most iconic is New Belgium Brewing, the 4th largest craft brewer in the U.S—which happens to be completely wind-powered. Next up, visit Odell Brewing Co., Doug Odell's brewery and taproom that's a popular spot for locals and tourists alike, thanks to its giant outdoor patio with stunning views of the iconic Rocky Mountains. Enjoy live music and a rotating assortment of food truck noshes alongside your pint of Easy Street Wheat. When you're ready for a real meal, there's Rare Italian, with upscale Italian fare and one of the best steaks Northern Colorado has to offer. Sugar fiends, swing by Ginger and Baker, an old grain mill turned cafe—their Quadruple Coconut Cream Pie is a dreamy slice of toasted coconut and cream in a flaky, buttery crust. An interesting addition to the Fort Collins dining scene was born from pandemic-era necessity—The Nook, a rentable private trailer that's a kind of dining room on wheels. Restaurants can book the insulated, six-person space, which comes equipped with Bluetooth speakers and fine dining accents to create a cozy, safe atmosphere for diners and staff.
While Steamboat Springs is not as well known to Colorado visitors as ski towns like Aspen and Vail, thanks to a recent restaurant boom, that's about to be remedied. Joining downtown all-stars Besamé, Laundry, and Sauvage is Primrose, where Chef de Cuisine Craig Sutherland creates seasonal dishes with an emphasis on a social dining experience. If you like your vino and charcuterie with a side of culture, head over to Lincoln Avenue and the Standard Gallery + Wine Bar, where a contemporary wine list and prime cured meats from Laura The Butcher are paired with micro exhibitions, artist talks, and a monthly storytelling night. You can also enjoy late night espresso and dessert boxes on the weekends. Speaking of Laura The Butcher, her recently opened MEATBAR is a reservation-only spot offering a rotating selection of charcuterie and cheeses, alongside specialty beers, ciders, wines, and non-alcoholic beverages. And, in one of the most ambitious endeavors of the group, there's The Periodic Table at Catamount Ranch, a concept restaurant that reinvents itself twice a year to encompass a distinct period in great dining history. From 1920s New York supper clubs to the European Riviera, the inventive themes at this gastric gem make it THE reservation to score while you're in the 'boat.
Colorado's capital has never been lacking in quality restaurants, but the past year has rekindled a passion for reinvention of the form, starting with the bar scene. While Denver may be known as a hard-drinking town full of breweries and distilleries, one of the buzziest openings of the year is Awake, a full-service sober bar offering a massive selection of non-alcoholic beers, wines, spirits, and mocktails made with the same artisanal quality you'd expect from a craft cocktail bar. "For many people, the pendulum swung a little too far last year, and there's a growing group of people who are looking to reset their equilibrium with alcohol," says co-founder Billy Wynne, "and that's part of the reason that we chose to open now." He also notes that many visitors come to Denver with the purpose of doing active sports like hiking, biking, and skiing—something a hangover is not conducive to engaging in. "You can come to Awake and you can get live music and great food and delicious beverages and feel like you're in a joyful, energetic, social environment, but then wake up worry free and go do that active outdoor thing you came here to do," he says.
For those looking for relaxation, you can blend wellness with brews at the new Beer Spa, a hybrid day spa and brewery. Book a private Beer Therapy room, where you can sweat in an infrared sauna and then soak in a beer bath infused with hops, barley, and herbs while sipping on local craft beers and ciders. After you've suitably de-stressed, Colorado style, head to the newly renovated EDGE restaurant at the Four Seasons Hotel Denver to enjoy Executive Chef Simon Purvis' refined take on the great American steakhouse. Mouthwatering local beef and seasonal game, plus fresh seafood, and modern interpretations of classic dishes make this a must-try when you're in town. While Denver doesn't lack for places to cut loose, consider heading to the River North Art District (affectionately known as RiNo by the locals) to the newly opened Number Thirty Eight social hall — a sprawling complex featuring four kitchens (helmed by Merlin Verrier, the former culinary director of Lollapalooza); taprooms with local brewers, distillers, wineries, and cideries; a stage with rotating live music and comedy acts; a sand volleyball court (!), and the largest outdoor patio in Denver.
Just 30 minutes north of Denver, Boulder is known as a cultural and creative hub. Locals have an appreciation for unique dishes that make the most of Colorado's natural resources. "There is an intense focus on sourcing from and taking care of our land, but the spirit of adventure in Colorado also translates to guest's appetites," notes Bobby Stuckey, co-owner of Frasca Food and Wine, a multiple James Beard award winner, and the universally beloved Pizzeria Locale next door. For inventive eats made with locally grown ingredients, Chef Steven Redzikowski's award-winning dishes at Oak at Fourteenth are seasonally inspired and bursting with bold flavors. While Fort Collins is the capital of craft beer, Boulder is number four on the list of American cities with the most craft breweries per capita. Two standouts: Finkel & Garf, with its hallowed El Gose and mouth-watering BBQ plate, plus Avery Brewing Co.and its Great American Beer Festival gold medal-winning Oatmeal Milk Stout.
Located at the eastern foot of the Rocky Mountains near landmark Pikes Peak, Colorado Springs provides some truly spectacular dishes to go along with its stunning views. "There is so much inspiration when you go outside that you can't help but feel the desire to create," says Brother Luck, chef and owner of Four by Brother Luck, who earned a place as a James Beard semifinalist for Best New Chef with his modern take on southwestern cuisine. A new addition to the Colorado Springs dining scene, Homa Café + Bar is the epitome of a cool neighborhood hangout. On the ground floor of the new Kinship Hotel, Homa encompasses the entire lobby area (open to the public) in a sit-where-you-like type set-up. And there's plenty to choose from: two patios, a fireside lounge, cozy booths, a sun-filled "Greenhaus," community tables, and traditional dining set-ups abound. The all-day menu is a high-concept mix of global favorites made with locally sourced ingredients and a Colorado flair. For those that like their meals with a sense of the macabre (and some really tasty cocktails), venture underground to The Rabbit Hole, a former morgue (!) turned late-night haunt serving New American bites with a side of gothic Wonderland ambiance.
As Chef Niernberg explains, Grand Junction is unique in the state because of its proximity to agricultural resources. "The confluence of the Colorado and Gunnison rivers make our access to agriculture, ranchers, winemakers, distillers, brewers, and indigenous ingredients unlike anywhere else." At Bin 707, he puts those all on full display with an array of farm-to-table dishes that each have their own story to tell. Niernberg's other noteworthy venture, TacoParty, is a concept spot that gives Mexican cuisine a regional spin using Colorado-centric ingredients. A temporary "Pandemic Parklet" created this spring gives guests prime outdoor seating out front to savor the rotating selection of seasonal tacos and delicious soft-serve ice cream. Continue your GJ food journey at Le Rouge, a French-inspired wine and martini bar with a can't-miss steamed mussels entree. Brunch connoisseurs will appreciate Dream Cafe, where breakfast is an all-day affair and the pancakes are fluffy clouds of syrup-drenched deliciousness.
The main draw to this town in southwestern Colorado is the natural hot springs for which it was named, however the dining is quickly becoming just as big of an attraction. A popular vacation destination, the culinary focus is on cozy spots with more intimate set-ups. Case in point: The Rose, a pocket-sized breakfast place that serves up huge portions of morning staples like breakfast burritos slathered in the region's beloved green chili. A stop at the Pagosa Brewing Co. is a must, if not for their crisp and spicy Chile Verde Cerveza, then for the handmade pretzels with beer cheese fondue or wild-caught salmon fish and chips, best eaten on the open-air patio while sipping a Kayaker Cream Ale. When you're ready for dinner, Alley House Grille does spectacular gourmet eats like those famous Colorado lamb shanks, served with creamy goat cheese polenta. If you come at the right time, you'll also catch a breathtaking sunset from the patio as you take in the mountain vistas with your meal.