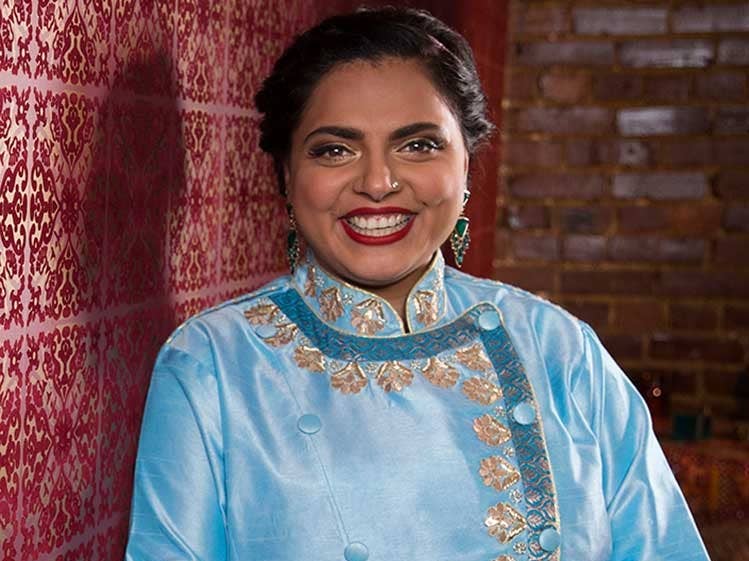 Culture
Along The Same (Latitudinal) Lines: Chef Maneet Chauhan Explains How Cooking in Tennessee Is A Lot Like it Was Back In India
Six degrees? That's nothing, y'all!
After graduating from India's highly regarded Welcomgroup Graduate School of Hotel Administration, Maneet Chauhan came to the United States in 1998 to attend the Culinary Institute of America in Hyde Park, New York. "I asked one of my Welcomgroup instructors what the best culinary school in the world was and, without batting an eye, he said CIA," she explains. Chauhan went on to lead the kitchens of prominent restaurants in Manhattan and Chicago, and serve as a judge on Food Network's Chopped, before establishing Chauhan Ale & Masala House in Nashville six years ago. In 2018, the self-described "big eater" opened a second Nashville spot called Chaatable, a nostalgic nod to the street food of her youth. While Music City may be half a world away from Chauhan's native Ludhiana, in Punjab, India, it sits a mere six latitudinal degrees north—a fact that makes the chef feel right at home. "There's something so comfortable about being in the South," Chauhan says. In this installment of our "Beyond Borders" series, a collaboration with the Charleston Wine & Food Festival, she explains why.
"I became a chef because I loved and still love eating."
I was this obnoxious kid who, after finishing dinner at home, would go over to my neighbors' house for a second dinner. I grew up in a small town in India where people from all different regions lived. The food we ate at home was typical Punjabi food, but my neighbors cooked many different regional cuisines. I would walk into their kitchens and claim my parents hadn't fed me. As I got older, the neighbors would ask me over to help cook dinner.
"November 18th, 2014: The day I had 'twins.'"
The original plan was to open Chauhan Ale & Masala House in Nashville while keeping our homebase in New York. But during the process, we fell in love with Nashville—and found out that we were expecting baby number two. Our son decided to be born three months early…on the same day we opened the restaurant. We joke that we had twins on November 18th. Our son was so set on being from Nashville, so who were we to argue? Best move ever.
"Now that I'm a southerner, I say y'all."
I identify as a chef in the South with roots in India. My home is the South now, but the foundations of who I am as a chef were laid in India. My goal is to present Southern food with Indian flare and spices.
"The ingredients in the South are similar to those in India."
At Chaatable, I do a southern okra chaat—a version of a dish I grew up with. A really eye-opening experience for me was seeing the similarities between hot chicken (a religion around here) and chicken pakoras. We use rice flour in pakoras, instead of white flour, but it's the same concept. And southern meat and three is basically an Indian thali. No matter where you go in the world, no matter the ingredients and spices, humans eat the same. Food is one thing that everyone can agree on. Good food. Bad food. It's humbling to understand that we're all connected through food.