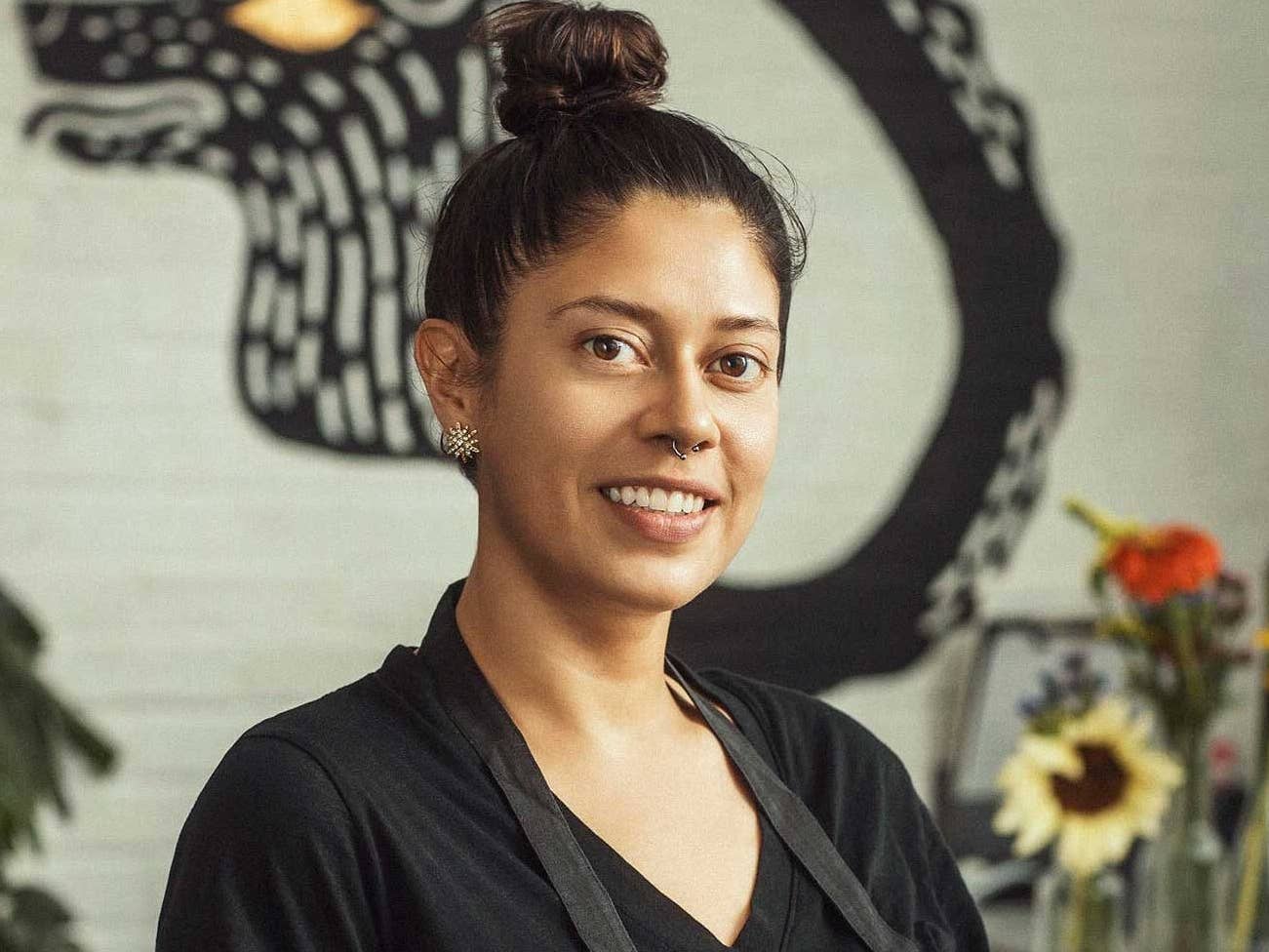 Culture
Equal Parts Food-Justice Advocate and Chef, Maricela Vega Is Redefining Mexcian-American Cuisine in the South
The second-generation Chicana and executive chef at Atlanta's 8ARM is a descendant of maize farmers from Guanajuato, Mexico—a history that heavily influences her approach to cooking.
Though Maricela Vega grew up in northwest Georgia, the second-generation Mexican-American returned often to her family's homeland in Guanajuato, Mexico, where her ancestors farmed maize for generations before her grandparents emigrated to America. These roots have had a profound effect on Vega, to whom the story and origin of a dish's ingredients are just as important as what it tastes like. For the past decade-plus, she has worked as a food-justice advocate and chef in Atlanta, including stints at Hugh Acheson's Empire State South and running her own pop-up operation, Chicomecóatl. In March of 2019, Vega took over as executive chef of 8ARM, where she hopes to start making her own masa soon.
As part of As part of our "Beyond Borders" series, a collaboration with the Charleston Wine & Food Festival, we spoke with Vega—who goes by @chicomecoatlien on Instagram, a nod to her pop-up concept and to ATLiens, the sophomore album from hometown heroes Outkast—about how the proud Chicana draws inspiration from her heritage.
"My mother and grandmothers are my culinary influences."
My entire life, I've admired Mexican cooking, especially since I was able to visit the Guanajuato fields with my grandparents to truly understand the hard work required to get food to our bellies. Visiting my homeland has allowed me to taste the beautiful flavors of Mexico.
"I have been working for over a decade as a cook, a chef, and a food-justice advocate."
I studied international law at Georgia Southern University, then moved to Atlanta for a criminal-justice internship, after which I decided to take a break from law. The desire to impact and be a part of Southern food culture brought me to Atlanta's Grow Where You Are, where I did a two-and-a-half year agroecology apprenticeship during my mid-twenties. That experience has influenced and shaped my cooking to this day.
"I identify as a Mexican Southern chef."
I became a chef because I want to teach Atlanta consumers about real Mexican cuisine and culture. Mexican food is not simply watered down margaritas and chips and salsa. I also see that food is political. My ancestors were farmers in a small town in central Mexico. After NAFTA, international corn became cheaper and cheaper and small farmers, like my grandparents, couldn't compete.
"I consider guisados one of the best dishes in Mexican cuisine."
My mother would make Frijoles guisados en chile negro [guisados is a general term for a slow-cooked stew of sorts] for me every week...sometimes five times a week! I never got tired of it and still do not. It's simple in execution but complex in taste.
"I've adapted my cooking to the South by using recipes of my Mexican ancestors with local, Southern produce."
High food-mileage not only has ethical and environmental issues, it also compromises the taste. So I've established relationships with Atlanta farmers for all of my produce. Using local, seasonal ingredients gives me room for creativity and innovation. Some of my frequent menu items include collard green mole and Sea Island Peas guisados. They are claims to who I am: a Mexican woman in the South.