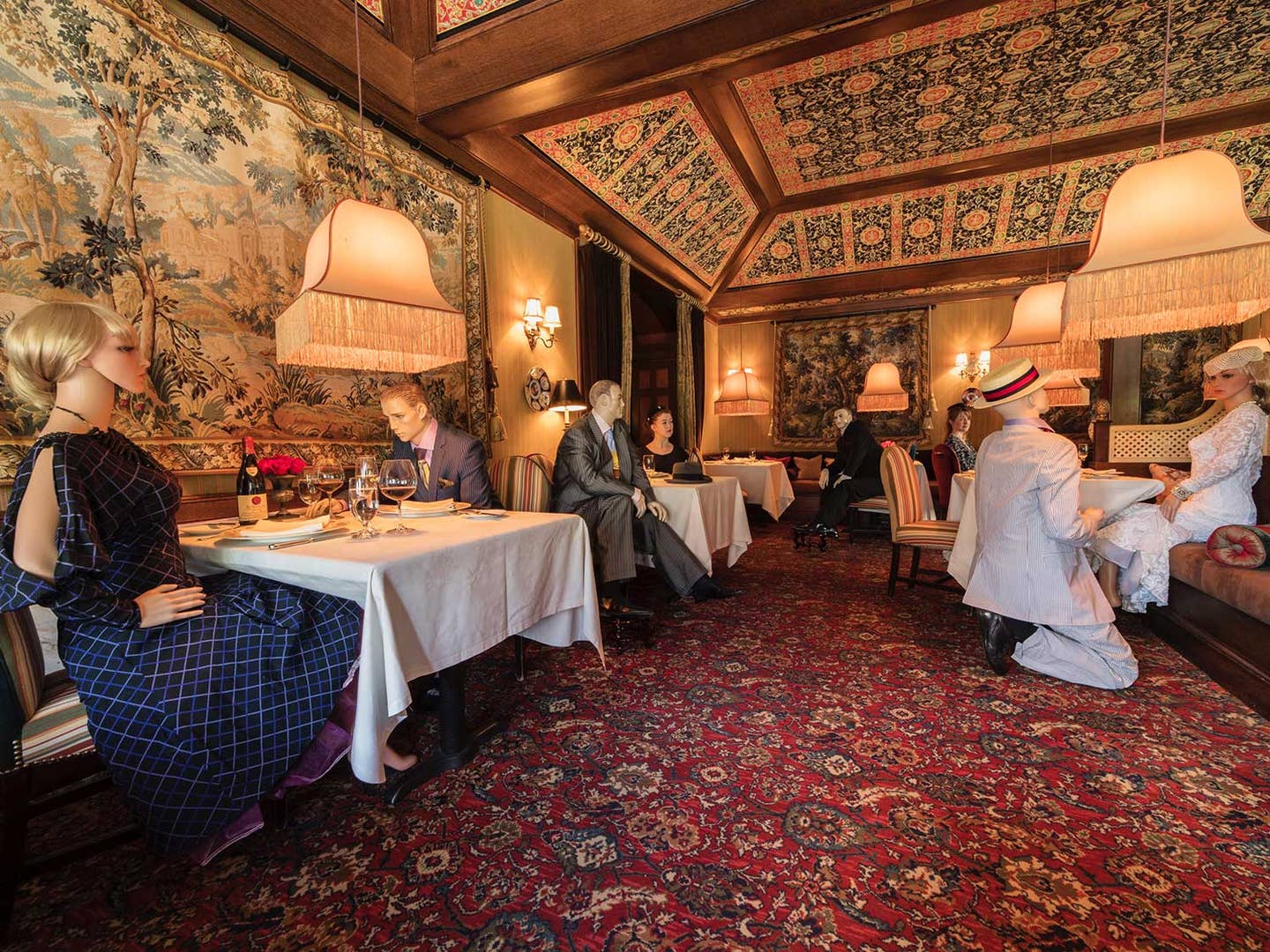 Culture
Leave It to That Eccentric Genius Chef Patrick O'Connell to Serve Up Surprise and Delight Just When We Need It Most
Mid-century mannequins and Marilyn Monroe face masks are just a couple ways The Inn at Little Washington hopes to make patrons feel "good about life" again.
About 45 minutes into PBS' recent documentary about The Inn at Little Washington, a George Washington impersonator asks The Inn's chef and proprietor Patrick O'Connell a simple question: "Why would you want to wash your hands every time you greet someone?"
The George impersonator is in character at Mount Vernon, which the ever-theatrical O'Connell has rented for the restaurant's 40th anniversary party. It's June 2018. Elsewhere on the property, food world giants like José Andrés, Cristeta Comerford, and Daniel Boulud mill around, awaiting duck liver mousse with port gelée, and Maine lobster perched on rafts of crispy potatoes, dolloped with caviar.
"You are completely confusing me, I must tell you," continues Faux-George, confounded by modern notions of cleanliness in a restaurant kitchen. O'Connell laughs.
Twenty-three months later, questions about restaurant hygiene are no longer a party joke, as O'Connell and restaurateurs worldwide grapple with the challenges of reopening while complying with public safety regulations to curtail the spread of coronavirus.
"We struggled with coming up with a solution," says O'Connell, who hopes that when The Inn, located in Washington, Virgina, reopens in late May, it can remain a delight and a curiosity to diners, in spite of new limitations. One in particular that gave O'Connell pause was an expected 50 percent maximum occupancy rule, which had the potential to make the space feel barren.
O'Connell's big idea? Call in the mannequins.
Sixteen of them, to be specific, outfitted in 1940s-inspired costumes provided by the Signature Theatre in Arlington, Virginia. On The Inn's reopening night, forecasted for May 29, guests will find these non-sentient patrons perched at tables, ensconced in scenes designed to imitate those one might otherwise stumble upon on any regular night, like a couple mid-proposal.
"As soon as the mannequins were clothed, it felt as if they had come to life. They began to create a narrative," says O'Connell, who as of yet has named only one of the dummies: Yvonne. So far, "she's the only sure dead ringer," he says.
O'Connell, who thought he would pursue a life in theater before discovering a love of restaurants in the 1970s, has built quite the show at The Inn over the past four decades, resulting in its three Michelin star–designation. His menus are studded with items like "the world's smallest baked potato," and the cheese course is proffered to guests from the back of a large plastic cow called Faira, which is hefted from table to table. (Her udders are referred to as "Faira's faucets.")
O'Connell says that in this new pandemic era, he's more focused on what he can add to the restaurant experience, rather than what he must take away. His servers will wear masks bearing the reproduced grins of Marilyn Monroe and George Washington, for example, and diners can take solace in a plexiglass dome that now sits neatly on Faira's cheese-bearing back.
"The days of pointing a finger an inch from the cheese can easily be altered without changing the experience," he says.
Other restaurateurs seem to be taking O'Connell's cues. Over in Greenville County, South Carolina, the owners of Open Hearth restaurant have called in a gaggle of blow-up dolls ("the G-rated kind") to fill out empty tables. At Maison Saigon in Bangkok, oversized stuffed pandas keep solo diners company.
Meanwhile, back in Virginia, O'Connell has no other immediate plans to modify service beyond what's necessary to make guests confident that The Inn is going above and beyond to obey safety regulations.
"We've lived through some horrifying moments and days. We've grieved. We need to find ways to continue to celebrate living," says O'Connell. "By treating our guests better than they would treat themselves, through our focus on making them the star of whatever living performance we're doing that night, they feel reaffirmed—they feel good about themselves. Good about life."