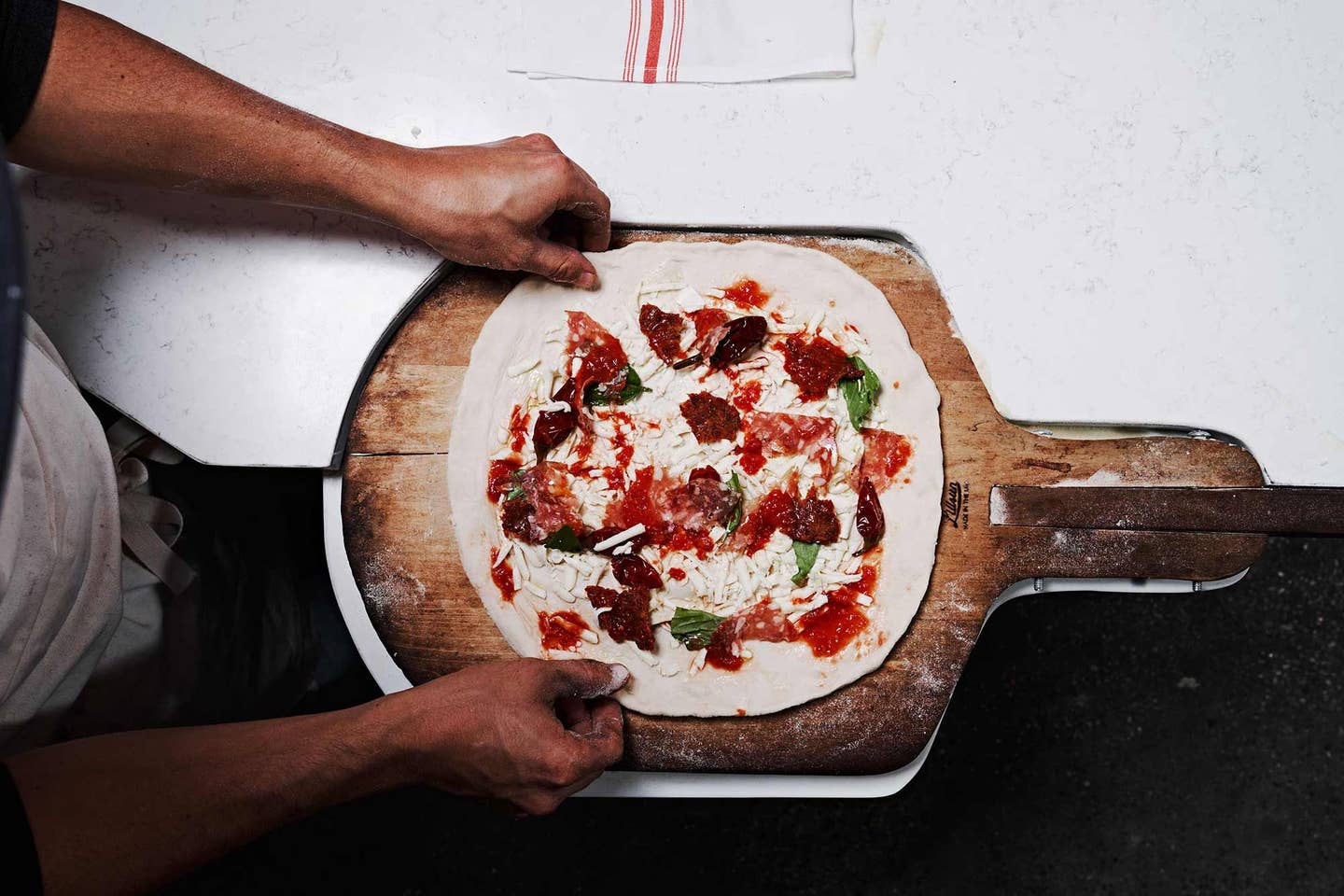 Culture
Mastering the Art of Neapolitan-Style Pizza
American pizzaiolo Kyle Jacovino traveled throughout Italy to perfect his pie before opening up shop in Savannah, Georgia. Here, he weighs in on how to make a better pie at home.
A monthly column celebrating some of the best bites the country has to offer, Best Thing I Ate This Month celebrates American cuisine. Delve into cookbooks, home kitchens, diners, and fine-dining: The United States are delicious, and this is a reminder of the good food right down the street—or on your very own stove.
Almost five years ago, I had a fior di latte pizza at chef Hugh Acheson's now-shuttered restaurant, the Florence in Savannah, Georgia, a food memory so good, it's been my standard by which to judge all subsequent pizzas. Maybe it's because I found pie perfection in a city that seemed to associate that traditional Italian fare with "college student food" and national chain delivery. Or maybe it's because the combination of ricotta, crispy Brussels sprout leaves, and guanciale atop a sublimely baked crust satisfied a craving I didn't know I had.
Acheson's Executive Chef Kyle Jacovino created that memorable Neapolitan-style dish. Now 34 years old, the pizzaiolo's resume includes a sous chef stint under Linton Hopkins at Atlanta's Restaurant Eugene, and an executive chef role at Acheson's Five & Ten in Athens, Georgia. In 2019, he opened his first personal project, Pizzeria Vittoria. When I drove down for lunch a few weeks ago, Jacovino served me "La Diavola," his signature pie topped with Calabrese sausage, soppressata, Calabrian chiles, marinara, mozzarella, and parm. It had an even-more-flavorful-than-I-remembered, just-right fermented crust that was a little crispy on the bottom but still foldable as a slice, sporting evenly browned "leopard spots" (that dark mottling that forms on the surface of a crust when the dough bubbles and chars just a bit). It replaced my mental pizza standard and was most certainly the best thing I ate this month.
In some ways, Jacovino was fated to become a pizza practitioner. At 16, his first job was as a dishwasher at Pizza Town in Jonestown, Pennsylvania, which didn't serve Neapolitan style pies, but was owned by a man from Naples who introduced him to the culture. "There was a cool factor to it, and all the kids coming in were speaking Italian," he says, referencing his introduction to the Italian American community in his hometown for whom this was a popular meeting place. It was heady stuff for a teenager bit by the cooking bug. "I was really into sports, so I really needed to do something physical [for a living]." That led him to a culinary program in vocational school (a curriculum in which he excelled) and eventually to a career in fine dining; he made his way through various kitchens in Pittsburgh and New York before moving south.
After cooking Southern food for a few years, Jacovino longed to find his own culinary voice, and those early days in the pizzeria came back to him. He shared his Italian food ideas with his then-boss Acheson, and in 2012 embarked on a six-month culinary education in Italy where he worked in various kitchens throughout the country. It was immersive, hard work, and he loved it.
One night in Naples, Jacovino visited Pizzeria Brandi and sat down to enjoy an octopus bruschetta and a pie. "And that was it, being in that alleyway at night eating pizza, that was the moment," he recalls. "I was all by myself, and the guys [the restaurant's staff] were wondering what I was up to. They brought me in and let me take a look at the oven and then took a picture with me. It was one of the most amazing experiences."
Since then, the young chef has committed himself to the practice of pizza. It's something he stresses is, indeed, a practice, a lifelong craft adjacent to the bread baker: tending sourdough starters, noting the weather, hydration, oven dome height, and wood heat. Pizzeria Vittoria is housed in a new shipping container complex in Savannah's fun and funky Starland district. It's a far cry from that Neopolitan alleyway, but in every one of the 350 or so orders he makes each day, there exists the memory of that single pie, alone under the stars, and maybe that's what I taste in every bite.
Jacovino humbly admits that it will be almost impossible to recreate the product of his labors in our home kitchens (most of us haven't gone through years of pizzaiolo practice and few have ovens that get hot enough), but he promises that with the following tips, we can have a pie to be proud of:
"Flour is the most important thing," Jacovino says. "The great thing is—after 2020, most mills that I work with now have retail products." Those producers include Anson Mills, Castle Valley, and Lindley Mills. Neapolitan pizza's sourdough crust is dynamic, changing with temperature, moisture, time, and technique; small-batch flours lend themselves well to that tradition.
Next to consider is yeast. Jacovino has high praise for the sourdough starter kits from King Arthur. On the other hand, if you'd rather not maintain a bubbling yeast culture in your fridge, dry instant yeast is ready whenever you are. He suggests SAF Red Instant yeast, which can be stirred directly into flour, eliminating the tricky blooming process.
Practice the Professional Techniques
In order to get to know your oven and your dough, you need to start with a standard size. Pizzeria Vittoria goes with a 10.5-ounce dough ball (roughly the size of a softball), and Jacovino suggests that's a good size for home cooks, too. If you haven't invested in a scale yet, maybe now is the time.
If you've refrigerated your dough, pull it out about 20 minutes before you plan to bake. Place it directly onto a well-floured work surface, and then, holding your hands like claws, use your fingertips to stretch and shape the dough into a thin, even disk. Continue turning and stretching the disk gently until it is approximately 12 inches in diameter.
This next step is important: Generously flour a pizza peel with a 50-50 mixture of semolina and flour, then gently slide the dough onto the peel. According to Jacovino, an inexpensive wooden or stainless peel from a restaurant supply store will do just fine (but an inverted baking sheet works great too).
Once the pie is on the peel, add your toppings. Less is more in this thin-crusted style, and the chef stresses balance. "You want the toppings to complement each bite, so make sure that they are distributed evenly." But not all the way to the edge, as you want a nice, even border around the outside.
Then, use the peel to gently slide the pie directly onto that ripping hot cooking surface. This is the key to achieving that coveted, crackery crust.
If you want to get serious—but maybe not masonry-built-oven-in-your-backyard serious, consider the Breville Pizzaiolo. Jacovino mentioned this gadget so much I thought he was a brand ambassador. He's not. "No, I just think pound for pound, they deliver the best home indoor bake, and they're electric." He loves how high the heat can go on these appliances (up to 750°F) and how evenly that heat is distributed. Even heat = even cooking, and even cooking = more consistently baked crust.
If you decide to stick with your regular home oven, Jacovino says he gets it; before he had access to an Italian pizza oven on the daily, he had to get his pizza practice in at home, too. He perfected the following technique: Position a rack in the top third of the oven, place a cast iron pizza pan or a pizza stone on the rack, then preheat to the highest temperature your oven will go, for at least 45 minutes. "A lot of people don't preheat long enough," he explains. Then, if you're using an electric oven, switch it over to the highest broil setting just before you're ready to bake. This direct heat will provide nice color from the top while the residual heat from the cooking surface will brown the bottom for an evenly cooked crust. (If, however, you're baking in a gas oven, leave the broiler alone and just bake straight through at the highest oven temperature.)
Neapolitan-style pizzas can go from raw to torched in under five minutes, so never (really, never) walk away from the oven as your pie bakes. Stand by and (if your oven has one) flip the light on to keep a close eye on it as it cooks.
You'll know the pie is ready when the crust no longer looks wet on the bottom and when any bubbles on the surface have reached a deep brown. Use the peel to transfer the pizza from the oven and onto a heatproof plate, then garnish with freshly grated Parmigiano-Reggiano ("Always Parm," Jacovino says.) Serve immediately, and get an assembly line going for any additional pies as the residual heat from the cooking surface will begin to wane. You might not be able to tell, since it's likely your kitchen won't feel like it's cooling down after that 45 minute preheat. No matter, you can take the heat. You're a pizza practitioner now.