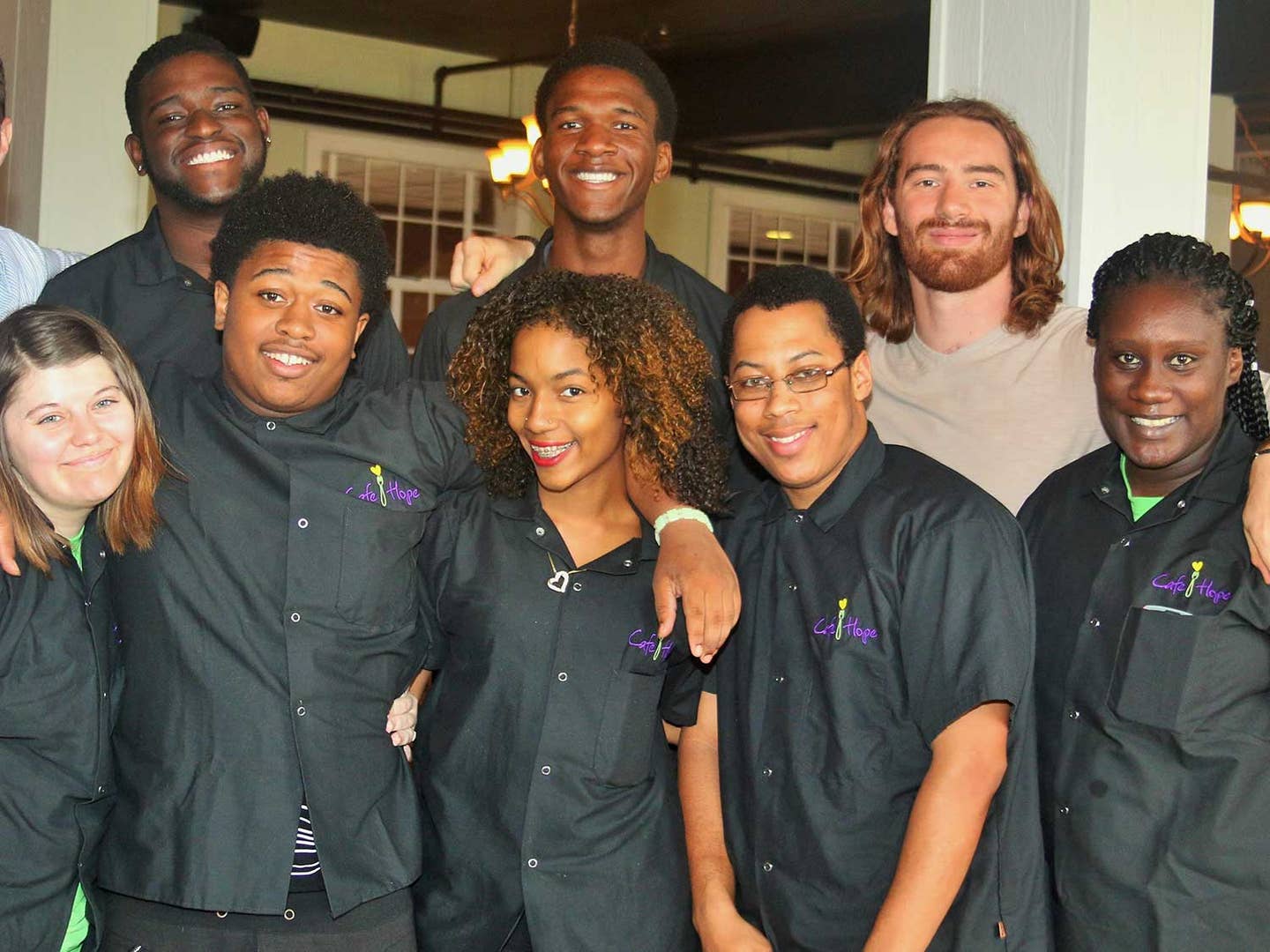 Culture
Cafe Hope is Giving New Orleans Youth a Chance at a Culinary Future
In a city celebrated for its abundant food culture, this working cafe and training program teaches so much more than how to cook a gumbo.
Navigating ethical eating practices is more complex than ever. In order to help raise awareness of global issues affecting our health, communities, and what winds up on the dinner table, we're launching Equal Portions, a new monthly column by Saveur's editor at large.
"I am grateful for having a car because I didn't feel like walking today," says culinary intern Jala Prout.
At the beginning of each new semester, students and interns at Cafe Hope gather for a ceremony they call "Grateful." It sets the tone for each day. Participants acknowledge thanks for whatever comes to mind: the clothes on their back, a bed to sleep in, or a hot meal. Prout's appreciation for a car underlines the difference having your own wheels can make commuting to school or work in a city where public transport doesn't always go where you need to get (especially during a mandatory hurricane evacuation). Founded in 2010, this 16-week culinary arts program for youth aged 17-24 from the Greater New Orleans area teaches more than knife skills; before donning aprons to prep mise en place, they start with sessions on anger management, financial literacy, and healthy eating.
"Not everybody has had an opportunity to eat at Commander's Palace," says executive director Luis Arocha, who grew up around the food business. (His father's first job was waiting tables at Antoine's, New Orleans' oldest family run restaurant.) "There are plenty of people here who still don't eat off a fork and knife."
New Orleans has one of the nation's highest official poverty rates—23.7 percent—among the nation's 50 largest metro areas, where 20 percent of residents are food insecure and 64 percent of children are income-eligible for federal nutrition programs like SNAP. Access is equally problematic, with some neighborhoods reliant on corner stores and hot plate joints for basics. Only one in five New Orleanians reports eating five or more servings of fresh fruit or vegetables daily, the USDA nutritional standard. In a city venerated for its culinary heritage, Cafe Hope newcomers often can't differentiate between Creole and Cajun cooking, let alone recognize a fresh vegetable.
"Some don't understand where food comes from," says Arocha. "We once sent kids out to our community garden to gather radishes, and they came back without them, saying, 'we looked in every tree.' That's when we realized the problem was way deeper than we first thought. But we're now trying to teach that you don't need enough room to grow a tree to grow a radish."
New Orleans has three culinary outreach programs, including Liberty's Kitchen and Café Reconcile, but Cafe Hope is the only one functioning beyond the inner faubourgs. On the west bank of the Mississippi River, opposite the affluent Garden District, the social entrepreneurship non-profit normally operates its food-and-beverage program at a country club in Gretna, the Jefferson Parish suburb where many displaced Ninth Ward residents relocated after losing their homes to Hurricane Katrina. In the storm's immediate aftermath, Gretna police denied access, at gunpoint, to evacuees attempting to walk over the Crescent City Connection—an infamous civil rights roadblock in a region known for its racial inequality.
Almost 80 percent of Cafe Hope participants are Black and/or Hispanic. Arocha explains the program is a stabilizing factor for those who need a sense of structure and a safe space, because many lack a solid support system at home. "They didn't choose their parents," he says. "Some kids thought they wouldn't live to be 20. Saying 'I'm a success, I made it to 20' is a pretty pathetic goal." Arocha speaks from personal tragedy. His own son was murdered in 2011, and grief alchemized his activism. "If we keep one of these kids from committing a crime, it can save two families from destruction."
"Ultimately, I really don't care if they go into the business," says Arocha. "But the life skills you pick up in a restaurant—where you have to learn to communicate and organize—as long as you can transfer those skills, they're invaluable for any job."
"Not everyone is ready to work at Emeril's," he continues. "Some kids can't handle that pressure, so we also place them at mom-and-pops, doughnut shops, even onboard the steamboat Natchez."
Jason Goodenough, who serves on the Cafe Hope board and trained its current executive chef and instructor Garin Siekkinen, has hired several graduates over the years, including his sous chef, Seth Chauvin, to work at his Uptown restaurant, Carrollton Market. "I saw something in Seth, there was a spark that appealed to me," he says. "I hire based on attitude. No program, not even the Culinary Institute of America, is an immediate transition to work on my line. The learning curve is going to be a lot steeper in a place like mine than slinging hot dogs at the Superdome."
Goodenough stresses how critical it is to reach wayward youth, not just those living in urban areas, before they spiral into depression and suicidal ideation.
"For kids like this? To see that somebody cares is so important."
Program coordinator Jansom Jones teaches accountability, starting with basics like clocking in and out. "Our day usually ends on another note like Grateful," he says. "After classes, and when the restaurant closes, we all sit down and have a family dinner, whatever the main course—stuffed catfish or a pan of red beans and sausage—because when there's no food at home, that may be the last meal of their day."
At the beginning of the pandemic, Cafe Hope pivoted to preparing curbside takeaway and meals for seniors in lockdown. Because the restaurant is attached to a golf course, considered a socially distant sport, it came back online fairly quickly. Life skills classes are still conducted online. When they graduate to the front and back of house in-person sessions, interns are required to test negative for COVID-19, practice safety protocols, and undergo a temperature test before serving guests.
Jala Prout is a fan of Binging with Babish on YouTube. A student at Delgado Community College, his Cafe Hope internship will count toward course credit, but it has also shifted his career plans from civil engineering to hospitality. "I was always in the kitchen at my Gramma's house," he says. "Asking why she sautéd onions before putting them in soup."
The 19-year-old likes making Alfredo sauce and reinventing po-boys, but also dreams of dining in one of New Orleans' emblematic restaurants.
"If I had the money, I would go to Antoine's. We had a trip there in sixth or seventh grade, and I remember the food was amazing. I kept thinking, 'this is so good I need to learn how to make this.'"
Foley Lindsley, another intern, prefers working front of house. A shy 18-year-old, she battles anxiety to interact with strangers, but the program has begun to instill her with new confidence.
"I used to be scared to go places, but my mentor talked me into it," she says. "This program sounded like what I need, so I took that leap and they're teaching me how to polish myself."
A week ago, Goodenough shuttered Carrollton Market permanently, the uphill battle to feed his clientele in a pandemic finally overwhelming his passion for the craft.
"There's a covenant between restaurant and guest that I felt was broken."
If he can't find a way forward right now, what does it signal for the next generation trying to enter the restaurant world, and the future of fine dining itself? Goodenough doesn't have easy answers. "How do we rectify teaching kids the way out of poverty is to enter an imploding industry? The fear is that we return to business as usual after this is over."
How long these programs—and the hospitality sector they serve—remain viable is anyone's guess. (Liberty's Kitchen recently scaled back, closing its dining rooms and suspending catering operations.) As so many children struggle with despair during this "what a time to be alive" moment, those who can strengthen life skills—and their gumbo game—may have a better chance to survive an uncertain future. Foley Lindsley is working toward moving into a place of her own, and saving to buy a car. Jala Prout has convinced his father that cooking makes him happier than building houses.
And when we can once again gather around a table at Commander's Palace or Antoine's without creating a superspreader event, perhaps some Cafe Hope graduates will be working there (at a living wage) to recite specials of the day, while others are in the back prepping the eggs Sardou and oysters Rockefeller.
Here's how to donate to Cafe Hope's mission.
Correction: An earlier version of this story incorrectly used the phrase "at-risk" in reference to the students at Cafe Hope. This phrase is increasingly considered outdated, stigmatizing, and stereotypical when identifying factors that adversely affect the circumstances of some people. For more information, see The Glossary of Education Reform.