Culture
Talking With Toni Tipton-Martin about Jubilee: Recipes from Two Centuries of African American Cooking
A historic collection of recipes shines a spotlight on a diversity of foods and flavors.
Serves

makes One 10-inch bundt cake

Cook

1 hour 55 minutes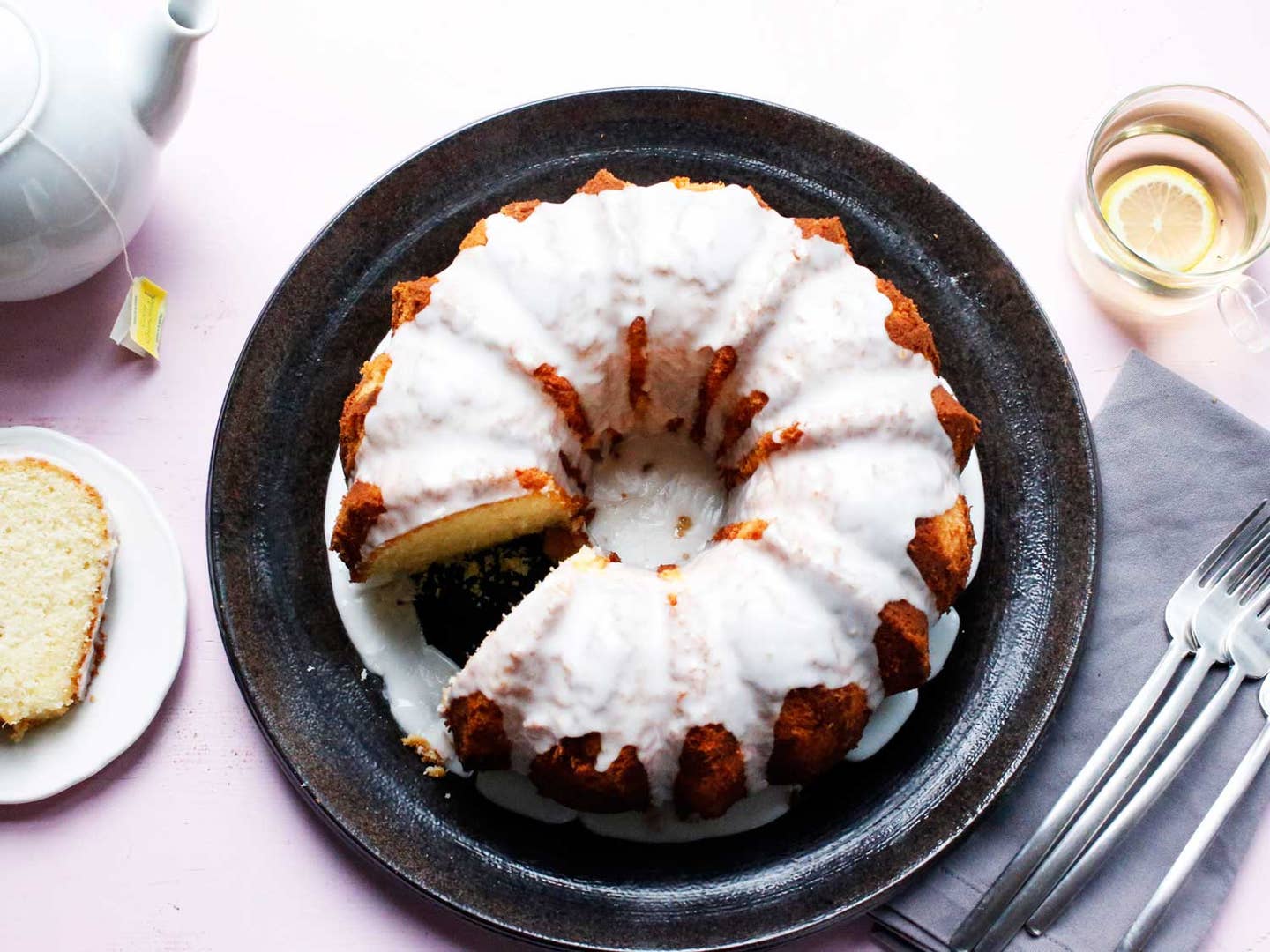 "A moment of celebration" is how food journalist and cookbook author Toni Tipton-Martin describes her latest book, Jubilee: Recipes from Two Centuries of African American Cooking, in its introduction. The recipes here are drawn from Tipton-Martin's vast collection of cookbooks written by African-Americans, some dating as far back as the early 19th century. (The volumes of her library and their historical significance were the subject of her first book, The Jemima Code, which won a James Beard Award in 2016.) Tipton-Martin goes on to explain that the themes of these cookbooks "reflect not just Southern cooking or the soul food African Americans are known for and pigeonholed in, but immensely broad culinary interests and recipes." In bringing this important collection to a larger audience, Tipton-Martin helps to shine a light on—and indeed celebrate—a more complete and complex history of African-American cooking.
How did she decide which recipes to feature? The more than one hundred foods Tipton-Martin chose to include in Jubilee were culled from a compilation of nearly four hundred seminal African American dishes curated by the Afro-Puerto-Rican historian Arturo Schomburg. A luminary of the Harlem Renaissance who set out to record black contributions to history and culture, Schromburg considered black cooking an important category of this achievement. (His own collection was eventually purchased by the New York Public Library and turned into the Arthur Schomburg Center for Research in Black Culture.) Recipes such as Jamaican jerk ribs, sweet potato mango cake, curried meat pies, and gingerbread waffles highlight the variety of African-American cooking contributed. There is also diversity amongst the cooks themselves—the men and women behind these recipes include, among others, Thomas Jefferson's enslaved French-trained cook, James Hemings; co-founder of the Black Panther Party, Bobby Seale; a Depression-era cooking school teacher named Sarah Helen Mahammitt; and the renowned expert on Southern cooking, chef Edna Lewis.
We spoke with author Toni Tipton-Martin to learn more about the evolution of this fascinating collection of recipes.
(This interview has been edited and condensed for clarity.)
SAVEUR: What was the catalyst for Jubilee? Once you completed The Jemima Code, did you already know a cookbook would follow?
TONI TIPTON-MARTIN: Yes, and I knew it long before there was Jemima Code in its current form. No publisher or literary agent that would accept my first book when I initially got started. The perception was that this was strictly scholarly work. So I took The Jemima Code to the internet. Blogging at that time was very first-person oriented. I am an investigative reporter, and the idea of writing in the first person was contrary to my training. But I was a woman on a mission. I was determined to give these people back their agency. You can see a version of Jubilee in the early iteration of The Jemima Code blog. Once I finally got a book contract, we realized that it would be too much information for the reader to digest if they had to contend with recipes that didn't fit into traditional categories. So we decided that The Jemima Code would be one book and, if I could get a second shot at it, then a cookbook would follow. And in the same way, there are several other books that I hope will follow Jubilee.
SAVEUR: The images in Jubilee are beautiful. How did you and the photographer, Jerrelle Guy [author of Black Girl Baking and founder of the blog Chocolate for Basil], connect?
TTM: I love this part of the story. A component of my relationship with the publisher was a request to have an all-black creative team. In the same way that I'm standing on the shoulders of the ancestors, I wanted to provide an opportunity to use my platform to encourage and uplift the next generation of food professionals. I've been saying all along that the hope for this work was that it would encourage more young people to come into the industry in various ways—not just through the food service door but also into food journalism (which I see as different from food writing), restaurant design, food styling and photography, and all of the various other tasks associated with this work. Our ancestors have performed well at all of these sorts of jobs, historically, but their participation has been erased. Jerrelle Guy was considered for the photographer role from the beginning, but there was always the question of whether a digital photographer's work would translate to the printed page, but she provided some examples of what she would do and it was incredible! And she and I connected on a spiritual level. Early on, I sent her a box of my family heirlooms that I wanted to use as props in the photographs and she understood. She is as engaged with these authors and the ancestry as I am.
SAVEUR: How did you go about transforming the recipes for the modern home cook? What was that process like?
TTM: It was a very extensive endeavor. I applied my investigative journalism techniques to researching and gathering as much detail as I could from as many places as possible. I describe those resources—whether they were music lyrics, the Schomburg list, or even William Ed Grimé's 1979 book, Ethno-Botany of the Black Americans—in the introduction. When it came to actually determining which version of a recipe to use, I worked from an Excel spreadsheet containing several iterations of each dish from the list. I then traced these through the volumes that became the landmark cookbooks for me. There were always dozens of them open on my desk: Freda DeKnight's A Date with a Dish, Lena Richard's New Orleans Cookbook, Malinda Russell's 1866 text, A Domestic Cook Book, which was likely the first published cookbook authored by a black cook. Some of these I referred to over and over again. Many of the recipes were without headnotes, without context. It was difficult to figure out how to modernize a dish that had been perhaps cooked on a wood stove or over an open flame. That's why it was essential to compare so many adaptations. In the end, if I could determine that a dish persisted into the 21st century, that became a way for me to evaluate its staying power as part of the canon.
SAVEUR: Tell us about a few of your favorite recipes.
TTM: The lemon cake by Malinda Russell is my favorite recipe. At a time when I thought about re-entering the food world as a caterer, I actually sold those cakes at Christmastime. I quickly discovered that catering was not in my career future, but I still just love that recipe.
In terms of something savory, the Caribbean Pork Roast is a family favorite. I've raised a family of boys. Even though we are mostly vegetarian, we still like to grill. My boys love that recipe, which is an adaptation of Cuban pork. This version is taken from Kelis, the singer-songwriter who is also a chef. She inserts Manzanilla olives along with garlic slivers into the roast, and they permeate the meat with an incredible aroma. This dish is just so succulent and tender. It's delicious!
SAV: What do you hope people will gain from this cookbook in addition to beautiful recipes and scrumptious food?
TTM: This question is often the concluding question at my book signings. Obviously, I'm glad I've accomplished the goal of getting people to think about what is next. One answer would be to determine what we can all do in our own spheres of influence to bring down the barriers constructed through the stereotypes that divide us. Another answer would be to respect and appreciate individuality and to honor the food that chefs are presenting in their restaurants and in their cookbooks as their own—without questioning their authenticity, without questioning why it's different than yours, without othering it as non-traditional. I've had some early interviews where people try to position this food now in the scheme of all that has ever been said about black food, so words like "unusual" and "non-traditional" are used as substitutes. We restore agency by treating each other as individuals. That's what also makes this a freedom project. I chose the title Jubilee because it suggests a freedom from the encumbrances of prejudicial thinking and preconceived notions. I hope to disrupt the messaging about African American food traditions and have people simply accept, honor, and appreciate this work at its face value.
Ingredients
For the cake
2 sticks unsalted softened butter, plus more for greasing the pan
3 cups (14½ oz.) all-purpose flour, plus more for dusting the pan
1 tsp. kosher salt
½ tsp. baking powder
½ tsp. baking soda
¾ cup fresh lemon juice, divided
1 cup buttermilk
1 tsp. vanilla extract
2½ cups (1 lb. 3½ oz.) sugar, divided
5 large eggs
¼ cup finely grated lemon zest
For the icing
3 Tbsp. plus 1 ½ tsp. fresh lemon juice
2 cups (8 oz.) confectioners' sugar, sifted
Instructions
Step 1
Preheat an oven (with one of its racks positioned in the center) to 325°F. Generously coat the inside of a 10-inch bundt or tube pan or two 8-inch loaf pans with butter. Dust the inside of the pan lightly with flour, shaking and tapping it gently to remove any excess.
Step 2
In a small bowl, whisk together the flour, salt, baking powder, and baking soda and set it aside. In a liquid measuring cup, stir together ¼ cup of the lemon juice, the buttermilk, and vanilla, and set it aside.
Step 3
In a stand mixer fitted with the paddle attachment, cream the butter on medium speed until smooth, about 1 minute. With the mixer running on medium speed, gradually add 2 cups of the sugar, 1 cup at a time, until incorporated. Continue beating until light and fluffy, 3–5 minutes more. Using a silicone spatula, scrape down the sides and bottom of the bowl, then, with the mixer back on medium speed, add the eggs, one at a time, beating well after each addition, until the eggs are completely incorporated. Add the lemon zest, and then, with the mixer on low speed, beat in the flour mixture in three additions, alternating with the lemon juice-buttermilk mixture (beginning and ending with the dry ingredients). Once again, scrape down the sides and bottom of the bowl, then continue mixing just until the batter is smooth. Pour the batter into the prepared pan, transfer to the oven, and bake until a wooden skewer inserted in the center comes out clean, 60–70 minutes. Remove from the oven and cool slightly in the pan.
Step 4
Meanwhile, make the lemon syrup: To a small pot, add the remaining ½ cup sugar and ½ cup lemon juice. Bring to a boil, then lower the heat to simmer and cook until the sugar is dissolved and the syrup is thickened slightly, about 1 minute. Remove from the heat and stir the syrup for a few minutes to cool slightly.
Step 5
Place a wire cooling rack over a large rimmed baking sheet and set it aside. Use a wooden skewer to poke holes all over the bottom of the cake, then gradually spoon the lemon syrup over the entire surface, allowing the cake to absorb the syrup between spoonfuls. Repeat until all of the syrup is used. Let the cake cool in the pan for 10 minutes, then turn it out onto the wire rack and set aside to cool completely.
Step 6
Meanwhile, make the lemon glaze: In a liquid measuring cup or medium bowl, whisk together the lemon juice and confectioners' sugar until smooth. When the cake is cooled, drizzle the glaze over the top of the cake, allowing it to drip down the sides. Set aside until the icing is dried before slicing and serving.