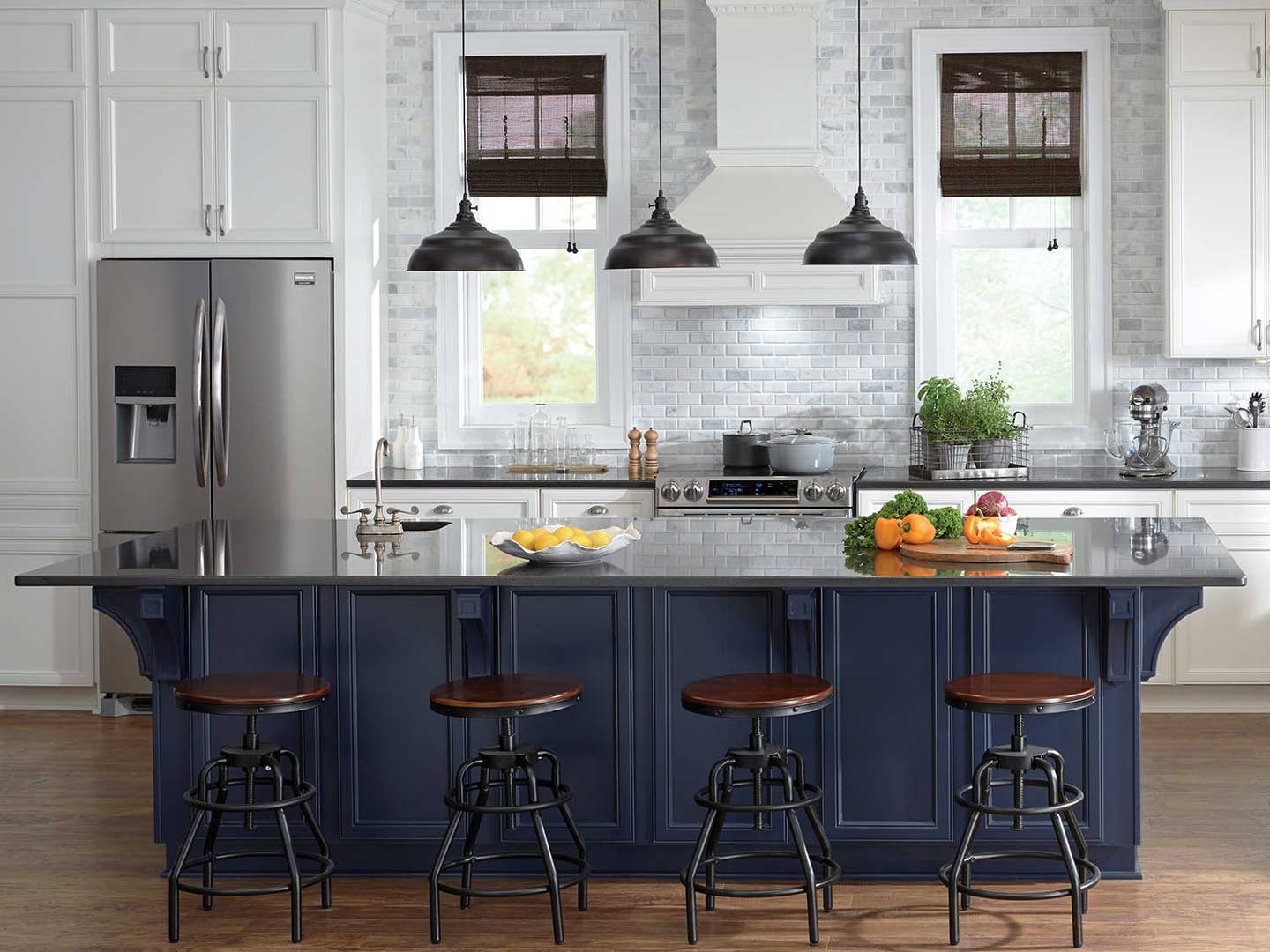 Culture
5 Reasons Why Now Is Actually an Optimal Time to Makeover Your Kitchen
For starters, the whole thing can be done in just three to five days.
PRESENTED BY
With all of us spending even more time than usual in our kitchens, we couldn't blame you for feeling a bit disillusioned. Not with cooking, of course, but with the space itself. Things that didn't bother you much before while you were whipping up a Rhubarb-Lime Ice Box Pie a few months ago are likely getting under your skin now. That cabinet door that hangs just ever too slightly to the left. That drawer that recently started sticking. That too-light-honey-oak circa 1990 that was, frankly, never your style. But while you may be dreaming of a remodel, you're likely not up for the weeks or months of upheaval and mess. After all, your kitchen is now a home office, classroom, virtual bar, cafeteria, and probably about a half-dozen other things. Enter cabinet resurfacing, which can be completed in only three to five days through The Home Depot.
What exactly is cabinet refacing? How can it be done so quickly? And why is it such a smart option for delivering a new look, fast? Here's what you need to know about The Home Depot's Cabinet Makeover Program.
1. It takes as little as 3 to 5 days for a total transformation.
Listening to demo and hammering and sawing for weeks on end while you work from home isn't a feasible option. Unlike a full-blown renovation, which takes at least three to four weeks, The Home Depot's Cabinet Makeover takes just three to five days. It's quick but wildly transformative because cabinet boxes stay in place (getting the necessary cosmetic upgrade) and only the doors, drawer fronts, and drawer boxes are replaced. No loud, prolonged demo work. Bonus: You'll be able to keep cooking in the space the entire time.
2. You can schedule a free consultation.
The first step of a big project is often the hardest. But The Home Depot makes it incredibly easy because you can request a free virtual or in-home consultation using a simple online form. If you choose the virtual option, you'll take measurements yourself and have a video chat with a specialist. Pick the in-home consult and a pro will measure for you, while also taking proper safety protocols. Either way, you'll get a free quote and several options for door styles, colors, finishes, hardware, and more.
3. You'll get custom-made doors and drawers.
Once you've settled on the design and style you like best, your installer will order new custom-made doors and drawers through The Home Depot to fit your existing cabinet boxes. A licensed, insured and background-checked pro will deliver and install your refreshed cabinets in as few as three to five days--All while continuing to be able to use your kitchen appliances.
4. You can update more than just your cabinets.
If you want to make a slightly bigger change, The Home Depot can help. In addition to cabinet makeover, you can ask your pro to help you get under-cabinet lighting, an updated backsplash, or even new countertops. (Sidenote: If you've never had under-cabinet lighting and you opt to get it, you'll wonder how you possibly went so long without it. It's amazing how your knife skills improve when you can actually see what you're doing).
5. The transformation is always both impressive and stress-free.
Let's just take a minute to appreciate this photo above. The white cabinetry looks like a pricey remodel that should have taken weeks. Instead, this space—like all Home Depot cabinet makeover projects—took just five days to make over. All labor, products, and installation are project managed and 100% backed by The Home Depot. You'll get a stunning new look without the stress.