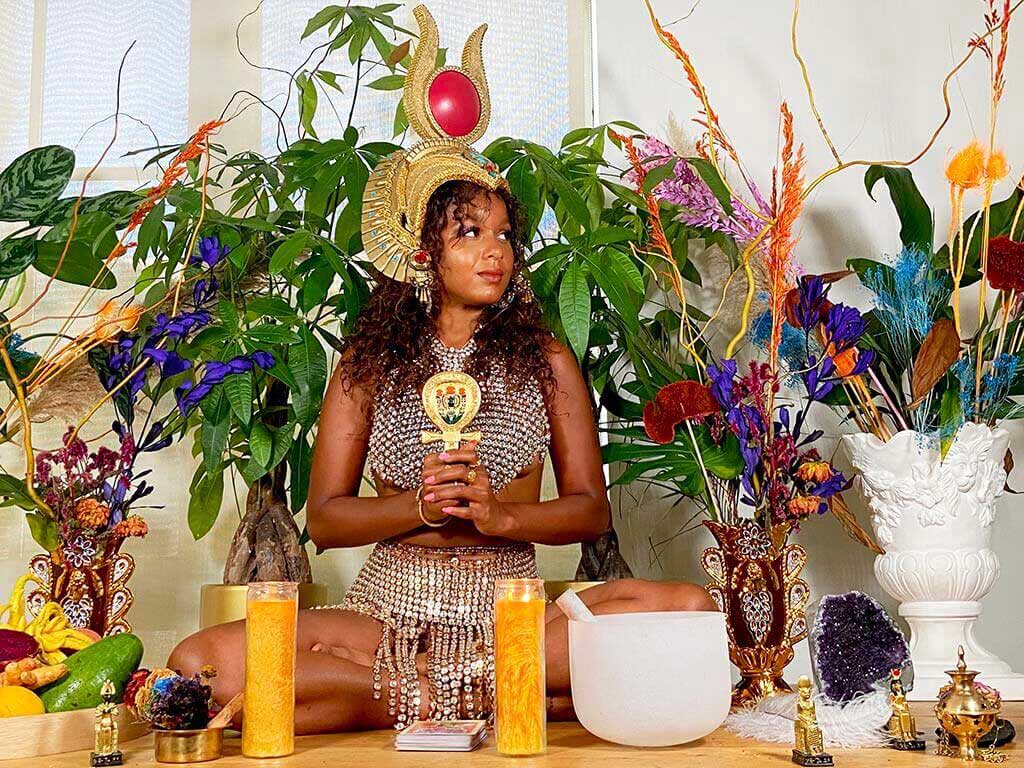 Culture
Reclaiming the Kitchen as a Space for Art
An online exhibition at The National Museum of Women in the Arts showcases cooking rituals and family meals.
Lauren Von Der Pool is framed by giant palms, weeping feather plumes, and a gold headdress. Despite the verdant opulence of her staging, the artist and chef—who has worked for Michelle Obama and collaborated with Alice Waters—is in her home kitchen in Los Angeles, displaying candles, crystals, and the makings of her healthy smoothie bowl recipe.
Meanwhile, performance artist Wanda Raimundi-Ortiz is combing an unfamiliar Pennsylvania Walmart for non-Goya ingredients with which to prepare a batch of empanadas, before returning to her own dinner table to demonstrate the stages of assembly. A young family member works through the day's math homework nearby.
These videos and photos are part of Reclamation, a new digital exhibition produced by the National Museum of Women in the Arts, which seeks to shift our perceptions of the culinary arts. Domestic cooking isn't often featured in contemporary art, but how we cook at home and for our communities are deeply meaningful aspects of culture. Recipes are tangible artifacts that allow us to understand our lineage, our identity, and our relationship to our environment. They are also scripts for a type of performance of ourselves, and for all of the historical, political, and social contexts we find ourselves in.
Placing the domestic space in a museum setting was an explicit choice for Reclamation curator Melani Douglass, who told participating artists like Von Der Pool and Raimundi-Ortiz to place cameras in their home kitchens and dining rooms. Her framing questions to the artists: "What is your experience from home? What is the meal that nourishes you?"
The artists turned their kitchens into gallery spaces, showcasing the act of cooking as a creative practice. Many of the participants occupy a multidisciplinary space between food professional, storyteller, craftsperson, and performance artist. The online gallery features vignettes from the artists' home tables, video diaries of recipes, and interviews: Chef Jenny Dorsey reads a book in her kitchen; artist Aletheia Hyun-Jin Shin's family diligently participates in the traditional Korean practice of using a plant, bong seon hwa to tint their nails orange; designer Maggie Pate leaves a time lapse camera to capture a method for boiling down food scraps to make fabric dye.
What do these videos have in common? Each in their own way, the pieces explore the integration of community, conversation, and aesthetics, and they play into a long-standing tradition of art as voyeurism, where the artist creates a porthole into a subjective experience of the world. Reclamation's format calls to mind a well-known work by Japanese photographer and installation artist Shizuka Yokomizo, in which the artist left requests for strangers to stand by their window on a particular day and time so she could capture portraits of them in their homes. More than one photographer has taken up this practice during the pandemic, traveling to subjects' residences to create socially-distanced images about the domestic quarantine experience. (And in the end, is that really that far from all of us on Instagram posting snapshots of our peak-pandemic takeout orders and sourdough starters?)
Collectively, this show provides a new way to see the artist, by peering into a more intimate space than they publicly occupied in a pre-COVID-19 world. Private kitchens become display cases for creative practice, amplifying a mother-in-law's recipe guidance, or the comforting silence of picking herbs. In turn, this also solidifies the museum's role as a resource, as a familiar space, and even as a part of our own homes.
And lastly, another vital aspect of the exhibition is the family recipes and stories contributed by the audience themselves, provided free-to-all in the digital Recipe Archive. "I wanted to eliminate the gap between art that you make every day, and art that is in a museum," Douglass explains. "We are all makers, we are all creators, and we are all artists. We all have something to contribute to these conversations, and we all have a relationship to food. This is something that nourishes us all."