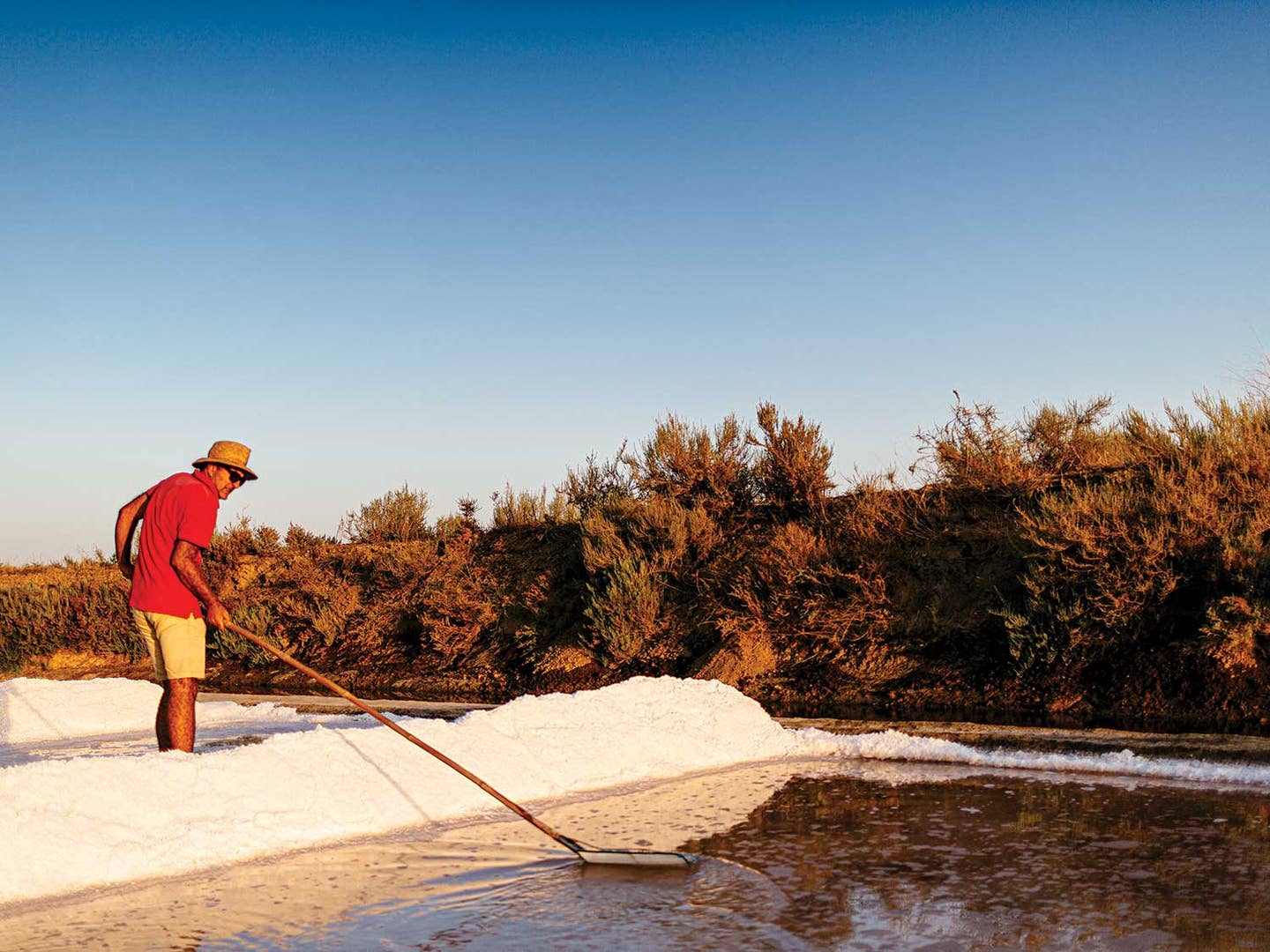 Travel
Flor de Sal from Portugal: How This Second-Generation Salt Maker Is Updating the Family Business
One man's quest to coax the best possible product from the sea
The Town of Castro Marim is Tucked so far east into Portugal that you might hear echoes of Spanish from across the Guadiana River. Though not a famed salt mecca on the order of Guerande, France, or Maldon, England, people here have been transforming seawater into seasoning for millennia. Jorge Raiado married into this tradition 12 years ago, effectively becoming part of the second generation to operate a company called Salmarim. But any ambition Raiado had to improve the product encountered a powerful foe. The salt-making process in Castro Marim is a natural one, he explains. "Nature is always wild and does whatever she wants."
It seems simple enough: The tide runs in from the Atlantic Ocean through man-made canals, filling Salmarim's grid of shallow mud ponds with water, which the sun gradually evaporates, yielding a crust of salt on top.
When Raiado started working at Salmarim, "they were harvesting everything that floated, and so I did the same," he says. The problem is that the top crust is made of prized flor de sal—and less-­desirable salt crystals. So Raiado turned to a geologist at the University of Algarve for advice. As a result, he aims to fill the ponds earlier in the season and obsessively monitors weather data to encourage the ideal rate of evaporation. Now Salmarim produces less salt but of a much higher quality.
Alexandre Silva, chef at the Michelin-starred Lisbon restaurant Loco, was so inspired by a visit to Raiado's salt ponds that he created a dish of steamed eggs and seaweed custard in their honor. "You are surrounded by these marshland plants, and the scent of salt in the air takes you out of your comfort zone," Silva says.
George Mendes, the Portuguese-American chef at New York's Aldea, insists that Salmarim possesses a delicate flavor not found in other salts. "Maybe I'm biased, but to me, Salmarim captures the essence of ­Portugal: simple, clean, and pure."