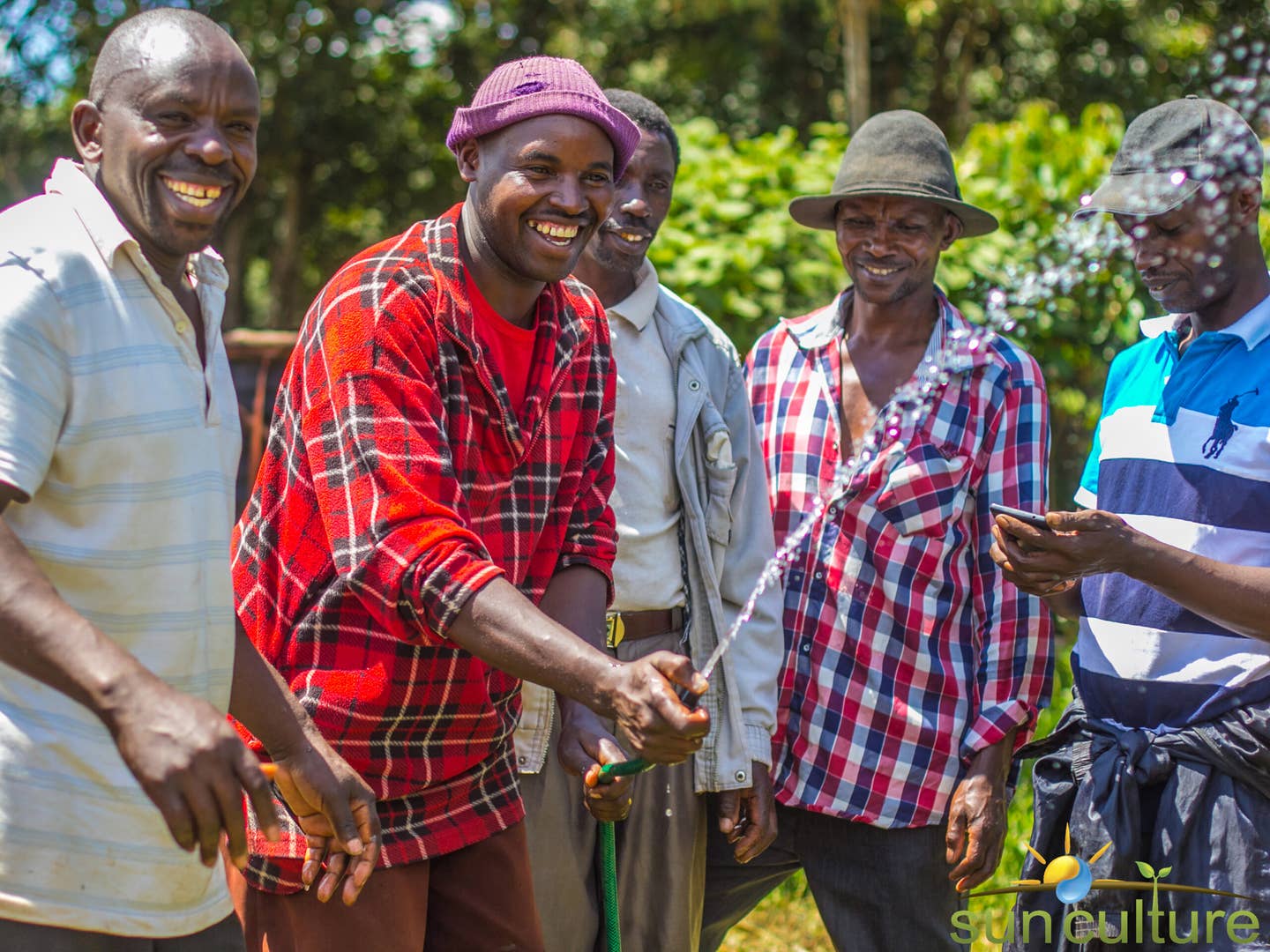 Culture
This Startup Wants to End World Hunger With Solar-Powered Irrigation
SunCulture provides Kenyan farmers with a sustainable way to boost their yields and feed their neighbors
Just a few short years ago, a farmer in Kenya would spend 16 hours a day churning water from a well with a 20 liter bucket to irrigate one acre of land.
"The soil here is productive, but the only problem we have is we don't have water," a woman said in a video "Life is nothing without water."
But now, thanks to SunCulture, a startup company that creates solar-powered rainmaker machines, farmers can simply flip a switch and have access to water for irrigation.
"I'm even telling my friends to come and see," the woman went on, "because a majority of them are not believing that it's possible. After coming here, they are believing."
Once installed, SunCulture's rainmaker pumps water from any nearby source, using solar panels as opposed to batteries or inverters. Currently, the company sells solar-powered water pumps bundled with customized irrigation systems. SunCulture wants to ensure that each customer has access to an affordable product. Their technicians offer on-site visits, where they use a mobile app to customize a system for each farmer.
"There is no one-size fits all for farming productivity, so why should we give every farmer the same solution?" founder Samir Ibrahim, a 2017 Forbes 30 under 30 honoree, told SAVEUR.
The RainMaker solar pumps, which retail at $500, provide up to 7,000 liters of water per day depending on the pump's distance to a water source. The device comes includes a built-in sprinkler, with two options to upgrade. The New Mist Irrigation standard system (starting at 39,000 KES or $377) is branded as their more affordable choice, covering one acre of land and yielding high plant density. Their Standard Drip Irrigation (89,000 KES or $860) also covers one acre of land, and offers a more expensive, but more efficient option.
The pump will save farmers an estimated 5.4 billion liters of water and grow 27 million kilograms of fresh fruits and vegetables, while also increasing their income by $8.8 million collectively.
Samir Ibrahim and Charles Nichols started SunCulture in 2013, after winning second place at the NYU Social Venture Competition while they were still students. Upon graduation, they were curious to see if their solution would actually work, so they traveled to Kenya and both had return tickets back to New York. However, once they arrived in Nairobi, they felt compelled to stay, so they quit their jobs in the city and stayed in Kenya, launching SunCulture full-time.
"At the end of the day, making the leap wasn't as difficult as we thought it would be because we spent time seeing the impact that we could have on the ground," Ibrahim said. "That motivation made everything easier."
To the pair, Africa made the most sense from a macroeconomic perspective. 65 percent of the workforce is involved in agriculture, and the country has 60 percent of the world's unused arable land. However, it only produces about 15 percent of the worldwide agricultural output.
"That gap is an opportunity for us to not only make the continent food secure," Ibrahim said, "but improve the livelihoods of the people that make up the majority of the workforce."
With their footing secured in Kenya, the company plans to expand to other countries and regions in the next few years. Currently, three quarters of the world's poorest people are smallholder farmers, so they have a global target market.
Growth isn't always easy, though. Since they began operations in Kenya, SunCulture has faced challenges with logistics of production, the current political climate, and understanding the basic customer needs. While considering expansion tactics, SunCulture has decided to combat some of these potential issues by partnering with established distribution partners in those countries who understand the market and the government.
Although SunCulture is, of course, a business first, Ibrahim said their customers were the center of everything they do. They've been globally recognized, winning award from the the Start Up Energy Transition, the United Nations, and more. By providing a renewable energy source to some of the most underdeveloped countries, they are giving opportunities to thousands of customers across the African continent, all through solar power and a pump instead of a bucket.
In a video on SunCulture's website, one of their first farmers, Peter, is using one of SunCulture's irrigation pumps. Since he purchased a pump, he's been able to harvest three seasons of crops per year as opposed to one, and is making $7,000 per growing season instead of the $700 he made in the past.
"When it comes to farming, you don't need to go looking for greener pastures," Peter said. "You just need to make where you are, greener."
"With this new technology," Peter continued, "Kenyans will kick away starvation."