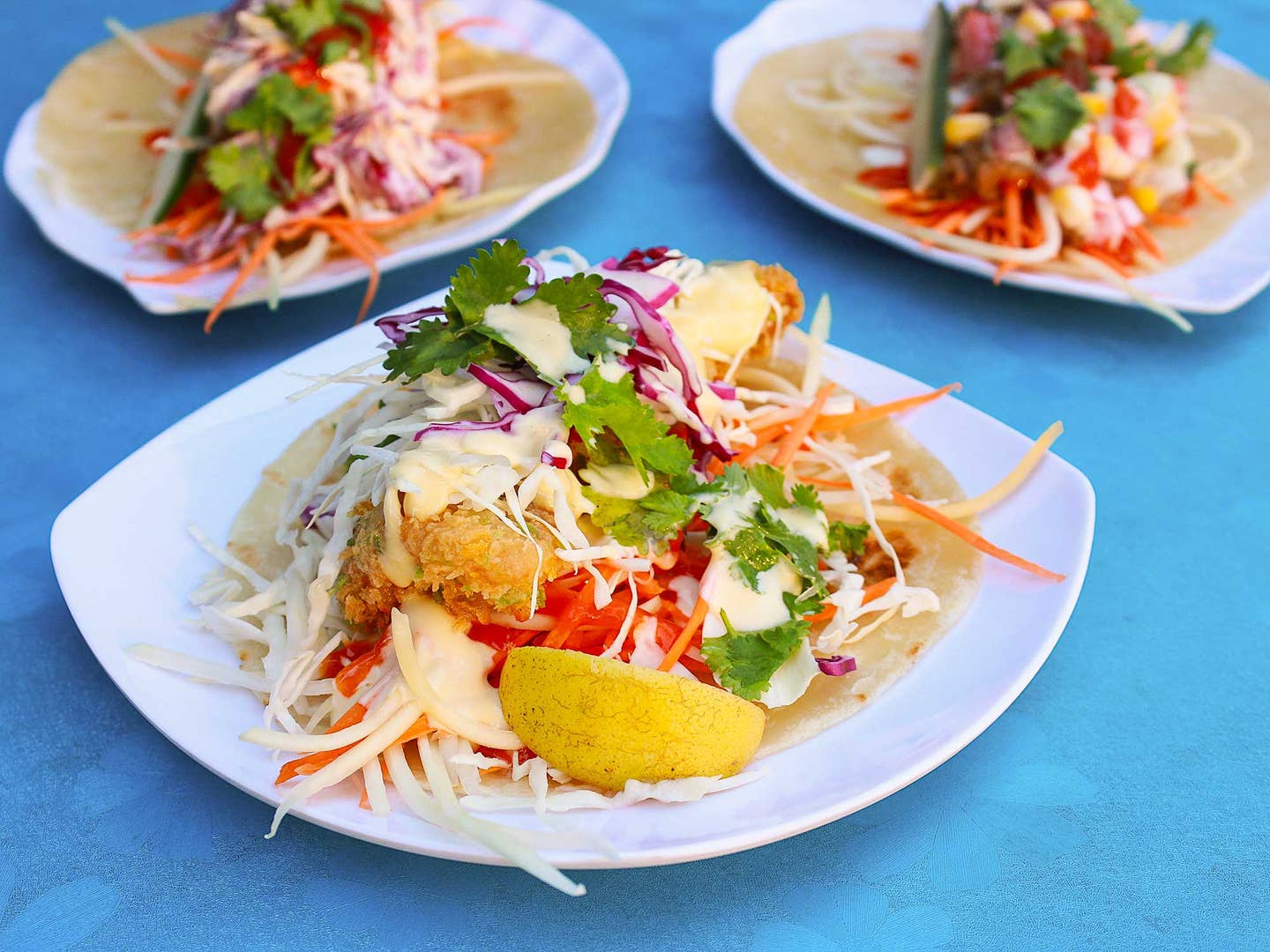 Travel
What's a Taiwanese Taco Shop Doing in Da Nang, and Why is the Food So Good?
Taiwanese tacos from a back alley in Vietnam shouldn't be work, but Taco Ngon's are magic
Some things just shouldn't work. Like a Taiwanese taco stand in a back alley in Vietnam. Yet here I am, against my better judgement, ordering dinner and tequila shots off an exceptionally improbable menu.
Taco Ngon looks like a typical Vietnamese food stand. There's a sandwich-board sign behind a fence of parked motorbikes. The seating area is full of kids' furniture. And like most street food, it's a one-woman show. Elin Lin waives me to a table and gets to work.
Her tacos are strongly traditional—just from five different traditions. Taiwanese pork and Vietnamese vegetables are wrapped in a handmade flour tortilla, à la California taco truck. It's all topped with wasabi coleslaw and a drizzle of Sriracha. This isn't fusion so much as a multicultural pileup.
I'm doubtful right up to the first bite. Then my toes curl with pleasure. Wasabi cuts the sweetness of the meat and amplifies the clean crunch of papaya and carrot. This is surreally, confoundingly good. My plate is clean in minutes, and I order another.
Lin chats with me between customers, and I try to unravel the story of her flavors. She moved to Da Nang from Taipei two years ago, but initial plans to teach Chinese got sidetracked by cooking. Her first venture was a Taiwanese café. It featured guà bāo, spiced pork belly in steamed buns. When business didn't take off, her American boyfriend suggested using the meat in tacos.
"No one here knows Taiwanese food," she explains, flipping tortillas into a pan with chopsticks. "But everyone knows tacos."
Perhaps conceptually. But Lin has never tried Mexican food. She built her tacos by taste, one layer at a time. Guà bāo meat was too heavy alone, so she borrowed raw vegetables from Vietnam's bánh mì sandwiches. Then, of course, she needed some heat. Wasabi's complexity worked better than the quick fix of chile peppers and became the base for a creamy, deep-biting coleslaw. For more timid palates, she designed a salsa of yogurt, tomato, papaya juice, and corn.
Taco Ngon's distinct flavors are the reason for its success. It's hard to get Mexican right on the far side of the world, so Lin doesn't try. Imitation would invite comparison and disappointment. Instead, she's reimagined the taco to reflect her own roots.
But she hopes to try the real thing when she visits California. I'm tempted to talk her out of it—I'd hate for the traditional taco to sabotage this magic. Instead, I ask if Western customers complain that her food isn't Mexican. Sometimes, she says. Before they eat. Usually not after.
I'm stuffed by the time I notice the leaderboard. The men's record this month is eight tacos; the women's is unclaimed. I beg off, too full to go for the title. Then Lin points out her new deep fryer. She's debuting a fish taco: breaded basa fillet in ginger-lime sauce. By the time she's described it, I've found room for one more.
Taco Ngon
60 Chau Thi Vinh Te, Da Nang, Vietnam
Erin Craig is a writer currently based in Southeast Asia who freely admits she moved there for the food. Her work has appeared in Get Lost, BBC Travel, and Roads & Kingdoms. She also blogs at Posie on the Lamb.