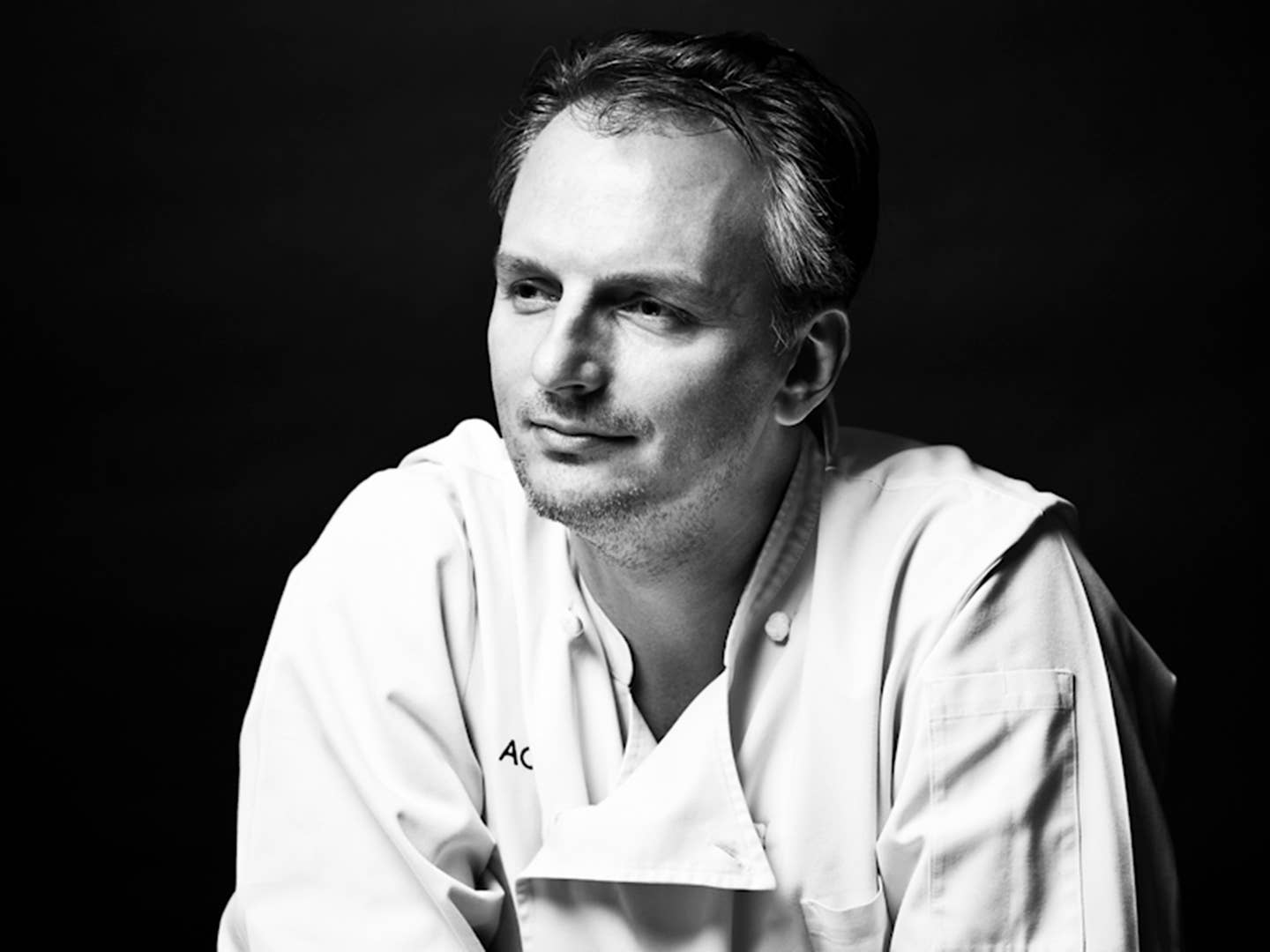 Culture
The Tenth Degree: Andrew Carmellini
The globetrotting American restaurateur on Frank Zappa, teleportation, and the ingredient he would add to every dish if he could.
We're thrilled that Andrew Carmellini—the very busy two-time James Beard Award winner who has six restaurants in NYC, including Locanda Verde and The Dutch—will be joining us tonight at our annual SAVEUR Summer Cookout. He took a few minutes during a recent dinner prep to celebrate a few things he loves (sandwiches, eggs) and explain why he's over the whole ramps thing.
What is your favorite sandwich?
I love so many sandwiches but the one I am crushing right now is The Sandwich (capitalized for a reason) at Bar Primi. It's basically a cross between an Italian beef sandwich and a Philly pork roll. Enough said.
Your house is on fire and you can only save one thing. What is it and why? Assuming my wife, Gwen, got out safe, I'd reach for a guitar. It would be a tough choice, but I'd grab my PRS McCarty 22 with bird inlays. I've had it since '92 so it's essentially a part of me now.
What book(s) is on your bedside table right now?
The Science of Booze by Adam Rogers and Girl In A Band by Kim Gordon. I just finished Questlove's Mo' Meta Blues and that was great; any of the music he mentioned that I didn't already have I went out and bought right away.
What is your greatest fear?
Complacency.
What is the most overrated ingredient? Underrated?
Overrated: ramps. We love them and use a ton of them when they're in season, but they've gone too far. We used to pick them in the woods to make a little extra money and now you get them for $18/pound at Whole Foods.
Underrated: lemon. Don't take a fresh squeeze for granted.
You can have any superpower. What is it and why?
Transporting would be amazing. Think about it: You could go to Tokyo for a sushi breakfast, have a pasta lunch in Sicily, walk on the beach in Bali, then go to LA for dinner, and be in your own bed by nightfall. I guess superpowers are supposed to be for good, and I'm not sure it would do good for anyone but me, but it would definitely be amazing.
What's the first thing you learned to cook?
I'd say eggs, some sort of scramble situation. I was pretty good with eggs by the time I was eight, and I'd get bored easily so I'd experiment. There were definitely some awful combinations…
What is the best advice you've ever gotten, and from whom?
My best life advice came from my mom. She was the one who told me not to take a kitchen manager job after high school. Instead she told me to go to the East Coast and cook there, and that's where it all began.
You're having a dinner party and can invite three people, dead or alive, and serve them one thing. Who are they, what do you serve, and why?
Frank Zappa: He's a huge iconoclast who went against the grain; also, a total genius.
Raymond Carver: Because who wouldn't want him there?
Walter Cronkite: One just really trusted that guy, you know?
Frank mostly ate burnt hot dogs, so he wouldn't be there for the food anyway, and I bet Mr. Carver would like some Scotch, so I'd think of a good whiskey pairing. And Walter Cronkite's been everywhere so I'd keep it fresh and simple…maybe I'd refer to my last meal answer.
What's the last meal you want to eat before you die?
Oh, it'd be very simple: a great tomato salad, some nice ravioli, and a blueberry pie would do the trick.