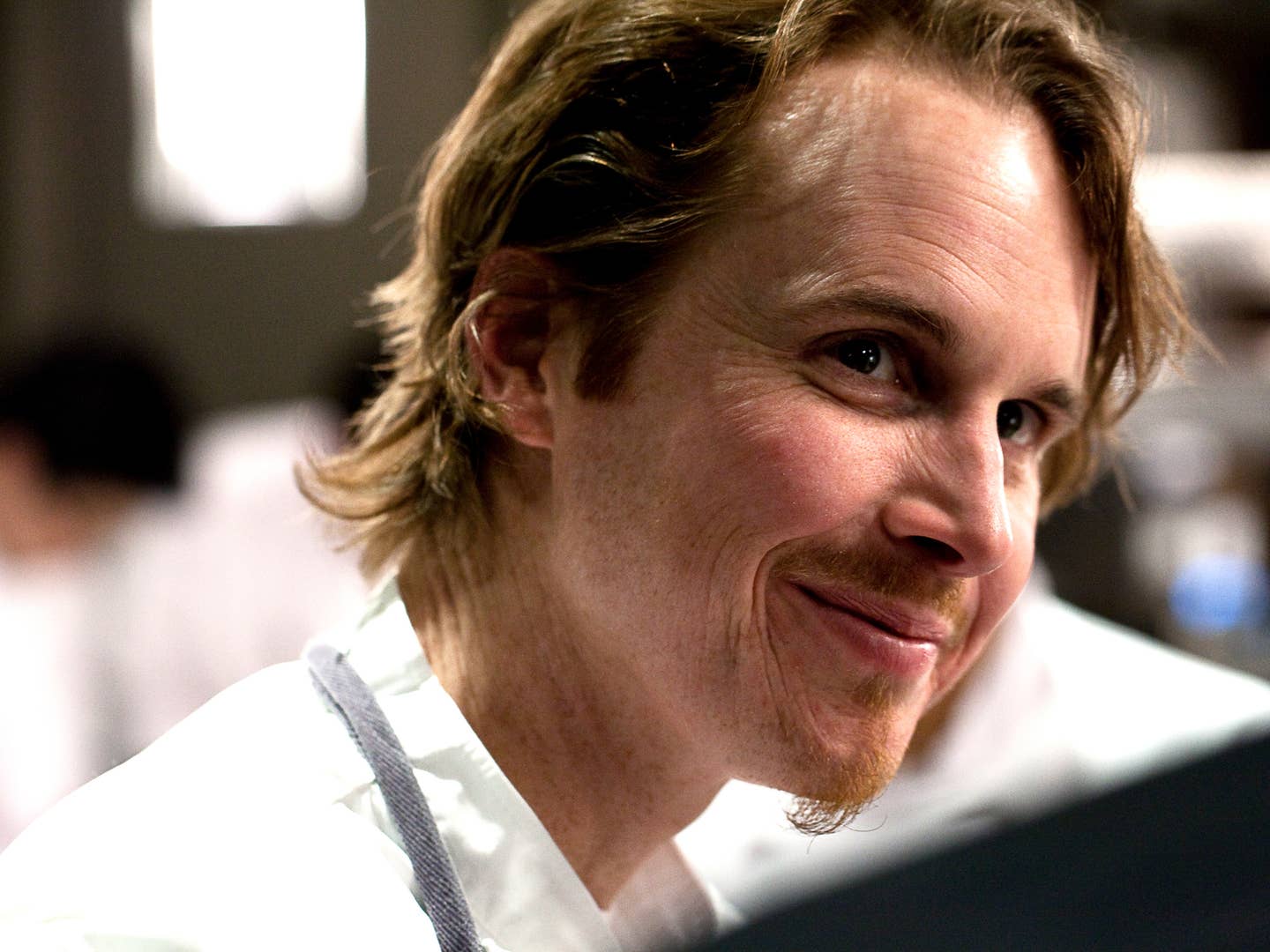 Culture
The Tenth Degree: Grant Achatz
The Michelin-starred chef of Chicago's Alinea loves a midnight snack of penne with red sauce
Grant Achatz, a pioneer of molecular gastronomy, has expanded the definition of what it means to be a chef. Running three Chicago establishments, including the three-starred Michelin restaurant Alinea, he's an entertainer, an inventor of kitchen tools, and a thought leader who is changing how restaurants allocate their seats to diners. He's an innovator who looks at familiar dishes like pineapple-glazed ham and transforms it into a pineapple chip, coated in powdered ham. Give him a needle, and he'll turn it into a unique utensil for potatoes. When attempting to conjure up fall in a dish, forget about butternut squash—how about tempura-fried pheasant on a branch of burning oak leaves instead? We grabbed Achatz for a few minutes and picked his over-active brain.
What is your favorite sandwich?
There's a sandwich shop here in Chicago called Potbelly which I like, and it's not very expensive. My favorite is the Wreck, which basically has everything in it. Turkey, ham, salami, roast beef.
Your house is on fire and you can only save one thing. What is it and why?
My copy of The French Laundry cookbook by Thomas Keller. I have one of the first editions.
What book(s) is on your bedside table right now?
None. I don't read books. I'm too busy, being in the kitchen, always traveling, always cooking. I never enjoyed reading.
You're having a dinner party and can invite three people, dead or alive, and serve them one thing. Who are they, what do you serve, and why?
My two young sons and my girlfriend. I would probably order take-out pizza because that's what the boys like. Why waste time cooking when you can have conversation, right? And any type of pizza because, let's be honest, it's just bread, tomato sauce, and cheese, no matter what people say.
What is the food we're most likely to catch you eating in your kitchen at 1am?
Penne with red sauce.
Which cook book do you open the most and why?
Alinea. I often reference dishes that we have done in the past for inspiration going forward or a reminder of components that I liked then that can be useful now.
What is the most overrated ingredient? Underrated?
The most overrated is sorrel, and the most underrated is dill. Sorrel is one of my favorite herbs but recently it's become too trendy of an ingredient, the one that chefs just heap on a dish so it looks cool. Dill, on the other hand, has a very unique flavor and aroma, and for that reason, chefs sometimes get scared of using it. It requires thought to add it to a dish successfully; it is not like basil, parsley, cilantro, or mint that can basically go with anything and everything.
What's the first thing you learned to cook?
An omelet. It was probably when I was about six working in my mother and father's restaurant Achatz Depot in Richmond, Michigan.
What is the best advice you've ever gotten, and from whom?
Thomas Keller told me to be patient, and I still feel that's the best advice I've ever gotten. It plays out in work and in life in general. Nothing happens quickly.
What's the last meal you want to eat before you die?
The Oysters & Pearls dish that originated in The French Laundry. I was 23 when I first ate it and it literally shaped my entire career—it was exciting, revelatory. As you get older those moments become rarer. It's harder to get excited.