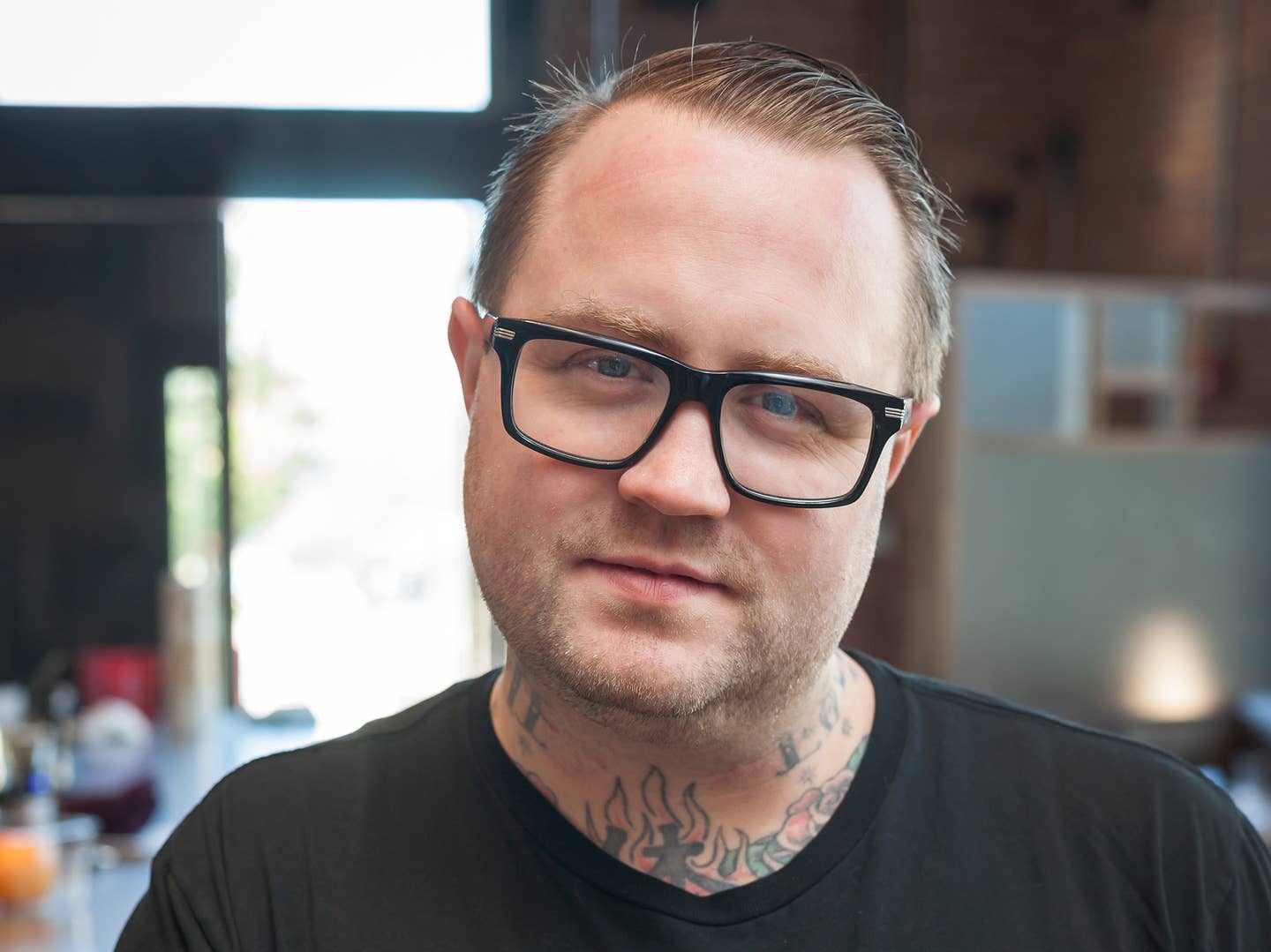 Culture
The Tenth Degree: Jamie Bissonnette
The famously offal-obsessed chef wants you to chill it with the pork belly
Jamie Bissonnette is a fan of nose-to-tail cooking, as well as nose-to-tail tattoos. Chef at Boston's Coppa Enoteca and Toro, Bissonnette straddles many worlds—or, cities, to be more specific. A born-and-raised New Englander who made his name in Boston, he now has a Manhattan branch of Toro. He's an established culinary star (he won a James Beard award for Best Chef: Northeast), his twitter and bio reads "eat offal, listen to hardcore, dance hard or die," but he hasn't been all-offal his entire life. In fact, he was a straight-edge vegan in his youth; when we learned this, we knew that we had to know more about the compelling chef. So, we sat down with "Biss" and got the skinny on his differing identities, his dream to cook a meal for his imaginary friend, and his real thoughts on pork belly.
What is your favorite sandwich?
Probably a breakfast sandwich. I like it with American Cheese, preferably yellow; a fried, runny-yolk egg; and sausage, on an everything bagel.
Your house is on fire and you can only save one thing. What is it and why?
Aside from pets? My record collection, because it represents years of growing up. It runs the gamut from 50's jazz to obscure hardcore and punk to ska. I have 20 plus copies of a 7" by a band "BURN." The record had a bunch of different pressings and re-pressings. I loved it when it was released, and I buy it almost every time I see it.
What book(s) is on your bedside table right now?
The Power of Habit by Charles Duhigg. For me, it's great to think about habit, and how to use it to motivate, learn, and teach staff and guests.
You're having a dinner party and can invite three people, dead or alive, and serve them one thing. Who are they, what do you serve, and why?
I would invite Jacque Pepin because I've been able to become friends with him over the years and he has a wealth of experience. I would definitely cook him something out of his book. I would also invite my paternal grandmother. I only knew her a little bit (she passed when I was ten), and I wish I could learn a little bit about the world she grew up in. Then, my imaginary friend Jimmy from when I was a kid. I always wondered where he went and what he's up to. Before we parted ways, I used to cook for him. I'd make runny egg sandwiches or some weird concoction with cereal.
What is your greatest fear?
I'm afraid of heights.
What is the most overrated ingredient? Underrated?
Pork belly is overrated, and I think the most underrated is onions. All the time, someone tastes something and says "this would be great with pork belly." Pork belly can be great, but I'm sick of that. As for onions, there are so many awesome things you can do with them. Sauteed with bay leaf, they're the best building block for rice, pasta, or anything savory.
You can have any superpower. What is it and why?
Flying. If I could fly, I could conquer my fear of heights. I'd zip around the world and be able to visit so many places and experience new things.
What's the first thing you learned to cook?
An egg—fried, over-easy. I feel like I can judge someone based on how they treat an egg.
What is the best advice you've ever gotten, and from whom?
When I was staging in France, my chef said that I needed to eat out and pay attention. He compared it to being a musician. You can play the cello, but if you aren't in a band or an orchestra, you don't understand how to combine everything. I was a vegetarian and the chef told me that unless I ate the food, I wouldn't understand how to combine everything.
What's the last meal you want to eat before you die?
A big spread [of everything] from caviar to hokkaido uni to a chipotle chicken quesadilla—and definitely oysters. But after the meal is over, I want to digest with a cheese plate and some wicked cognac.