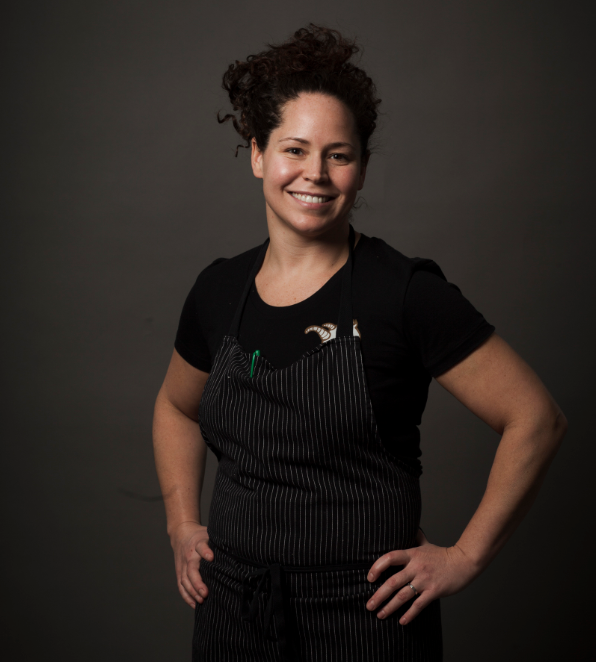 Culture
Tenth Degree: Stephanie Izard
On Asian PB&Js, starting a culinary career at age eight at Disney, and having a massive fears of fans (not that kind)
Today, the world may know her as a James Beard Award winner and familiar face in food media, but seven years ago, Stephanie Izard was our favorite contestant on Bravo's Top Chef challenge, which she went on to win—as the first female and "fan favorite," to boot. Since then, she's opened a mini empire of restaurants in Chicago which includes the Girl & the Goat, a family-style global establishment, and, Little Goat, its casual sister just across the street. In between putting the finishing touches on her newest restaurant, Duck Duck Goat, set to open in November, and co-authoring a beer and food cookbook with her husband, she took some time to take the Tenth Degree.
What is your favorite sandwich?
At Little Goat, we serve a fun Asian play on a peanut butter and jelly, made with peanut butter hummus, ham, and blueberry sesame jam. It's super tasty and reminds me of childhood, but in an Asian way.
Your house is on fire and you can only save one thing. What is it and why?
Assuming that my husband can get out by himself, I would say my dog Burt, sometimes known as "Admiral Burt." He's a Doberman mutt. We got him at Wright Way Rescue three-and-a-half years ago.
What book(s) is on your bedside table right now?
I'm embarrassed to say I don't do a lot of reading, but when I was in Taiwan recently, I picked up a bunch of Chinese cookbooks, and a friend of mine is helping me translate them. It's an ongoing process. I had him show me the Chinese symbols for "sugar," "salt," "wheat," and "starch," and I do my best to translate recipes, like steam bun dough and soup dumplings (I think!).
You're having a dinner party and can invite three people, dead or alive, and serve them one thing. Who are they, what do you serve, and why?
I would invite my mom. She passed away a couple of years ago and taught me how to cook. I'd invite her dad because I never got to meet him. He was the President of the Chicago Tribune, and everyone talks about how he was a great leader. I have some inspirational writings of his, where he talks about working hard, and loving life, family, and friends. And my sister. She's still here, but I think she and I would love to get to know my grandfather better. We would cook my mom's favorite recipes: moo shu pork and tempura.
What is your greatest fear?
I have a fan phobia, as I call it. Not fans, as in people, but fans that blow air. I simply don't like air blowing on me, so whenever there's a fan coming towards me, I go the other way.
What is the most overrated ingredient? Underrated?
Overrated: bacon. I get it, it's good, but can we get over it? Underrated: fish sauce.
You can have any superpower. What is it and why?
I always want to have "inspector gadget arms" so that I can reach stuff in the kitchen. I'm always asking my sous chef to reach stuff for me.
What's the first thing you learned to cook?
I had mushroom, ham, and cheese crêpes at Epcot center in Florida when I was 8. When I got home, I found a recipe for the crêpe itself, but the rest I made up. My mom always told me it tasted just like what we had in "France" at Epcot.
What is the best advice you've ever gotten, and from whom?
I was never truly passionate about anything I studied in college. Then my dad told me, "You've always liked cooking, why don't you go to culinary school?" When I was younger, being a chef didn't mean what it means today. I thought I was supposed to go to college, get a business degree, and work in an office.
What's the last meal you want to eat before you die?
I'm torn between sitting on my couch with my husband and dog, eating takeout Chinese food, or being transported (still on my couch) to the top of a mountain where we can sit in 75-degree sunshine with a backdrop of snow. My friends and family would be there, and we'd go to town on the grill.